AVZ Minerals
"To understand the potential of Force's Kitotolo Project, one should look at AVZ's 'world class' Manono project"
Source: Force's Kitotolo Presentation
AVZ minerals (ASX:AVZ, OTC:AZZVF, market cap 400m) has discovered a lot of lithium at their Manono property. Their initial drilling campaign has returned amazing results of 235.0m @ 1.66% Li2O, 202.8m @ 1.57% Li2O and 250.9m @ 1.48% Li2O. With these results and completed exploration to date, AVZ estimates the Manono property to contain between 1Bt and 1.2Bt of 1.25% to 1.5% Li2O. This is easily the largest hard rock lithium deposit in the world. 
Manono was mined for its tin content between 1919 and 1982, and it is through this previous mining that the lithium bearing pegmatites were exposed. Until recently these pegmatites were of little interest. But now, with almost all analysts projecting strong lithium demand for the foreseeable future, Manono has exciting potential.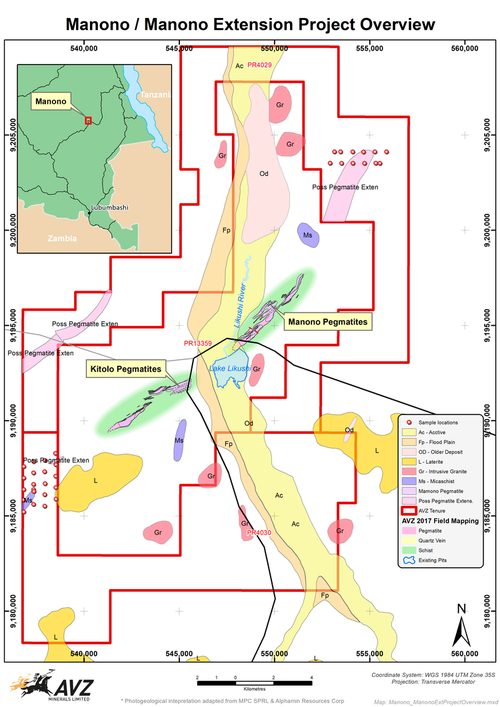 From an AVZ ASX release: "The Kitatolo-Manono pegmatite is a world class crustal feature, extending for a strike length of at least 13km...and extending for kilometres beyond as shown by the SW pegmatite body and other pegmatites some 50km away. Significant potential therefore exists for identifying further resources along the extension of the Manono and Kitatolo pegmatites which is supported by results to date. "
This describes the further potential of AVZ Minerals, and by extension, Force Commodities. 
Force's Kitotolo property 
Force Commodities (ASX:4CE, market cap 22m) has property long the same strike as Manono, about 30km to the SW. Per Force's recent presentation, "Historical records suggest that the pegmatite field extends over 500km from Kolwezi in the south-west to Kalemie in the north-east." There is good reason to believe that the pegmatites continue along this corridor as shown.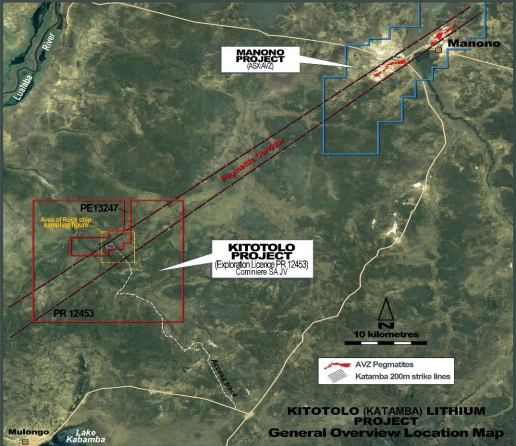 As mentioned earlier, AVZ believes that the strike extends past their properties, with pegmatites noted 50km away. AVZ also located a pegmatite of 800m by 200m on the edge of their property to the SW. This pegmatite is along strike of the Kitatolo-Manono pegmatite and crosses over onto property owned by Tantalex. Tantalex recently performed a radiometric survey and have concluded that the pegmatites extend on strike through their property in a NE-SW trend.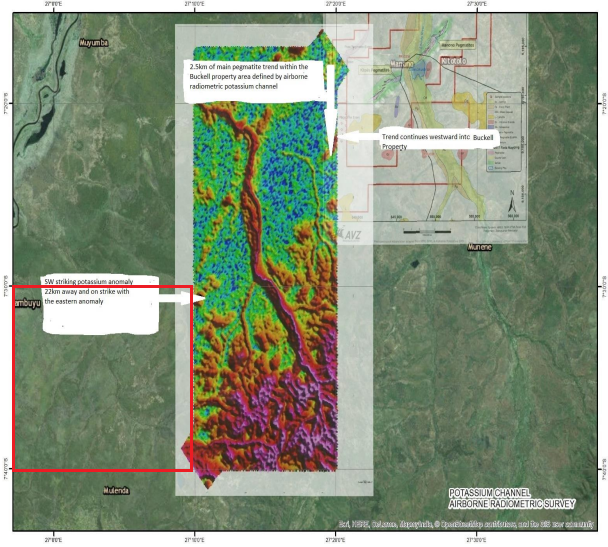 The location of Force's property is indicated by the red box. 
Recent exploration has discovered pegmatites at Kitotolo close to the surface, at depths of 0 to 6m, and of similar style to those at Manono. Test pitting and trenching is in process now to determine the length and extent of the pegmatites, which are open in all directions.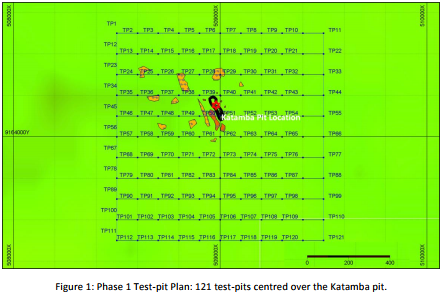 All evidence suggests that there is a massive hard rock lithium resource at Kitotolo. However, I felt there was still too much risk taking a position in Force based on Kitotolo alone. 
The Kanuka Lithium Project Joint Venture
On December 6th, Force announced that they entered into a Kanuka Lithium Project Joint Venture (JV) with Mining Mineral Resources (NYSE:MMR), a company in the VinMetals Group. 
With this agreement they now have a 51% stake in the Kanuka property, which is currently being mined for tin and tantalum by MMR. This property is only 5km south of Manono.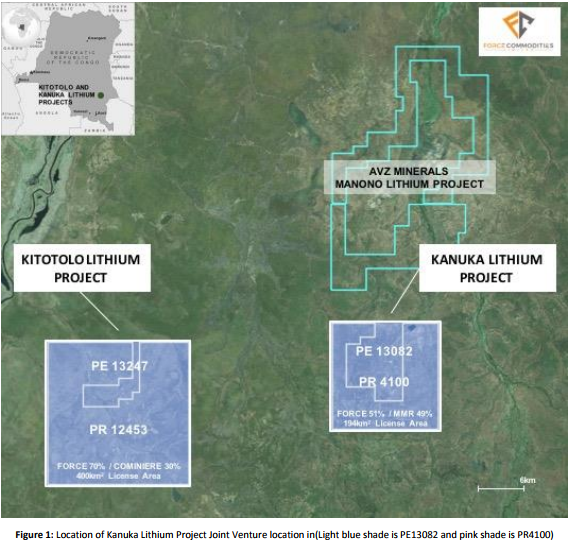 At Kanuka, pegmatite exposures have been identified extending in access of 3km on a NE-SW trend, and in places greater than 200m wide. In some areas the pegmatites have been exposed down to 15m in depth. Rock chip sampling was immediately performed and returned great results of up to 2.12% and 1.93% Li20. 
Force's head of exploration James Sullivan stated: "The major lithium occurrences just to the north at Manono, were originally exposed by historic tin mining. We have that same situation here at Kanuka, where MMR have been mining the alluvial material, and we are able to see some substantial and quite significant pegmatite exposures." 
As part of the JV, Force will also have use of MMR's on site drilling equipment, mining fleet, personal, power and airstrip, which will all expedite exploration activities. MMR is an established mining company in the Congo, and the experience they will provide Force moving forward should be invaluable. They are a producing mine, with equipment in place. If lithium is found at Kanuka in large amounts, the timeline to production should be drastically reduced.
In the same announcement as the JV, Force also announced a capital raise to finance exploration. 3 million will be raised by adding 60m shares at 5c each. You have to read the announcement about 3 times to digest all the information, and afterward, you say "Wow".
Force Derisked for 2018
Force is a nano-cap stock. Nano-cap stocks have market capitalizations between 5 and 50 million. The big risks with nano-cap stocks is the lack of information available, possible bankruptcy, and low liquidity. They are generally high risk investments, but after the JV announcement with MMR, I believe Force has been derisked for the near term.  
Low Cash Risk
From the Quarterly Cashflow Report dated October 30th, 2017, Force spent 1.72 million in 9 months. The majority of these funds were staff, administration and corporate costs, which does not give a good feel for how much runway the 3m capital raise will give the company. I think that a good portion of these costs are attributed to the change of focus from gold to lithium, and the change of company management over the last 6 months.
Per the report, the projected spending for Q4 2017 is more in line with what I would expect, with 164k for planned exploration, and 146k for staff, administration and corporate costs. At the time of the report Force had 754k in cash. If they spent their projected amount of 310k for Q4 2017, that leaves them 444k. So right now Force has approximately 3.4m in the bank.
If we use double the Q4 2017 burn rate as our estimate (because they will be exploring two projects at once), they will spend about 2.5m over the next 4 quarters. With the capital raise, Force is well funded to pursue both Kanuka and Kitotolo exploration programs in 2018. However, if they decide to perform a large drilling campaign another capital raise will be necessary, as was the case with AVZ. 
Low/Medium Exploration Risk
James Sullivan is head of exploration at Force. Prior to Force, Mr. Sullivan was "Project Due Diligence Supervisor for AVZ Minerals.. where he was involved with the full range of mineral due diligence of the Manono-Kitotolo pegmatite, and supervising and exploration management of AVZ's Manono Lithium Project".
I believe in Mr Sullivan's exploration expertise. It was on his recommendation that Force signed JVs in both Kitotolo and Kanuka. Because of his experience with AVZ, he knows what to look for. Mr. Sullivan also has the experience to bring both projects forward as he did for AVZ. Since his appointment in August, exploration has moved at breakneck speed. And I think we will see even faster progress in exploration in 2018, because of the resources available through MMR. From an expertise standpoint, Mr. Sullivan derisks Force. 
With the addition of the Kanuka property, Force investors can now sleep at night. The danger of not finding a good lithium resource has likely been removed. The lithium deposit at Kanuka is at least 3km in length, up to 200m wide, at up to 15m observed depth. This is a very large resource.
Kitotolo may turn into the next Manono, but Force having all their eggs in that basket had too much risk. They plan to aggressively explore both properties in the new year.
Low Management Risk
In 2018, I think the management risk is low. James Sullivan has the expertise to move Force to the drilling and resource definition stages in 2018. Jason Brewer is also proving quite capable. It appears that Mr. Brewer has been instrumental in arranging the JVs of Kitotolo, Kanuka/MMR, and securing Mr. Sullivan as Force's Head of Exploration. 
However, it is unclear if the current management has the experience necessary to complete feasibility studies, metallurgy, and engineering studies to construct and operate a lithium mine. This risk can be mitigated by bringing in new talent as needed. MMR may also be a good asset in this regard.
Medium/High Country Risk
The Democratic Republic of Congo is a high risk country to operate a business. This risk is mitigated somewhat by the JV with MMR, which is part of the larger VinMetals Group, who has been operating in the Congo for 20 years. I trust that MMR will take Force under it's wing and allow for the smoothest possible path forward. 
Along with the country instability, comes the risk of not getting a project financed for production. Force could find a very large resource, but without a financing partner willing to invest in the Congo, Force will not succeed in becoming a lithium producer.
The MOU AVZ announced in October with Shanghai Greatpower Industry is a encouraging vote of confidence. Also in a recent AVZ release, a Chinese affiliated investor group (CIG) has decided to fund rehabilitation and bituminising of the road from Luambo to Manono, covering approximately 466kms of road surface and is projected to cost US$285m.
I believe recent Chinese actions with AVZ show that Force will get funded for production if a good resource is found. It is also worth noting that there is a strong Chinese presence in the area. Fortune 500 companies China Minmetals Resources and China Non-Ferrous Metals Co. are also operating in the same (Katanga) province, along with Chinese owned cobalt companies like Huayou Cobalt.
Low Commodity Risk
The current demand for lithium helps lower Force's risk. The future lithium demand has been guaranteed by European and Asian government announcements to end fossil fuels in vehicles. In 2016, Roskill projected 328,000t of lithium carbonate equivalent (LCE) would be needed by 2026. Just recently, Roskill updated their projection to 1,009,000t of LCE by 2026. It is likely that the demand for lithium will remain high for years to come.
Conclusion
Now that Force has two very attractive projects, MMR as a partner, and enough cash, there is nothing to slow Mr. Sullivan down. I believe with him in charge of exploration, Force could turn into the next AVZ.
In the second half of 2018, I expect to see initial drill results, followed by a capital raise for a full drilling campaign to support a maiden resource estimate.
Get ready for an exciting year.
For more promising lithium miners, see my blog posts and other articles.
Update 2/28/18 - Force recently announced they will begin drilling both Kitotolo and Kanuka properties in parallel starting next month. At a current market cap of 42m AU, we could see a near term 5x+ upside if they hit good intercepts, and I believe they will.
Disclosure: I am/we are long ASX:4CE.