MetalsTech (ASX:MTC, market cap $26m) has missed out on the recent lithium bull run that began after Christmas. It is quite a mystery, as they have more potential than most lithium explorers of twice the market cap. They have 2 Chinese partners in Dynavolt and Wuxi Baichuan, who have committed a combined total of 4.8m in funding for the drilling programs at Cancet and Adina. These drilling programs are set to start in February.
Cancet and Adina are two of the many properties MetalsTech has in a lithium-rich region of Quebec, Canada.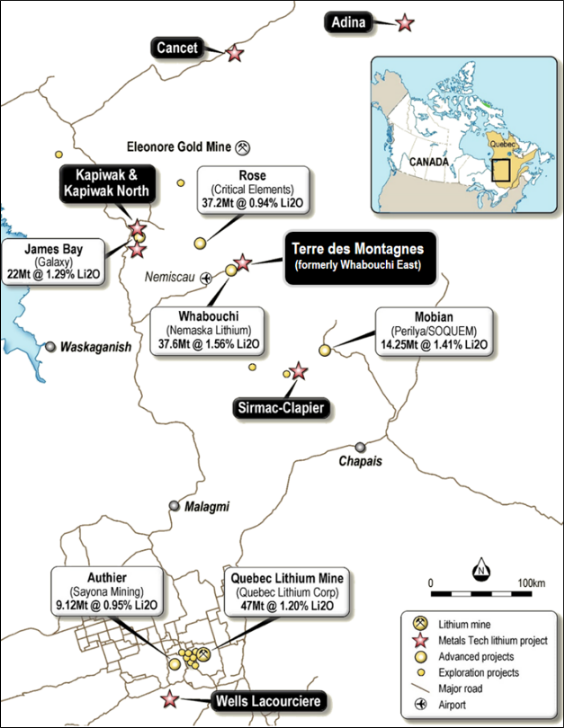 Cancet
MetalsTech is appealing because I believe they are derisked from an exploration stand point. Drill results from their 12476 hectare Cancet project prove that they should be able to define a resource that will be economical to mine. The lithium they have found is very high grade, so I have taken the best of the initial drilling results at Cancet and converted them to 1.0% Li20. This should allow easy comparison to peer hard rock lithium miners.
Drilling results from Cancet 
DDH ID
From
Interval (M)
Li2O
Converted Interval (M)
Li20
(M)
(%)
(%)
MTC17-002
9
5.08
2.63
13.36
1.0
MTC17-013
18.12
15.88
1.82
28.90
1.0
MTC17-014
21
10
2.67
26.70
1.0
MTC17-015
8
18
3.14
56.52
1.0
MTC17-020
30.45
6.25
3.58
22.38
1.0
MTC17-021
5
21.46
2.24
48.07
1.0
MTC17-022
6
17
2.06
35.02
1.0
MTC17-023
22.59
5.24
1.37
7.18
1.0
MTC17-025
40.98
11.02
2.93
32.29
1.0
MTC17-040
41
5
2.56
12.80
1.0
These are company-making lithium intercepts. Notice the % grade of their lithium and how shallow it is. The resource at Cancet will prove very economical to mine and that will be reflected in a PEA after they define a resource there. 
Nearby in Canada, the drilling results Sayona Mining had from their phase 1 drilling of their Authier Lithium Project are of similar quality. Sayona now has a defined 18.35Mt @ 1.0% Li20 resource at Authier, and are expected to be in production by the end of 2019. MetalsTech has announced a resource target of 15-25Mt @ 1.5% Li20 for Cancet, and this seems reasonable to me based upon drilling so far. 
MetalsTech states in their December 19th release "The company plans to continue resource definition drilling in 2018 together with a maiden drilling campaign at the Adina Lithium Project in February 2018". 
Adina
Adina is a property to the east of Cancet, and has yielded very positive rock chip samples.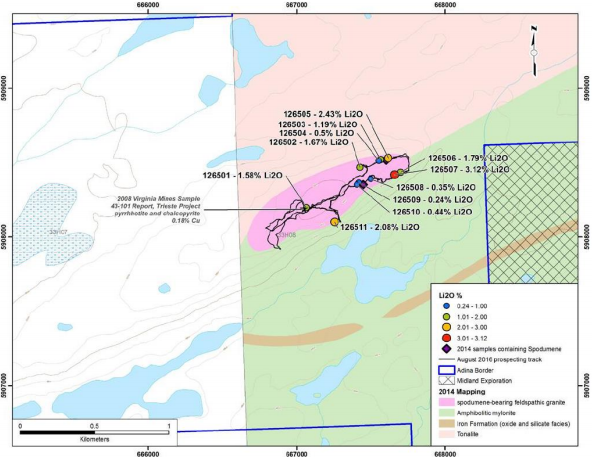 At Adina, they have "mapped a spodumene pegmatite across a strike length of 1.3km with an average width of 500m". It is also interpreted to extend further for a total of 2km in length. If this resource is as large as it appears, MetalsTech has blue sky potential.
A 2000m, 15-25 hole maiden drill program is set to begin next month. The blue dots are the proposed drill holes.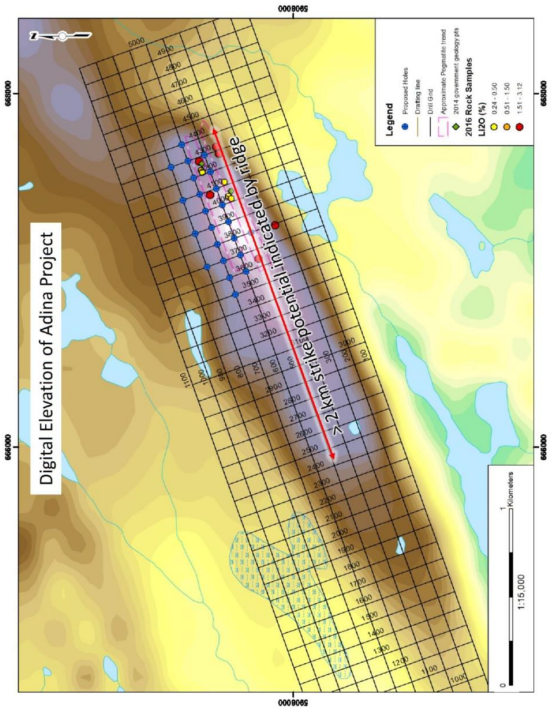 Both Cancet and Adina have great potential. This is an exciting time for MetalsTech.
Strategic Partnerships and Cash
The strategic partner agreements signed with Dynavolt and Wuxi Baichuan will fund MetalsTech though 2018. Per the agreements, Dynavolt and Wuxi Baichuan will purchase 10 million shares each, which will make them both circa 10% owners in the company. The proceeds from these partners, in addition to a recent capital raise performed by the company, will total 6.5m in cash. MetalsTech spent 3.74m for the year ending June 2017. Using this as a guide, the company is well funded to execute their exploration and development plans in 2018.
If either Chinese company increases their ownership to 15% of MetalsTech shares, then the Chinese company will get a board seat. Each strategic partnership agreement includes this paragraph:
"For a period of three months, MetalsTech will use reasonable endeavors to introduce (the Chinese company) to third parties (or their advisors) that may wish to sell of otherwise dispose of their Shares with a view of helping (the Chinese company) acquire up to an additional 5,000,000 Shares through on-market and off-market purchases."
What this portion of the release tells me is that the Chinese will be acquiring about 30% of all Metalstech shares in the next 3 months. This should be a catalyst for great gains in the share price.
Risk
I see a management risk in MetalsTech. The board's experience seems to be mostly in the coal industry. Does the management have the ability to move a lithium mine into production? To overcome limits in expertise, I would assume that they would use subcontractors or hire talent as needed. This is ok, but it will cost more money than if they had resident expertise on the board.
MetalsTech is nano-cap stock. The big risks with these types of stocks is the lack of information available, possible bankruptcy, and low liquidity. Foreign stocks should be purchased on their local exchanges to combat liquidity.  MetalsTech (ASX:MTC) is only listed on the Australian exchange as of now. To trade international stocks US persons can sign up for international trading using services like Fidelity.
MetalsTech is also a speculative stock. That means they do not yet have revenue from operations. Their survival relies upon discovering and developing a lithium resource, and it is possible they will fail to find adequate lithium, or secure financing to develop a mine. Even though the lithium outlook is bright, you could lose your investment in these types of stocks.
Conclusion
MetalsTech is a lower risk option to many ASX lithium explorers that have yet to drill their properties. They have Cancet as a company-making property at a minimum, and great upside potential at Adina. 
With impending drilling and share accumulation by the Chinese strategic partners, I foresee a market correction where MetalsTech is finally valued correctly. Given the current lithium bull market, this is a great buying opportunity, for now.
For more promising lithium miners, see my blog posts and other articles.
Disclosure: I am/we are long ASX:MTC.