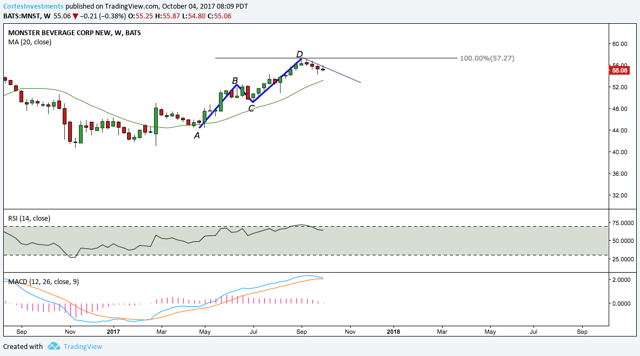 The weekly chart for MNST above shows a beautiful completion of an AB=CD pattern. An AB=CD pattern states that an exact length of one leg becomes the resistance and a short-term reversal to the next leg. AB is the first leg and CD is the second leg. The price of MNST reached the exact 100% mark of the AB leg and we have seen price reverse ever since then. I added a bearish trendline that we can follow while shorting MNST, which can be our stop-loss when and if MNST breaks it. So far it seems to be following it nicely. My short-term price target for MNST is the $49.50 - $50.00 level. 
Confirmation is definitely a plus and another reason why shorting MNST short-term makes sense. RSI kissed the overbought region exactly at the 100% mark. MACD also shows a potential reversal to the downside. Confirmation from other technical indicators is what I like to see before I take a long or short position.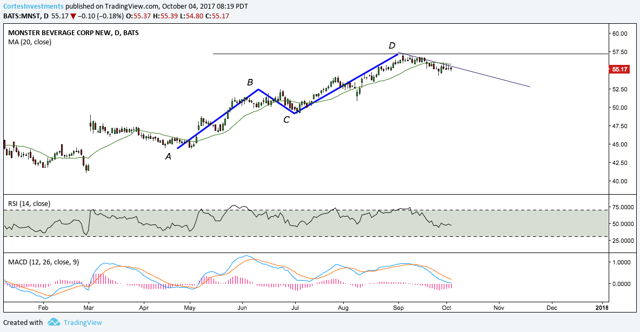 We can "zoom" in and look at the daily chart to see more action. Again, the price has reversed at the exact 100% of the AB leg, which is what we like to see when we are looking for AB=CD patterns. We can short MNST while using the trendline as a stop-loss. Price seems to be following the trendline down to the price target of $49.50 - $50. RSI and MACD also act as confirmation as they both are continuing to decline. For those who want to take a long position on MNST for the long-term, the $49.50 - $50 area looks nice to take on a position. MNST is still in an uptrend long-term, so I expect a short-term reversal to my specific price targets followed by a continuation of the predominant bullish trend.
Disclosure: I am/we are short MNST.