GlaxoSmithKline has long been a darkhorse in the investment community following bribery scandals, fines for kickbacks and a generalized lack of growth. The company under Emma Walmsley has moved focus to it's pipeline to help fuel growth in the future. This post specifically pertains to the Shingrix vaccine which was inherited by Walmsley. Shingrix is a two part vaccine, which showed at least 89% prevention for Shingles and Postherpetic Neuralgia among all age groups.
Walmsley claimed Shingrix sales would exceed 1B GBP in 2019. Something GSK managed to accomplish in the first 9 months of the year. Worldwide sales of Shingrix came in at 1.278B GBP ($1.62B) in the first 9 months of 2019 with sales accelerating as shown below.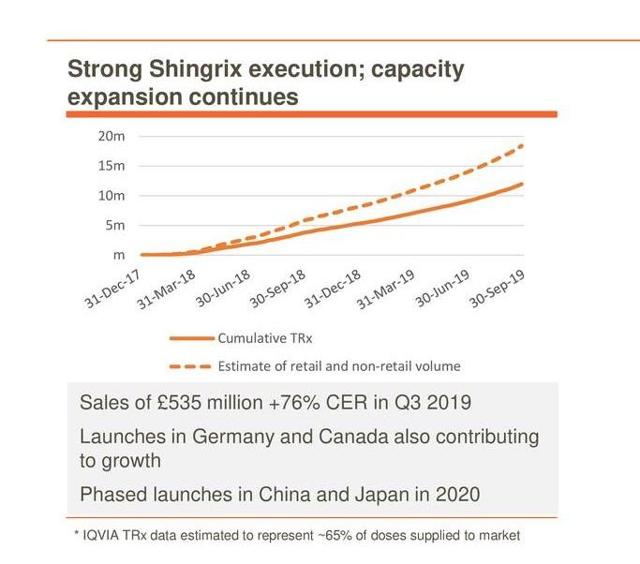 (Photo courtesy of GSK investor slides October 2019)
We have seen most of the sales come from the United States with $1.49B of the $1.62B in total sales done domestically. As shown above, new launches in Europe and expected in 2020 launch in Japan should continue to fuel growth. Initial focus in the United states was likely due to pricing power.
Billing elderly for Shingles is unlike billing flu or pneumonia vaccines, which are billed directly to medicare for zero copay. Shingrix is billed to the patients medicare advantage plan (Medicare D). The result of this is usually a high copay. Most Medicare part D plans do not have preventative coverage for vaccines. If the patient has a deductible the vaccine could cost the patient up to $170 per dose. Even if the patient has hit their deductible, or doesn't have one, the patient is still due a brand name copay ranging from $35-$48 per dose. Regardless, sales of Shingrix in the US have been fantastic. 
A real opportunity arises from Medicare B coverage of the Shingles Vaccine. Effectively allowing everyone with Medicare to get the vaccine for free. Future cost benefit analysis would be needed. It's a possible upside to an already strong growth machine.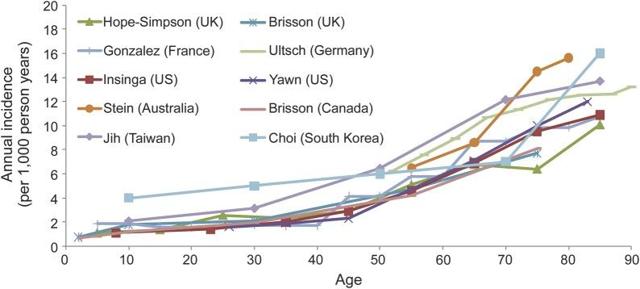 Age-specific zoster incidence rates around the world
Compiled by E. Brenitz, MD, PhD, Merck and Co., for ICID, Bangkok, Thailand, June 2012. See also references e1–e9 on the Neurology® Web site at www.neurology.org.
As we can see in the chart above, the incidence of shingles seems consistent around the world. We can therefor conclude, that the potential worldwide is astronomical. My initial concerns for the vaccine was that it would have a cure like effect. Most eligible patients would get immunized in the first few years after release, following this initial bolus of revenue we would only see those who became newly eligible annually (those turning 50) get the vaccine. After reviewing the financial breakdown of sales by country (provided on the GSK website), It appears we have a much longer time frame before that becomes a worry. 
Prediction:
At it's peak, I think we could see total annual sales worldwide of $4B. I think that is still 5 years away from occurring. Barring any loss in the HIV and Respiratory segment outside of ADVAIR, I think the company is very strongly positioned for at least 5 years of strong earnings. 
Disclosure: I am/we are long GSK.