The Arrow in FedEx is Pointing Up
By Jeff Hojnacki & Brianna Carnathan
Summary and Investment Conclusion:
FedEx Corporation is a multinational delivery service company based in the United States. It is the largest express transportation company in the world, and contains subsidiary companies FedEx Trade Networks and FedEx SupplyChain Systems. Over the past seven years, the company has experienced significant growth with revenues peaking at $60.3B in 2017. FedEx serves more than 220 countries and territories making it well diversified across its four segments. Going forward, FedEx hopes to increase its use of automotive infrastructure and e-commerce to continue their growth. Historically, the company has relied on acquisition to further growth, and we anticipate them to continue with that strategy in the future but at a decreased pace.
Based on management's predictions of the company's revenue growth rates, we predict that FedEx will have diluted EPS of $18.04, $19.67, and $21.39 in 2018, 2019, and 2020 respectively. Management anticipates FedEx Express revenue growth of 13.78%, FedEx Ground revenue growth of 6.32%, FedEx Freight revenue growth of 3.77%, and FedEx Services revenue growth of 1%.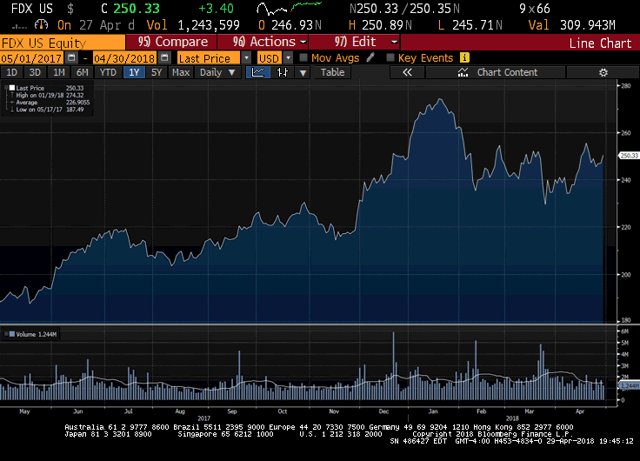 Due to these assumptions and our evaluation of the industry, we rate FedEx as a outperform/buy with a price target of $275.

The Relative Strength index suggests that the stock is neither overbought nor oversold. This indicates that it is a moderately good time to buy.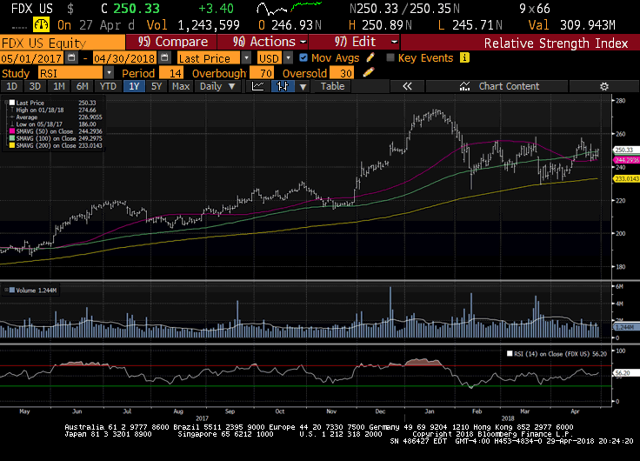 Business Summary:
Company analysis: Due to the continued growth of e-commerce and synergies from the company's recent and upcoming acquisitions, we anticipate FedEx's stock to increase over the next five years. US Census Bureau reported that e-commerce sales increased 16% 2016 to 2017, whereas retail sales in general only increased 4.4%. FedEx continues to invest in itself through acquisition, purchasing one company a year in 2018, 2017, 2016, and 2015. In 2014, the company acquired two companies. FedEx has relied on both debt and cash to fund these acquisitions.
Divisional description: FedEx has several different divisions- services, office, express, trade networks, ground, supply chain, freight, and custom critical. FedEx Express is the largest express transport in the world, FedEx SupplyChain Systems and Trade Networks are part of Express's business operations. FedEx Ground handles the day to day delivery in the states. FedEx Freight services Canada, Mexico, PR, and US Virgin Islands, and consolidates freight from multiple careers into one load. FedEx Services supports the other FedEx companies through sales services, marketing, information technology services, communications, and similar services.
Competitor analysis: FedEx's key competitor is UPS. Until recently UPS traded at a higher P/E,
however investors have begun to see FedEx's value.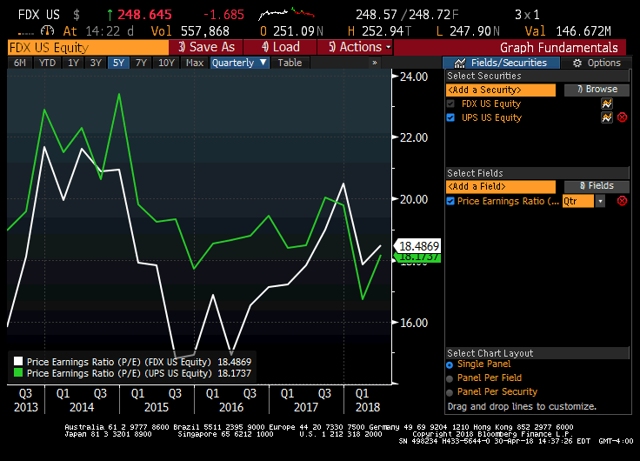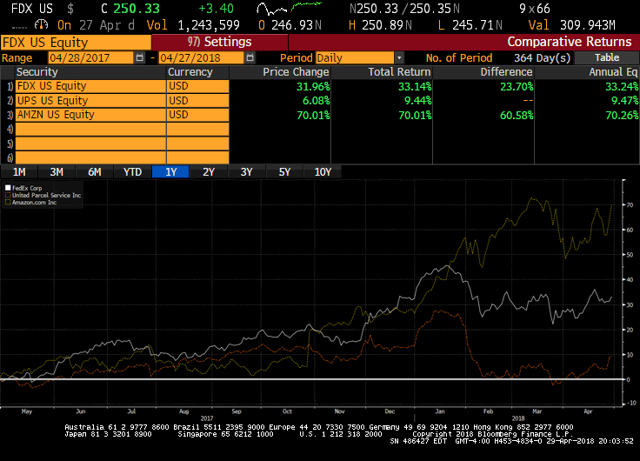 FedEx has Y/Y revenue growth of 19.76%, relative to UPS's 8.15%. UPS still has 97.26B in market cap, which exceeds FedEx's 66.26B market cap. However, "FedEx appears to meet peak season demand better than UPS" (Bloomberg), which is partly why FedEx has outperformed UPS. UPS is pursuing some similar strategies to FedEx like diversifying their services, investing in technology, and entering new markets. UPS has 63,000 locations relative to Fedex's 51,000 locations, so UPS has a convenience advantage over FedEx. Other competitors to FedEx are USPS, Amazon, and, internationally, DHL. All competitors have seen strong growth. Amazon's development of in house shipping is unfavorable for FedEx, but we anticipate Amazon continuing to rely heavily on FedEx for the foreseeable future. We also believe that growth from other online retailers will help FedEx replace business that is lost due to Amazon's shipping. DHL, the global logistics leader, beats FedEx in all market segments. DHL is particularly strong internationally, since the company is based out of Germany. (SimilarTech.com)
Industry analysis: Since 2014, transportation stocks have consistently underperformed relative to the S&P, with the Dow Jones Transportation Index annually returning 8.19% relative to the S&P's 10.55%. However, over the past year FedEx has moved from underperforming relative to the S&P to outperforming both the TRAN Index as well as the S&P. Over the three years, FedEx's stock price has appreciated 45.78%, almost twice that of the S&P and the TRAN Index.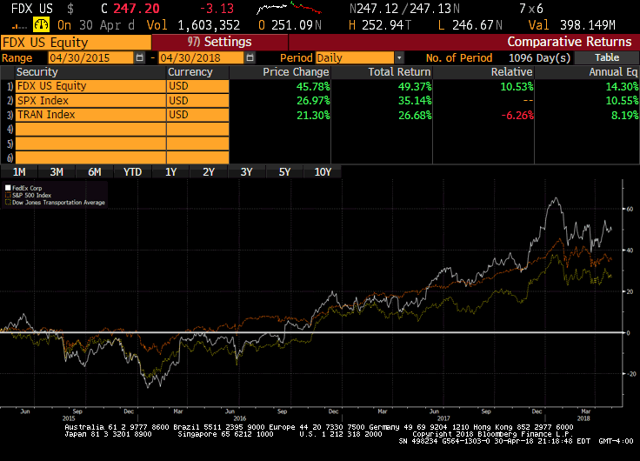 Historical performance: FedEx has repurchased $80M worth of stock over the past five years. Between 2014 and 2016, FedEx returned $8.8B to stockholders through repurchases. FedEx also returns value to stockholders through quarterly cash dividends. These factors, as well as the company's solid performance has caused the stock value to consistently increase over the past five years. Over 2016 into 2017 the stock climbed steadily due to positive profit forecasts from the TNT merger and election results. 3/21/17 and 9/19/17 EPS missed lowest estimates, which can be seen on the graph. 3/20/18 the earnings beat highest EPS estimate, causing the stock to rise 2%. The 2/6/18 drop was primarily due to Amazon's announcement of entering the parcel delivery service.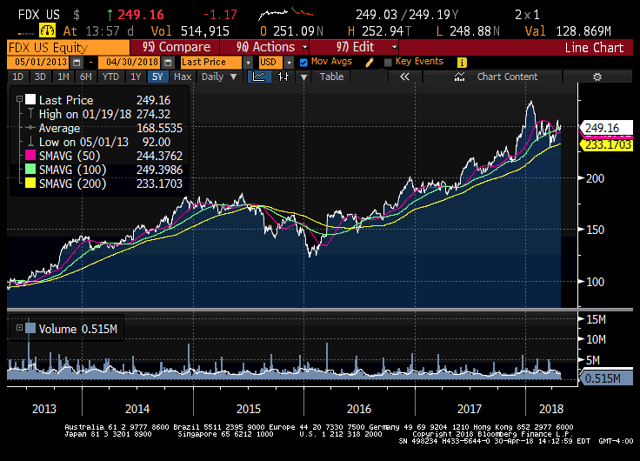 Forecasted performance: We forecast revenues of $66.5B, $73.4B, and $81.4B in 2018, 2019 and, 2020 respectively. The bulk of FedEx's revenue growth is expected to stem from their Express segment which includes TNT. Management reported that they are "targeting operating income improvement at the FedEx Express group of $1.2 billion to $1.5 billion in 2020 from 2017, assuming moderate economic growth and current accounting and tax rules." As past performance has shown, we anticipate FedEx Express group to comprise more than half of the company's overall revenue, while the Ground segment comprises almost 30%. The freight and services sectors are expected to grow at a bit of a slower rate, 3.77 and 1.00% respectively.

Risks:
One risk FedEx faces is integrating TNT, the company's $4.4B 2016 acquisition. Since then the company has acquired Northwest Research for XX in 201 and P2P Mailing Limited for $92M, but management anticipates these being less challenging to integrate. The TNT acquisition should propel FedEx's revenues from international markets. However, to take full advantage of the synergies FedEx will need to integrate the company. Last June FedEx experienced a ransomware attack directed towards the TNT Express Service segment of the business. The stock has bounced back, but the company is still dealing with the effects of this issue.
Increased oil prices haven't hurt FedEx's stock price yet, but if prices continue to rise, this could shrink the company's already small margins. Fedex also faces risks from political and economic policies. Trade wars, currency changes, and tariffs all have impacts on the stock.
Competitor risks, particularly from Amazon, are concerning for FedEx. This market segment has many tough competitors, like UPS and DHL. Fedex has been working to diversify its services, but it still relies heavily on its ground shipping segment to provide revenue. Amazon's entrance into the shipping market has the potential to significantly hurt Fedex's earnings.
Valuation:
Due to Fedex's erratic pattern of dividends over the past several years, we used a hybrid model of valuation which included dividend growth for the next five years plus the terminal value. We assumed a 25% growth rate in dividends for the next five years plus a future stock price based on a forward P/E ratio of 18.5x. The net present value of both the dividends and the future stock price were added together to give us our target stock price. Another key component in this calculation was FedEx's cost of equity which is 11.9%.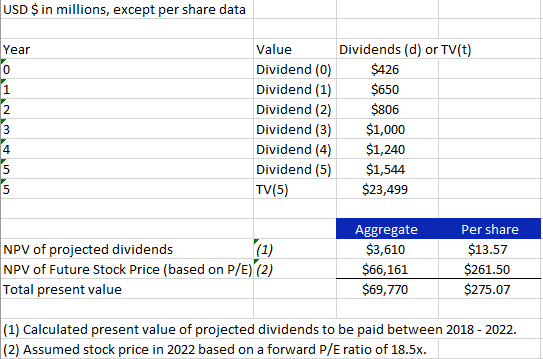 Historical and Pro Forma Tables:
| | | | | | | |
| --- | --- | --- | --- | --- | --- | --- |
| | 2017 | 2018 | 2019 | 2020 | 2021 | 2022 |
| PM | 4.97% | 7.16% | 6.99% | 6.81% | 6.57% | 6.28% |
| ROE | 19% | 27% | 26% | 25% | 25% | 23% |
| Current | 1.59 | 1.67 | 1.77 | 1.83 | 1.86 | 1.86 |
| EPS | $11.07 | $18.04 | $19.67 | $21.39 | $23.02 | $24.51 |