Consumer spending is up, (United States Consumer Spending | 2019 | Data | Chart | Calendar | Forecast) the consumer confidence index is up (Leading indicators - Consumer confidence index (NYSE:CCI) - OECD Data) and retailers are reaping the benefits.
While headlines dominate that retailers are struggling or closing, the facts show growth among publicly-traded retailers, especially those that "understand current consumer preferences and lifestyle trends"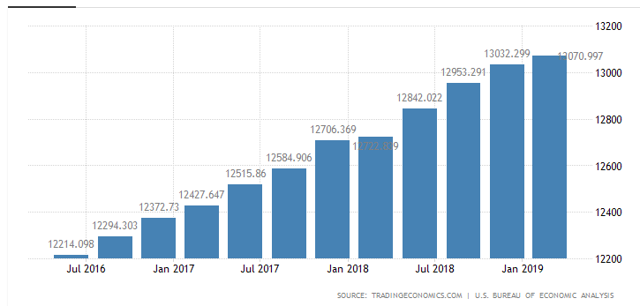 United States Consumer SpendingSource: TradingEconomics.com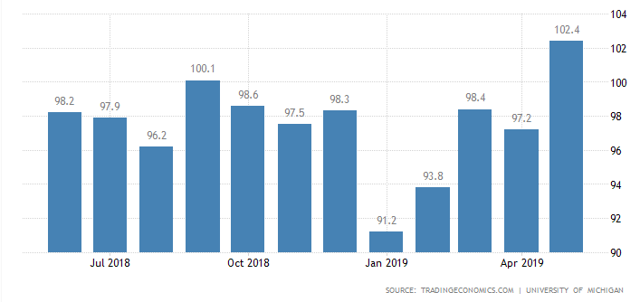 United States Consumer SentimentSource: TradingEconomics.com
USA Today reports the Top 20 Fastest Growing US Retailers, and leading the list are some not-traditional retailers such as Gaia, Inc (GAIA) at #1, Etsy (ETSY) at #2, Lululemon (LULU) at #3, Natural Grocers by Vitamin Cottage (NGVC) and Sprouts Farmers Market (SFM) that attract specific customers. Other behemoths such as Amazon (AMZN), Costco (COST), and Apple (AAPL) have made huge efforts in engaging with their consumers and delivering them a product that fits their lifestyles. Retail growth such as this underscores the concept if you cater to preferences, the consumer will follow.
The full USA Today list:https://www.usatoday.com/story/money/2019/05/15/the-worlds-20-fastest-growing-retailers/39468945/ 
1. Gaia Inc. (GAIA)
2. Wayfair (W)
3. Etsy (ETSY)
4. Amazon.com (AMZN)
5. Lululemon Athletica (LULU)
6. Floor & Décor (FND)
7. Coty (COTY)
8. Duluth Trading Co. (DLTH)
9. Callaway Golf (ELY)
10. The Sherwin-Williams Co. (SHW)
11. Apple (AAPL)
12. Ulta Beauty (ULTA)
13. Aaron's (AAN)
14. MarineMax (HZO)
15. Casey's General Stores (CASY)
16. Sprouts Farmers Market (SFM)
17. Skechers USA (SKX)
18. Guess Inc. (GES)
19. Natural Grocers by Vitamin Cottage (NGVC)
20. Costco (COST)
Disclosure: I/we have no positions in any stocks mentioned, and no plans to initiate any positions within the next 72 hours.