Despite the parabolic rise in equity prices over the last several months, not all companies have participated equally, resulting in some glaring valuation dislocations across the market place. The short outline below illustrates a significant valuation dislocation between two asset management companies, one with stable fundamentals, generating cash, and a very large dividend; the other with fundamentals that have deteriorated significantly, is burning cash, and experiencing ongoing personnel issues. 
Highbury Financial (
OTC:HBRF
) owns a traditional mutual fund asset management business. Although less sexy than the hedge fund business, assets tend to be stickier, the company has grown AUM, generates cash, pays a regular dividend and will pay a huge special dividend in early October. Although HBRF's position is positive, it is by no means perfect. Some aspects of the financials have been soft, not surprising given the state of the stock markets over the last year.
GLG Partners (
GLG
) is the once high-flying alternative asset manager that has seen its business decline significantly since the hedge fund boom days. Fundamentals have deteriorated significantly in the last year and are unlikely to return to previous levels anytime soon, if at all. As the company noted in its 2Q09 10Q: "As of June 30, 2009, a vast majority of the AUM in our long-only funds and approximately half of the AUM in our single-manager alternative strategy funds subject to high-water marks were below their respective high-water marks". Distant high water marks mean no performance fees, which also translates into low bonuses. This has been evident in a few high profile personnel departures in the last 12-months. 
As indicated below, HBRF's softness compares quite favorably with GLG's precipitous decline.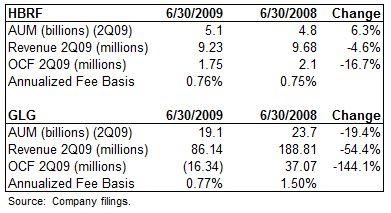 As indicated, HBRF has experienced declines in some areas, yet the company has grown AUM, and maintained positive cash flow from operations. GLG's declines have been significant in all measures. Importantly, GLG's Y-o-Y AUM and revenue declines are masked by the acquisition of long-only manager SGAM in April, 2009. On a year-over-year basis, AUM for GLG's core alternative asset management business declined $12 billion to $10.44 billion from $22.46 billion, or (53.5%). 
A comparison of valuation metrics also presents a stark contrast, though it is the inverse of what one might expect given the fundamental picture. Various valuation metrics are shown below.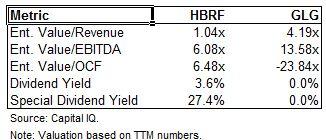 As illustrated above, with an EV/EBITDA of 6.08x and 6.48x OCF, HBRF appears inexpensive. In comparison to GLG's lofty multiples and negative cash flow, HBRF is a bargain. Further, HBRF pays a quarterly $0.05 dividend and will pay a special dividend of $1.50 on October 7th. The total dividends of $1.55 equate to 28.3% of the current price. Considering the dividend, HBRF seems a compelling value. 
There are numerous interesting ways investors can exploit the situation. A long position in HBRF is obvious, particularly given the dividends. A short GLG position could reduce market risk one side of a paired trade. Additionally, both companies have both common stocks and warrants, so different instruments can be combined in long, short and paired scenarios. The relevant data for each company is in the table below.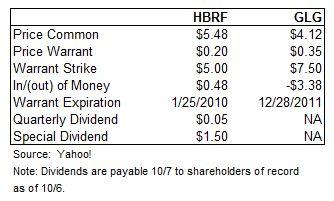 Disclosure:  Long HBRF, HBRFW; short GLG