Square Enix Holdings Co. Ltd ( TYO: 9684 ) is staying true to its tradition of quality releases and products and that is something that can be reviewed from the constant improvement of the company's statements. As a company with increasing profitability and growth, Square Enix set the bar higher for the fiscal year with new goals.
Profitability and Performance:
As can be seen in the graph below, 2018 was a fine year for the company. (Numbers in JPY Millions)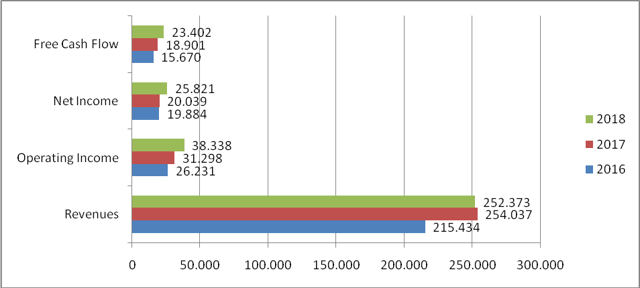 | | | | |
| --- | --- | --- | --- |
| Year | 2018 | 2017 | 2016 |
| ROE | 13.36% | 10.40% | 9.3% |
| ROA | 8.79% | 7.75% | 6.69% |
Square Enix's profitability kept on going up except revenues in 2018, they were slightly reduced compared to the fiscal year of 2017 but the company was able to achieve an increased operating and net income and a positive free cash flow. Despite the fact that revenues didn't increase, operating, net and cash profits grew because of fewer production costs.
Big Expansion plan:
The company set some important goals in order to keep on growing as can be found in the company's 2018 Annual Report. One of the key growth initiatives was Square Enix's geographic expansion. The company particularly targets India's market the most and will invest in the region.
The truth is that this is not the first time Square Enix will try to expand into India. The company had been there in the past but the offices were shut down after some time. Square Enix will try its luck in the Indian market again this fiscal year.
Gaming In India:
The gaming industry in India is continuously booming and I am 100% sure Square Enix already knows this. The following diagram clearly shows the increasing value of the gaming industry from 2007 to 2016. (2018-2021 are projected values. Numbers in billion Indian rupees)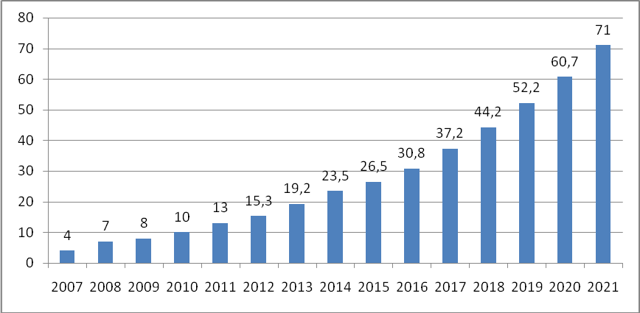 Source: www.statista.com
Apart from the historical values, statista provided projections of growth until year 2021. It is also stated in the site that based on 2015 data, the gaming market in India is dominated by mobile gaming. (2.9% of global mobile game installs occurred in India)
Future outlook and estimates:
In the company's consolidated financial results for the recent nine month period ended (December 31, 2018), the company's financial position was worse compared to the previous quarter. Revenues and operating income in Q3 declined and the company explained that the reduced profitability was due to some of the titles performing worse than anticipated and an increase in amortization, development and advertising costs.
Before presenting our estimates for the next two years it is important to point some factors that can influence Square Enix's profitability. First of all, I believe the plans of expanding in India will be crucial in the next years. There are high chances that there will be a boost in expenses due to the new geographic expansion that will harm earnings but after an operational stabilization profits may start increasing. Targeting India's mobile gaming craze is a solid strategy that can pay well, especially for a company such as Square Enix.
As for the not so satisfying profitability in Q3, I believe revenues will be fine at year's end but there will be an increase in expenses in order to support performance and operations that will harm the company's operating income and more importantly earnings per share.
In the table below we present our estimates for the next two fiscal years. (Revenues and EPS projections calculated in March 7, 2019. Numbers in JPY Millions)
| | | | |
| --- | --- | --- | --- |
| Year | 2018 | 2019 (Projected) | 2020 (Projected) |
| Revenues | 252,373 | 265,127 | 288,228 |
| EPS | 215.33 | 167.02 | 243.12 |
For the reasons stated above, 2019 will not be a great year for the company but things will get a lot better in 2020, as can be seen in the estimates. Unpredictable events, increased expenses and sudden fall of sales were factors that chopped some of Square Enix's profits in 2019, but after operations will be stabilized and new titles will be brought in the market the company will continue its growth.
Safety Fundamentals:
It is important to examine a company's fundamentals after some "below expectations" performances, especially if the company targets growth and sets plans for the future. A bad scenario can always happen and it is important to know how easily a company can sustain such situation.
In the table below we present some metrics that can quickly give us a picture of how well the company can "comeback" from a negative situation. (Metrics calculated in March, 7 2019)
Metric

2018

2017

Quick Ratio

2.97

3.09

Free Cash Flow

23,402

18,901

Gross Margin

47.69%

43.55%

Interest Coverage

456.4

601.88

ROCE

18.49%

16.61%

Interest Rate

0.93%
Quick Ratio: Square Enix's Quick Ratio is at fine levels. Liquidity is important. A company with assets that can be liquidated fast can easily cover its short-term liabilities and avoid credit problems.
Free Cash Flow: Cash surplus is extremely important. Not only companies have more options on how to use that cash but it can help a lot in times of distress. As can be seen, the company has increased its free cash flow well and is at satisfying levels.
Gross Margin: The reason I chose this ratio as a "safety fundamental" is because it can give the company the freedom to adjust prices when there are problems with revenues and when competition becomes harder. Square Enix's Gross Margin is fine and can indicate that the company has more strategies in product pricing.
Interest Coverage: The company's Interest Coverage is extremely high which make it seem unnatural that there will be any problems with interest payments.
ROCE: This ratio shows how efficient the company's capital is employed in order to generate profit. We generally want this metric to be higher that the interest rate. Square Enix's ROCE looks strong.
It seems that Square Enix operates fine and is in a position to defend downfalls and unpredictable risks such as sudden raises in interest rates, underselling of products, unusual expenses etc.
Conclusion:
I believe that Square Enix will not show high growth in the 2019 fiscal year but 2020 will be a lot better. The company has quality titles to support a revenue boost and with games like Kingdom Hearts III which show high selling power, solid growth plans, enough capital to support them and with a fine operational activity profile, numbers will start getting higher fast. It is interesting to see what the company has to announce during the next E3 convention. A Final Fantasy VII remake is a possible release in 2019, which is something that will add to profits. In general, Square Enix Holdings Co. Ltd is a well positioned company that has a lot to offer in the gaming industry and takes its growth seriously.
Disclosure: I/we have no positions in any stocks mentioned, and no plans to initiate any positions within the next 72 hours.
Additional disclosure: This article is a personal opinion on the particular company and it is not an advice of investing in the said company or any related securities and instruments.