Background
Continuing from Part 2, the final part of my DAVIDsTEA (NASDAQ:DTEA) series will unlock the hidden value behind the tea retailer. After a 90% plunge from ATH, DAVIDsTEA now has both the attractive valuation and strong financial position to gain momentum for an intriguing contrarian play. With out further ado, let's get started.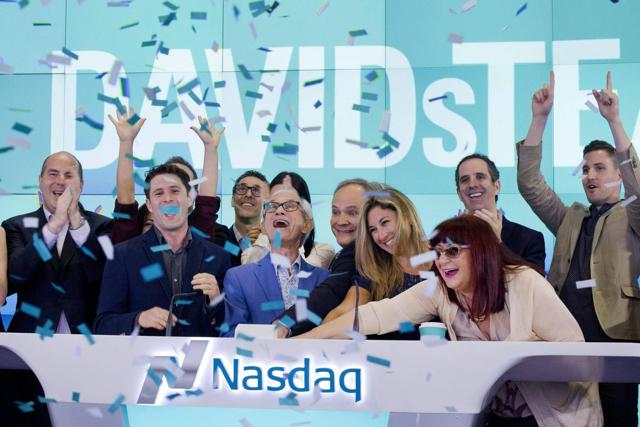 Top Tier Balance Sheet
*Note: For the remainder of the analysis, all of DAVIDsTEA's operating leases have been converted into capital leases at the borrow rate below. Therefore, all balance sheet; cash flow; And income statement items have been adjusted accordingly.

Source: Author's Analysis

Source: Bloomberg, Author's Analysis
In terms of financial health, DAVIDsTEA has a large sum of cash; zero long term debt; and a manageable amount of leases. All of which are good news for the company to capitalize on the growing demand for tea without debt-fueled expansion. Furthermore, as the company focuses on turning around existing stores, lease expenses are likely to continue to decline as underperfoming stores are shut down. With 240 stores total, retailers suffering continuous declining comp sales can be closed down to save at least on avg $441k in financial expenses alone, not to mention overhead savings. Speaking of decline, the firm's market capitalization and enterprise value have fallen significantly to make the case for an intriguing contrarian play. Below is a detailed analysis of DAVIDsTEA's financial metrics:
Extremely Low Valuation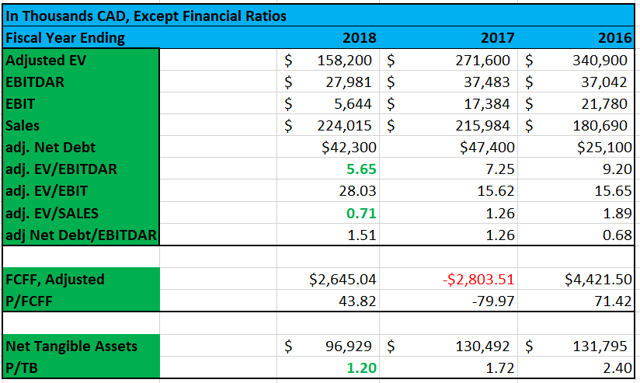 Source: SEC 10-K Filings, Author's Analysis
With just 0.7x adj. EV/Sales and 5.7 adj. EV/EBITDAR, DAVIDsTEA's shares are significantly underpriced for a company growing its sales 27% annually in the past 5 years. The company's financial leverage, while growing, is far from insolvency at a healthy 1.5x adj. Net Debt/EBITDAR. Furthermore, the company trades nearly at par with the value of its net assets at 1.20 P/TB. While the company has faced headwinds in the past, the value of the enterprise has declined much faster then the value of the operations. In other words, a rock bottom is forming before the ultimate return to growth. And this is especially true in terms of margins:
Margins Have Floored

Source: Author's Analysis
Ultimately, tea is a precious commodity with rising consumer demand in both U.S. and Canada. 50% to 90% Gross margins are common within the industry, and judging by the table above, it is highly unlikely for DAVIDsTEA to fall further below the lower end of such guidance. With its largest competitor, Tevana, now closed down by owner Starbucks (NYSE:SBUX) between Q32017 and Q12018, DAVIDsTEA now has near monopoly status in Canada in terms of tea sales and remains an emerging growth company in the United States. As mentioned before, management only recently began new strategic initiatives (beginning Q12017), and expects the turnaround to run on all cylinders in the latter half of fiscal 2018. Between then, there is one catalyst with the potential to drive valuation higher for the company:
Short Term Catalyst - Activist Battle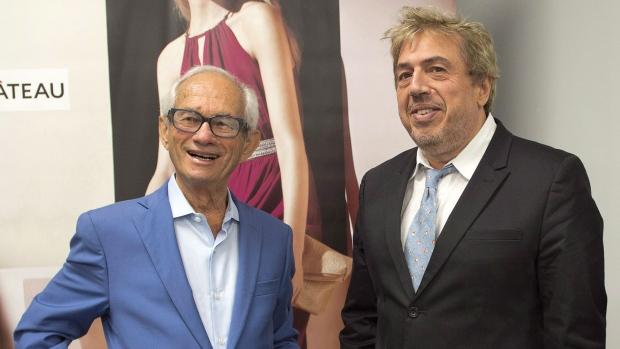 Photo: Activist Herschel Segal, Co-Founder of DAVIDsTEA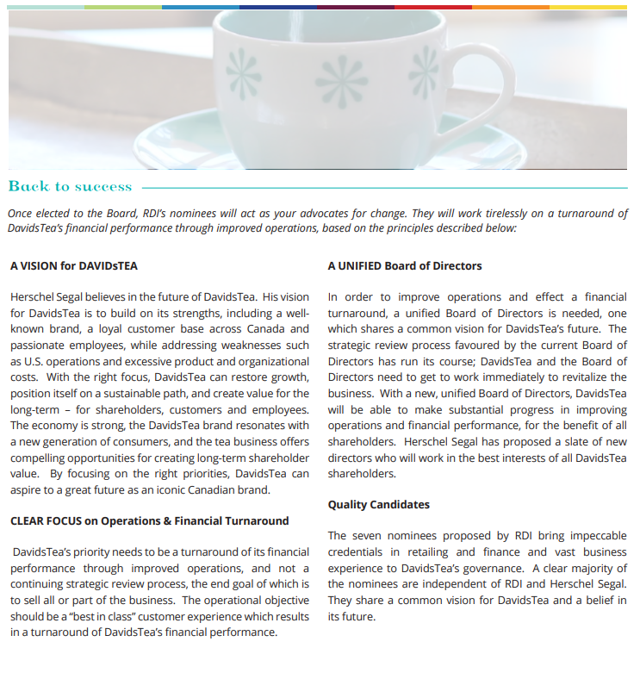 Source: SaveDTEA
Recently, the current board of directors have been engaged in a battle with activist shareholder and co-founder Herschel Seghal. Herschel, who owns 46.4% of all outstanding DAVIDsTEA shares, plans to replace current management with seven of his handpicked nominees and focus on connecting with in store customers to consolidate the best DAVIDsTEA brand. On the other hand, 3 institutional shareholders controlling a combined 36.3% stake agree with management that merchandising; brand growth; international expansion; and e-commerce investment as the key to DAVIDsTEA's future. It is worth noting Herschel Seghal has been a dissident board member since the inception of DAVIDsTEA's IPO, and has been actively disagreeing with the management's executions until his resignation from the board in March 2018. Using his significant minority control, Herschel has nominated 7 members to the board with unanimous support for the strategies outlined in his snapshot. Conversely, the current board of management are dedicated to leveraging the 4 strategies listed above to grow DAVIDsTEA. Hence, while both sides have pros and cons, the board will likely be unified in their future executions regardless of which side emerges victorious and streamline the decision making necessary for DAVIDsTEA's turnaround.
Conclusion
DAVIDsTea's resilient sales segments, healthy balance sheet, undervalued multiples, and short term activist action makes the stock a very attractive contrarian play. A real turnaround is brewing as management finally becomes aware of the cultural differences between Canadian and U.S. tea consumers and adjust the company's products accordingly. Currently, very few companies in North America are as unique and well branded as DAVIDsTEA to capitalize on the booming demand for tea. This concludes the final part of my DAVIDsTEA coverage, thank you for reading. 



Disclosure: I am/we are long NASDAQ:DTEA.