Sunday 9 September 2012
Let the market lead, then follow it. That is precisely the tactic we have taken in waiting for confirmation that a breakout is underway, and not more of the trading range of the past few years. The charts of the various markets are like pieces of a puzzle, and all we have to do is put them in their proper place. This is a point we make consistently, and being consistent in defining market activity is crucial for successful trading. [See Silver and Gold - Context Matters, click on http://bit.ly/QZqpLC, comment on 5th chart].
The benefit of hindsight amply demonstrates how difficult it is to accurately assess a market because it ain't easy to be so landed given how so many things can, and do happen. We know for certain that as price moves farther along the Right Hand Side,[RHS], of a trading range, the market is ready to make a move, and it can be in either direction. For as much as the longer term charts were showing an overall bullish posture, another feint to the downside was still within the realm of possibility.
All doubt was removed, [or at least most of the doubt], when price made a new four week high close and simultaneously broke above the supply trendline, as can be seen in the chart below. While there was a greater probability that buyers were actively absorbing all the sellers had to offer, the small ranges had to be respected as the possibility that buyers could not get the market higher, after several weeks of trying.
The market led, and we followed. Sometimes it can be that simple.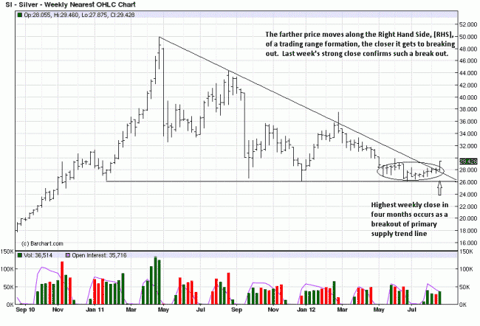 One measure, which is nothing more than that...that is, a general guide, is a half-way retracement of a move. When price stays above a 50% retracement, it indicates the market is relatively strong. When it stays under a half-way retracement, the market is generally weak.
A 50% retracement from the 50 high to the last 26+ low is the 38 area, and we view support/resistance as areas and not an absolute number. It was interesting to see how previous market activity echoed the 38 area as potential resistance. We drew in some lines off recent highs or highs of a wide range bar down in order to determine some possible stopping points.
What we all need to do now is monitor price behavior when those levels are reached, for that will give important market information as to how any rally will fare.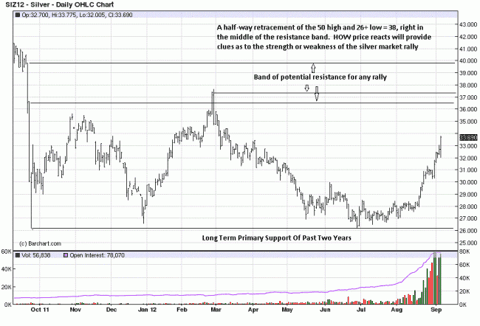 This is a closer look at the same daily chart. It shows how silver is coming out of a base formation that has some "stored up energy" that allows for the likelihood of a sustained rally. How it will unfold is
anyone's guess, but for now, it acts well.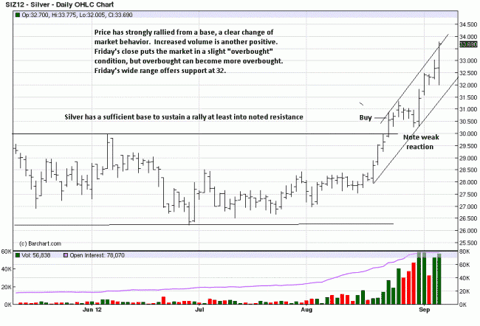 The monthly gold chart is an example of how many misuse trend lines. A trend does not change simply because price goes under it, rather, all it says is that the existing trend has weakened. It may lead to a change in trend, but most trends last longer than many realize.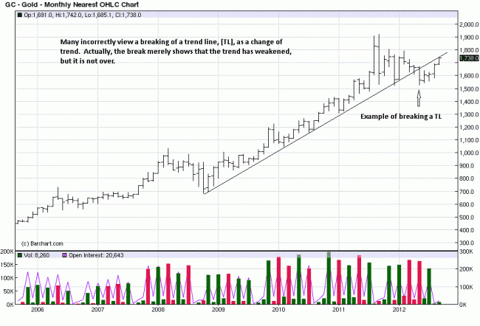 The gold chart is relatively stronger than is the silver chart. Both are moving in a relatively similar fashion. Gold's breakout has been equally impressive in the run up to recent higher prices.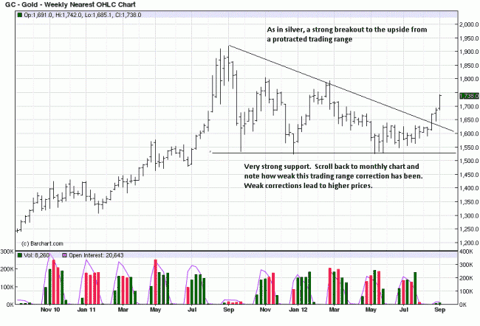 Something to ingrain in everyone's trading mind is that, in an up trend, weak reactions most always lead to higher prices. We said the same thing on the daily silver chart, [click on http://bit.ly/QZqpLC, 3rd chart], last week. Using that bit of market knowledge was how we entered the gold market, shown below. We know gold is one of the strongest markets, so buying breaks should work.
Once a breakout developed, we viewed any correction, between 3 to 5 days, with relatively smaller ranges as a buying opportunity. One does not always get the bottom of a correction, but it is often
close. You can see how little gold retraced its recent gains, and whenever you see a weak reaction in a strong up move, it is a signal for higher prices to come.
For certain market axioms, they can never be repeated too often, and we always like to acknowledge that the VERY BEST source of market information comes from the market itself, and we use the charts to get a read on what the market is advertising. Why is that important? Quite simply, the market is NEVER wrong.