Monday Evening  27 December 2010
 While trolling through the charts, we came upon this potential set-up
in the Euro.  As we said recently, when analyzing any situation, always
start with a weekly chart to get a perspective and to maybe find an
important context within which to carry forward on the smaller time
frame charts.  What caught our attention was the failed probe from a
week ago Friday because the volume was so high, the highest since
the lows from May-June.
 Anytime we see a high volume bar, it is worth taking a closer look. 
In fact, we just did a similar analysis in the Wheat market where we
discussed the importance of a high volume bar.  [See Wheat -
Potential Move In The Making, click on http://bit.ly/e0obKM, 7th
paragraph].  Depending upon where the high volume bar occurs, it
generally marks a transfer of a market from weak to strong hands,
when there is buying involved.  In a selling situation, it is a movement
from strong hands distributing their line to weaker hands who are
doing the buying, just prior to a decline.  Some things never change.
 A lot of potential information can be gleaned just from those two
pieces of information in the form of price and volume, the best and
most reliable source to be found.  From that, we begin to dig further
to see if there is supporting market activity that can lead to gaining
an edge for a trading opportunity.
 If you look to the left from the indicated probe, there are two wide
range bars that begin a sell-off in earnest.  That is a strong indication
of supply entering the market, and when there is a future retest, we
can expect that high area to be defended, at least initially, so we draw
a resistance line starting from that important point.  We have said
before, previous resistance, once surpassed becomes support; just
as previous support, once broken becomes resistance.  Also, a
trendline is most often a meandering line, rather than straight line that
is typically drawn to depict support/resistance.  Again, this was covered in the Wheat article, third paragraph, to say to look for an
area rather than a specific price level.

 What many may find interesting is that the same process used in
this analysis of the Euro was used successfully in the Wheat market.  
The point is, a chart is a chart, and it does not matter one bit what the underlying futures, or even a stock is, the principles are exactly
the same.  Those principles are the forces of supply and demand in
conjunction with price and volume as depicted in developing market
activity.  These same principles worked for the master traders over
100 years ago, and they are just as valid in today's markets.
 The resistance line is drawn across the two highs, prior to the rally
that broke above it in October.  Resistance now becomes support,
and you can see how the line meanders to capture the change.
Drawing a straight horizontal line would miss the importance of the
failed probe day.  Well, it would not be as clear.  What we know about
a failed probe, if it is to be successful, is that it will be retested, and
on the retest, we should see smaller ranges and less volume, like we
see for the last two weeks.
 Now, it is beginning to get a little more interesting.  What we also
know is that the Euro is not in an uptrend, so this would be a
counter-trend position.  Because of that, we want to look at the next
higher time frame, a monthly, to see if there is any harmony or conflict
with the weekly.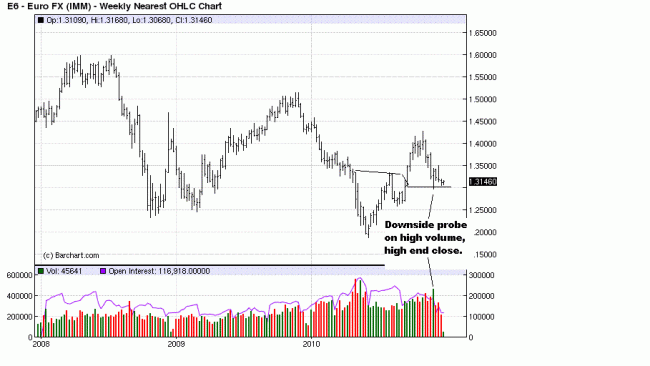 It  doesn't get much better than this for a counter-trend potential
trade.  We note that the monthly chart is in a broad trading range,
and we immediately spot yet another failed probe low in June that
takes out the support lows late 2008 to early 2009.  As we just said
about the weekly, if a probe is going to hold, expect a retest, and
the June low probe is in the process of being retested, as seen on
the weekly chart.  That makes the November bar most interesting.
 November, second bar from the end, has a wide range with a
low-end close, and the volume was the second highest since May
2010.  There was a lot of energy expended, in the form of volume,
but what was the result?  There was no downside follow-through in
December!  Here is a perfect example of why market activity, in the
form of price and volume, cannot be reduced to mechanical
explanations.  This is where the art of chart reading comes in,
and no moving averages, RSI, or MACD will ever capture what is happening, AS IT HAPPENS!. 
 We said to look for smaller ranges and less volume,  Here, on the
monthly, we are getting the opposite!  Smart money was buying on
the way down, buying whatever weak hands were willing to sell, as
the weaker hands were anticipating lower prices surely to follow. 
Trapped!  Another tool to use is a 50% retracement.  In an uptrend,
corrections that hold at, or above, a 50% retracement show a
relatively stronger market.  Half-way retracements do not often work
in currencies, but when we see them, we are willing to accept the
message. 
 The monthly chart is not only confirming the weekly, it is in harmony
with it.   What about the daily?
 Last week was a holiday shortened week, so there were only four
trading days.  The four we see on this chart are small ranges, and
volume has declined, just as mentioned in the weekly chart on what
to expect in the form of a retest.  What makes this situation even
better is that these bars are moving sideways instead of going lower. 
Why aren't the sellers exerting more control?  [We already know, so
the question is just for form.]  Plus, note the closes.  Except for
Thursday, the last bar, they are all low end, but with no more
downside follow-through.  Thursday's close is in the upper range and
above the previous two days...a subtle sign of strength.  But that is
not all!

 Thursday, the last bar, makes a lower low from the previous bars...
another failed probe.  Price went lower but found no stops and the
seller's effort has been exhausted, so the only other thing price can
do is rally.  This was our analysis, done on Saturday.  If price held
that last low, we want to be a buyer on Monday.  We saw price was
holding in overnight trade, Sunday evening, so the stage was set.
 Last chart, next...
 You can see the Sunday hours trade between 131.40 and 131.60. 
We were willing to pay up, based on the analysis, but we caught a
small break around the Monday session opening and went long at
131.32., giving us the edge we wanted.  Now, we get to see if our
read was a proper one, and how far the rally can carry.  133.50 to
134.00 area would satisfy us.  After all, it is a counter-trend trade,
and not one that is trending.  Take what the market offers.
 Now, we will be looking for ending action, in case price decides to
go to the top of the last swing high, at the 135 area.  One never
knows how a market will develop going into the future.  However,
one can be prepared.