Wednesday Evening 14 November 2012
Many times, if you have to look at a chart for longer than a few minutes without being able to draw an assessment, move on to another chart. We present three different time frames of the S&P for your own assessment. A few pieces of information have been added, but more for clarity and ease of chart read, [ Not everyone can readily read a chart.]
The answer to the question posed will reveal which side, Bull or Bear, is more in control of the overall market. Any further analysis just adds a few more details.
The solid line from the 2008 all-time high to the 2009 low was pretty much straight down. The line from the 2009 low to current high shows several swings as price moved higher. It took the Bears just 17 months to break from high to low. It has taken the Bulls 42 months to retrace [only] most of the losses.
The straight line up from the low shows progress made from each swing low to the next swing high, A, B, C, and D. What one can conclude from here is that each successive effort to rally has yielded consecutively smaller gains, a general sign of weakness.
The broken converging lines show a shallow upsloping movement, recently broken to the downside.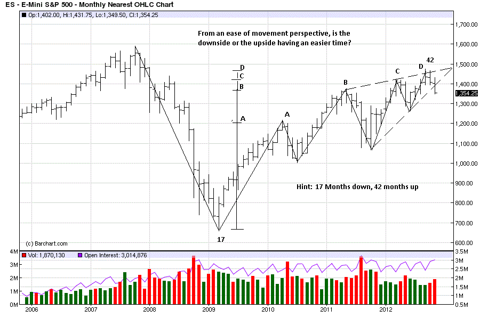 The smaller weekly time frame adds a little more to the mix. The lower uptrend channel line offers support; the upper uptrend channel line offers resistance. After the low of June 2012, the next rally failed to reach the upper channel line by a considerable margin. This is a measure of how strong [or not] a market is. This market is not strong, based on this simple observation. The support [demand lower channel line] has been broken. More general weakness apparent.
[Click on the chart to make it larger.]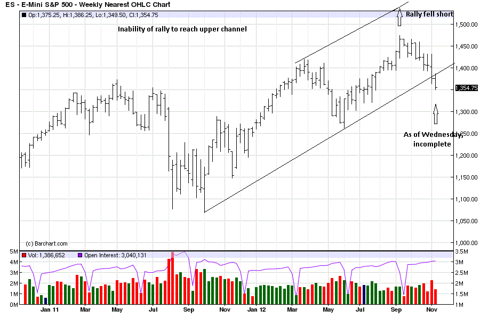 The failure of price to reach the upper channel on the weekly chart shows more clearly on the daily. Three consecutively lower highs are the pertinent observation to be made on this chart. A few more notes to better train the eye.
Note the close at "A." It was mid-range the bar, and the market is telling us that sellers were present at the high, otherwise, the buyers would have pushed the close higher.
At "B," the close is in the lower half of the bar. More sellers than buyers while the market attempted to go higher. Additionally, the close is lower than where the market opened, and it is also unchanged from the previous day…not good results for the effort expended.
At "C," the market has made another lower high, [This is a sign of weakness for buyer's efforts]. The range is smaller, the close near the low of the day, and lower than the previous day. "D" is merely the outcome of what the market advertised at A, B, and C.
All we are doing is taking a general pulse of the market and letting you make your own interpretation from factual observations. This is stage-setting for what is yet to come.
Caveat Emptor!