Sunday Evening 18 November 2012
We have not been big fans of the stock market, ever since it went into the de facto hands of federalization via Permanent Open Market Operations, then QE-ad nauseam, because it had become artificial and politicized, as it still is. Not everything goes up forever, and the fiat-driven helium driving this market will be no exception.
When you look at the first chart, one does not have to wonder why annual returns over the past decade, plus are not that great.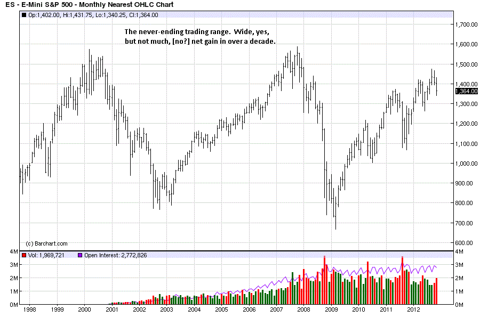 Putting a more technically discerning eye to it shows a market in an uptrend, but weakening; not over, yet, but in a weakened condition. This would be a cogent message for anyone long and wondering whether to take profits, for those who may have some.
The emboldened, flag-like vertical bar shows how successive swings higher made smaller and smaller gains, what one can take as a red flag and be more cautious.
We drew an oval around the November/December 2007 closes and the January 2008 high. The cluster closes should a lack of upside progress from one month over the next, and from there, priced dropped in a wide range to the downside. Those observable facts tell us that area is where strong selling took over the market. When you can pinpoint an area that leads to strong selling, you can almost be certain that area will be defended by sellers when challenged at a future date.
The broken horizontal line, extending to the right, is where the most recent rally met some resistance. Here is an example of where the most reliable information comes from the market, itself. this is how knowledge of certain past price areas can be extremely valuable moving forward. We should see evidence of market weakness on lower time frames.
These two pieces of market-derived information recently converged and confirm how the market has indeed weakened.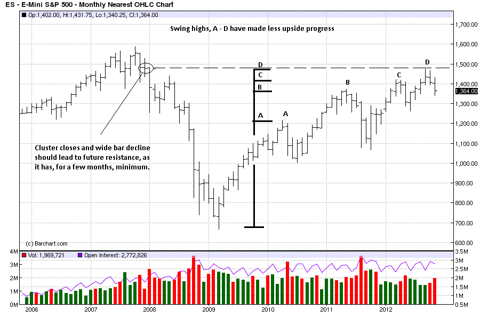 The weekly chart amplifies the monthly in more detail. An important clue that the market has weakened, as shown by less upside net progress, comes again from the market. Note that the reaction from the March/April 21012 high to swing low 1, retraced 45% of the rally. Generally, when a market can hold at, or above, a 50% retracement, it is an indication of relative strength, and it can lead to a new swing high, which did follow.
These are all observable facts, courtesy of developing market activity, that helps to make a determination about what one can reasonably expect to take place in the market. There is no need for predicting anything, or forming opinions about what one thinks the market "should" do. It is all there, under the brightest light, and where few people look. There is no need for mechanical crutches, like moving averages, RSI, MACD, whatever that may be, etc, etc, etc. All things mechanical derived are past tense information superimposed on present tense market activity. Sometimes, it works well. Many times, it does not.
Moving on...The market did make a new high, not by much, and that not-by-much was the market's way of saying, "Weaker and weaker." We get confirmation of that in the next reaction to swing low 2. This was a 63% retracement, exceeding the half-way measure and added confirmation of a weakening market.
This does not mean that the up trend is over, just weaker. We know this because the market is showing higher swing lows and higher swing highs, and until that changes, the trend remains up. The importance of that knowledge is that it may lead to a buying opportunity on the next lower time frame, the daily.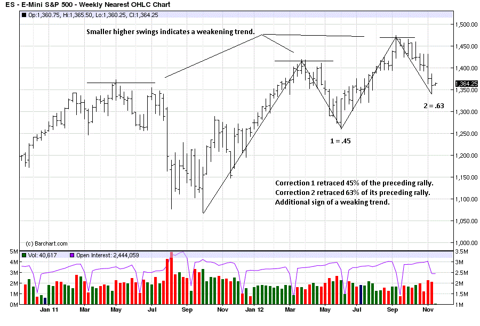 Most trader look only at a daily or intra day chart for making buy/sell decisions, ignoring the higher time frames. It is also true that most traders, at least in futures markets, lose money, on balance. Coincidence? Not for us to say. What we can say is how critical it is to know the time frame in which you are trading, as well as the next higher time frame.
The single-most important element to successful trading is to trade WITH the trend, in your chosen time frame. Trading with the proverbial wind at your back leads to having an edge in the market, that is, IF you trade selectively within the trend. Sometimes, even a poor trade decision can be bailed out by market momentum, presuming the trade was with the trend from the onset.
Once we see a lower low, followed by a lower high, at least for the daily time frame, trades can be made from the short side, with a defined reason. For example, and this is hindsight, but given for the purpose of this article for the principle behind this approach can be used in similar market situations. So it is a template, if you will.
Once price made a lower low after a lower swing high, at the end of October, the daily trend turned down. The plan would be to look for a place to go short on the next rally, IF developing market activity showed a turn lower was about to resume.
Note the second trading bar in November. It was a wide range down on increased volume and a poor close. The market just identified a potential area of weakness. If the next rally up to that area fails, it will be a place to initiate a short position, based on developing market activity. Three trading days later, the market reverses, sharply, at an area already identified as potential weakness, now confirmed.
It bears repeating, this little trade consideration was the direct result of reading developing market activity, generated solely by the market, giving us signs to act, where to act, when to act. All we needed to know was the existing trend, down on this daily chart, to tell us in which direction to trade. No opinions, no gut-checks, no mechanical tools, just pure price and volume information, provided by the market.
Two more points, and then we are done. One, why not go short on the second strong bar down in November? Excellent question, glad we asked. Because there was no confirming retest, intra day, that allowed for an edge. This puts us back to the 5th trading day of November. This day was already a retest of the failed second trading day, giving the needed confirmation of a market turn. Further, the high of the second trading day stopped at the high of a wide range bar down on increased volume 8 trading days earlier, giving yet more market information upon which to lean in making a trade decision.
Two. Note the oversold condition of the market, when it broke the support trend line, [see arrow]. A lot of people "think," believe," have a "gut feel" about an over sold market and try to go long, against the trend, we must add, and end up losing, quickly. Always remember, oversold can become more oversold.
Okay, a third point. For as long as the daily trend remains down, the next rally into a resistance becomes a potential sell, [see "Sell area," above 1400]. Price may not reach that area. It can fail, which would be an additional sign of weakness, and still lead to a good short position. Nothing is automatic. We need to see how the market develops and HOW it gets to the next potential sell area.
Market activity rules!