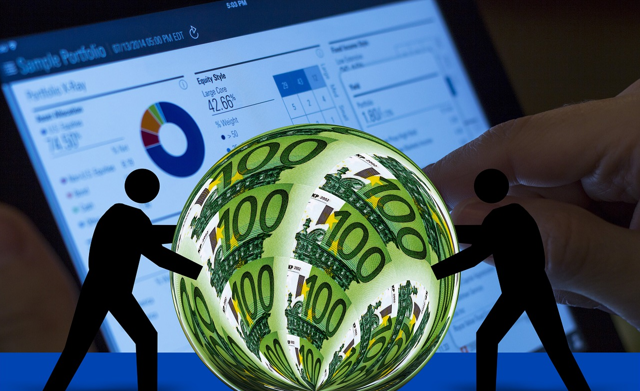 Image source: Pixabay
Investment Thesis
U.S. companies that have increased their dividends have seen their stock attract increasing amounts of money and their prices have soared. This phenomenon is most obvious in the performance of the so-called "dividend aristocrats". These companies have paid consistent and increasing dividends for a long period time. Dividend aristocrats have significantly outperformed the broader market.

This year, analysts anticipate that the S&P 500 dividend per share will follow a steeper trajectory for Earnings per Share ((EPS)) growth of 14% as a result of tax reform. Historically, dividends have increased at a steady pace along with EPS growth.

In this equity research, we will prove the market speculation that dividend yield stocks will outperform dividend growth stocks in 2018.
Dividend Growth vs. Dividend Yield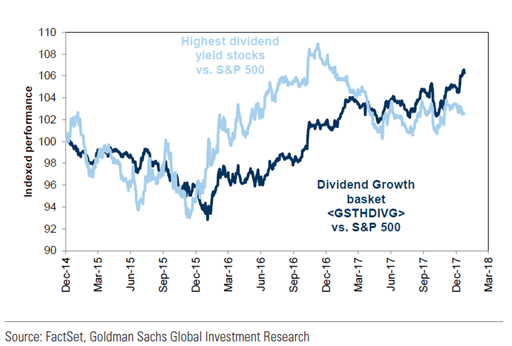 Source: FactSet, Goldman Sachs Global Investment Research
Investment bank Goldman Sachs (NYSE:GS) has increased its 2018 to 2027 dividend per share forecast of the S&P 500. It expects earnings growth of 10.4% to $54 in 2018. It is considered the largest increase of dividend per share to date. Last year, earnings growth was plotted at 7.4% to $52.55.

However, GS believes that dividend payout ratios will mildly decrease given that earnings will outperform dividends. It is also expecting a 5% boost from the corporate tax reform.

Recall that the U.S. president formally approved the Tax Cuts and Jobs Act which had cut the federal statutory corporate tax rate from 35% to 21%. The new statutory corporate tax rate is 25% if we are to include state and local taxes. The tax rate is below median S&P 500 effective tax rate of 27% (before tax reform).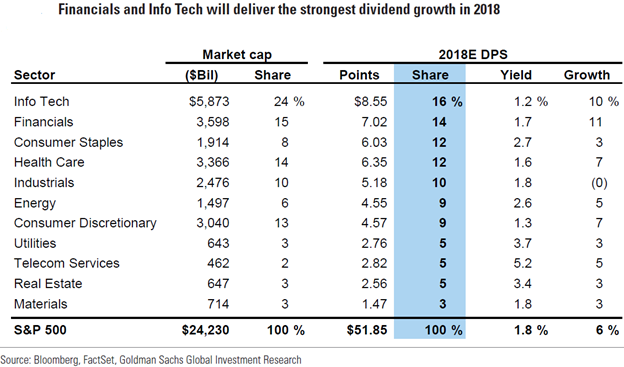 Source: Bloomberg, FactSet, Goldman Sachs Global Investment Research
Sectors that dominate contribution to S&P 500 dividends per share are financials and information technology. The financials sector will deliver the quickest dividend growth this year. Dividends from financials are expected to rise by 11% in 2018 with a 26% consensus EPS growth estimate. The payout ratio is 24%.
The dividend per share growth rate in the Tech sector is 10%, which is at par with analyst consensus of 13% EPS growth. However, analysts believe that information technology EPS will modestly increase by 7% this year attributed to negative effects of the recently-passed tax reform law.
Goldman Sachs is telling investors that the payout ratio will shrink to 35% in 2018. The market may have yet to incorporate the benefit of tax reform into 2018 dividends. The bank believes that it will be impossible for companies to postpone increases in dividend per share in 2019.
My Takeaway
It's a fact that increasing payouts can be a nice thing when a company is generating cash and covering its capital requirements.
The popularity of dividend-paying stocks indicates that S&P 500 companies now pay out 38% of their earnings. This is one third higher than a decade ago. Many U.S. companies have even resorted to debt issuance for funding dividends.
I suggest that investors should monitor the EPS growth of companies while tracking the performance of their dividend stocks. Currently, the monetary policy normalizes and higher interest rates send yield-focused investors away from dividend growth stocks. This might hurt companies that have boosted their dividends above a sustainable threshold.
I would advise investors to have an optimal mix of both dividend growth and dividend yield stocks. However, high yield stocks may have an advantage in mitigating risks.
Hence, I can only tell investors that a high-yield stock fund may be able to offer an attractive dividend yield without taking excessive risks brought by the corporate tax reform.
Two best examples are the Vanguard Dividend Growth Fund (VDIGX) and the Vanguard High Dividend Yield Index Fund (VHDYX). The high-yield stock fund has already surpassed the growth fund in over one, three and five years. Refer to the table below:

         Source: Morningstar
The Vanguard Dividend Growth Fund manages $32.3 billion assets and is now a target for new investors wishing to put their funds. It generated returns of 14% in 2017. The Vanguard Dividend Growth Fund is only 2.5% up against Vanguard High Dividend Yield Index fund that manages $27 billion.
The high-yield index fund tracks the FTSE High Dividend Yield Index and has 400 holdings. The dividend growth fund has only 45 names and holdings were hand-picked by their fund manager.
Disclosure: I/we have no positions in any stocks mentioned, and no plans to initiate any positions within the next 72 hours.
Additional disclosure: This article was written by Gold News business journalist, Hans Centena. Gold News is not a registered investment advisor or broker/dealer. Readers are advised that the material contained herein should be used solely for informational purposes. Investing involves risk, including the loss of principal. Readers are solely responsible for their own investment decisions. If you found this article to be informative and would like to hear more about my investment research, please consider hitting the "Follow" button above.