In April of 2017, BlackBerry (NYSE:BB) won a massive arbitration case worth $930m against Qualcomm (NASDAQ:QCOM)regarding overpayment of royalties. In the general enthusiasm generated by this influx of cash, as well as the general knowledge that John Chen had fully stabilized the company's finances, two analysts published articles outlining pathways to a much higher share price. To be sure, neither article constituted a definitive call. Both Gus Papageorgiu of Macquarie Capital and Andrew Left of Citron Research were proposing best possible outcomes. Nevertheless, both analysts suggested that these outcomes were realistic possibilities.
Macquarie Capital
First, in May of 2017, Papageorgiu stunned the community of BlackBerry investors with an argumentfor a $45 share price within three years. This roadmap focused chiefly on the potential growth of revenue in the Technology Solutions division. Specifically, he saw high-level growth for BB Radar (asset tracking), for QNX in the automotive vertical, and in the forthcoming security service for connected and autonomous vehicles that would eventually be named "Jarvis."
Papageorgiu concluded by saying it was possible to imagine $2b in SW revenue and EPS of $1.82 by the end of 2020:
As for RADAR, assume the company starts F2020 with 500,000 units in service and moves to 1.5m, averaging 1m units in service for the year at $20/month and selling 1m hardware units at 50% gross margin. For QNX assume the company has its software deployed in 111m units up from 'over 60m' currently and moves the ASP per car from $1.50 to $5.00. For the 'McAfee' service [now known as 'Jarvis'] assume by 2020 the company has 10m cars on this service at $7.50/month. All combined that equates to $2.4b in revenue, $2.1b of which is software, and approximately $1.82 in EPS. Apply at 25 multiple and you get a $45target.
Radar
Papageorgiu's dream of $30m/month subscription fees for Radar ($360m per year!) turned out to be far too hopeful. About 15 months later, during the Q2/19 conference call (September 28, 2018), John Chen announced that Radar would produce "$100 million in cumulative revenue over the next three years." In other words, it's likely that Radar will bring in approximately $50m in FY-2021. This cuts Papageorgiu's dream down from $30m+ per month in 2021 to something closer to $4m/month. There is of course the possibility that Radar will suddenly catch fire between now and 2021, but for the time being that remains little more than a fond hope.
QNX
The argument regarding QNX was (and is) somewhat more plausible, in that BlackBerry continues to dominate the automotive vertical through sales of licenses for infotainment systems, telematics, ADAS, hypervisor, acoustic systems, and more. Papageorgiu wrote his article when QNX was still announcing it was deployed in 60 million vehicles, but a year later (June 2018) BB announced the revised figure of 120m vehicles. Moreover, there is little doubt that QNX has added 15-20m vehicles or more to that number since last June.
The problem is that Papageorgiu seems to have been under the impression that QNX revenue per vehicle was recurring, or that BB could charge a certain number of dollars per vehicle on a yearly basis. However, BB makes its $1.50 or more per license for each individual vehicle on a "one and done" basis. If BB sells 3 or 4 licenses per car to Ford, for example, the company stands to make approximately $5 for each of the 6-7m vehicles produced by Ford in a given year. In other words, BB can make as much as $30m from Ford for the whole year.
Jarvis
The argument regarding the McAfee-style service named "Jarvis" was perhaps the most fanciful of all. BlackBerry may have had high hopes for this service in the early day, but quite obviously it hasn't taken off. BB announced that it had sold Jarvis to one major customer, and possibly two (conference call Q2/19), but that seems to be the extent of it.
We suspect that the recent acquisition of Cylance was motivated at least in one small part by the difficulties of Jarvis gaining traction. Certainly, there are major differences between Jarvis and Cylance. Jarvis"is a transformational, binary static application security testing (SAST) platform that can help automakers and other embedded developers secure their software supply chains" whereas Cylance cybersecurity uses machine-learning and AI-based "solutions that predict and prevent execution of advanced threats and malware at the endpoint." [source: Cylance website]
Nevertheless, it's obvious that BlackBerry is excited about integrating Cylance into its QNX family of applications, and Cylance could be used as an adjunct to or enhancement of Jarvis. Still, we doubt the price tag on such a service would come to $7.50 a month, as once envisioned by Papageorgiu. Compare the rate offered by Cylance to retail customers, where $1.99/month buys protection for 10 home computers. If "Jarvis+Cylance" ever catches on, we figure that $2/month/vehicle is the more likely price point to be paid by car-owners or car companies determined to prevent hacks.
In sum, Papageorgiu's blue-sky revenue forecast of $2.4b combined from QNX, Radar, and Jarvis will likely be reduced to $550m by the end of FY2020. It now appears as if QNX will produced revenue in the $250-300m range, and Radar in the $40-50m range. It's impossible to know what Jarvis as a standalone product will produce, but in the spirit of generosity, let's assume it contributes somewhere between $10 and $20m annually at some point in the next year and a half. Finally, however, in a spirit of generosity, let's count total revenue from Cylance towards Papageorgiu's prediction. All we know for certain is that Cylance generated $130m (trailing twelve months) as of June 2018. Let's presume that number will minimally be $220m by the end of FY/20.
Let's remember that Papageorgiu focused his argument almost entirely on hypothetical revenue ($2b) generated by the BB Technology Solutions division. That in turn led to a price target of $45 US. Following the same valuation process, revenue of $550m from QNX, Radar, Jarvis and Cylance -- considered as a package separated from BB's other businesses -- should lead to a price target of approximately $11.50.
Citron Research
The second well-known figure in Wall Street circles to offer a radically bullish casefor BlackBerry was Andrew Left of Citron Research. Here is the core of Left's argument, in which he argues for a $20 price target by June 1, 2019:
The Blackberry bear case argues that its installed base will soon be "disrupted" into oblivion by the big guys -- Apple and Google. But the dynamics of the competitive landscape doesn't always work out that way. Mobileye's 16 million installed base was an asset Intel couldn't pass up. And a raft of credible potential competitors hardly suppressed its value to an acquirer with lots of cash. We think the parallels to Blackberry are compelling. Given its market-leading automotive installed base, its IP portfolio, its background in secure computing, its having quenched its cash burn, and added a fresh billion in cash for R&D, Blackberry isn't going away. Those 60 million QNX installs will get monetized one way or another. Citron believes if anything this validates Blackberry position and makes it ripe as an acquisition target for countless suitors.
The most prominent parts of Left's multi-layered thesis were:
1. The dominance of QNX and its wins with OEMs, Tier 1 suppliers, and major chip-makers like Nvidia (NASDAQ:NVDA) [since added to by new wins with, e.g. Jaguar Land Rover, Denso (OTC:OTCPK:DNZOY), and Baidu (NASDAQ:BIDU)].
2. The 40K-patent portfolio, with "potential for future litigation victories with Avaya (NYSE:AVYA) and Nokia (NYSE:NOK)" [since realized, with a new lawsuit against Facebook (NASDAQ:FB) and SnapChat (NYSE:SNAP) pending]
3. "Pedigree for secure mobility and computing."
4. Its "war chest" of $1.5 billion [in actual fact, it became $1.8b, with $1.4b used to acquire Cylance].
5. Its "attractiveness as an acquisition target."
Near the end of his article, Left cautiously acknowledges the high-end forecast made by Papageorgiu:
The risk involved with this investment is that the company does not execute or that autonomous driving or the IoT does not evolve as expected. However, the downside seems very limited... In the unlikely event that RADAR is a complete zero, and BBRY cannot bump its ASPs in the car, or launch a credible security service, we still estimate that at 2.5x EV/Sales we would get a target price of US $8.30.The full monetization story of QNX and RADAR will take pages to tell,but were best outlined by longtime Macquarie Blackberry analyst Gus Papageorgiou when he stated that the stock has the potential to hit $45 if executed properly ... yes $45.
So far, BB has clearly done a steady, effective job of executing its own path to profitability since the heady days of 2017. Revenue in all three software divisions has been rising, where increases per division have outnumbered the decreases by a ration of 4 to 1. The company has secured new licensing wins with automotive and mobility OEMs. It has won its IP court battles against Avaya and Nokia, and seems poised for a new victory against Facebook, SnapChat, and WhatsApp. RADAR at a cumulative $100m over three years has gone well beyond Left's fear of "complete zero."
Finally, and again, BB used $1.4b out of its debt-free cash to buy one of the hottest companies in the burgeoning space of AI plus machine learning cybersecurity, thereby adding a minimum of $150m to annual revenue. Even more important than this, however, is that Cylance both invigorates and buttresses everything that BB has been trying to accomplish in securing Unified Endpoint Management and the modern, connected, and autonomous vehicle.
Our take
Six months ago, in an article published on SA, whose intent was commenting the first quarter release, we also proposed our forecast for BB's fiscal 2019. The main thesis was that ESS's sales (heavily hit that quarter) would have likely bounced back in the following months, arguing that the negative impact of the accounting rules' change was only temporary.
We were right on that side, but somehow too optimistic in valuing the growth of the other two main "engines" of BB's total software sales.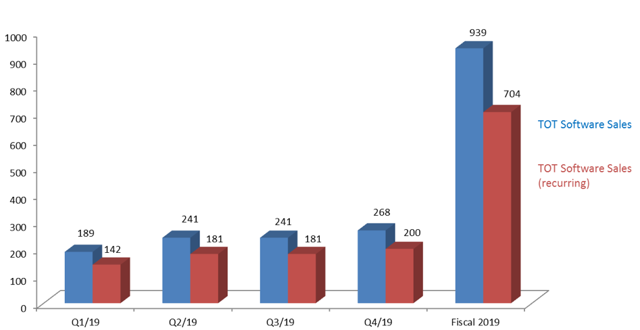 BB total software sales and recurring estimation
All numbers in Million dollars. Source: Author's elaboration
Indeed, first nine months total revenue came in at $649M, around 3% lower than our total software and sales estimation. Yet, around $40M in fees from BB's past handset business (that will soon come to an end), are included in those $649M, so the magnitude of our miss is much bigger.
However we still count on the Q4. It is worth mentioning that BB's software and sales growth brings with it a steady improve of margins, that is something very difficult to forecast even for the more optimistic among BB's analysts.
Conclusions
We're fully aware that the invocation of two 20-month-old articles might inspire either laughter or more bitterness, as their calls for a $20 or $45 share price by 2020 or 2021 seem absurdly optimistic, especially that $45 call. On the other hand, it's worth keeping in mind that Papageorgiu was offering his target as something entirely conditional upon all potential developments going just right in the BTS division. His more "down-to-earth" projection was for a share price of $11.50. In the present context of $8 US, at last observation, even that lower target seems happily optimistic.
Andrew Left on the other hand took a hard look at the totality of BlackBerry's various lines of business, focusing on Enterprise SW and Licensing/IP as well as BB Technology Solutions. Although Left, like Papageorgiu, recognized that the most exciting part of the BlackBerry story resides with BTS, his call for $20 covered a much bigger picture, including the attractiveness of BB as a buyout target. We're wondering if we'll get yet another follow-up from Left now that BlackBerry has acquired Cylance, given that this hot new cybersecurity outfit and its 100+ patents have the potential to change everything.
Finally, who's to say BB won't get close to Citron's $20 or Macquarie's $45 by the end of FY2020 or 2021? Several conditions that make BB ripe for a breakout are as follows:
1. The share price has been shackled for the past few years by pro forma analyses of total revenue, where the dying legacy businesses of Handheld Devices and "Service Access Fees" have made it appear for a long time that BlackBerry is either in decline or in the doldrums. The reality is that Software and Services revenue has grown from $248m in FY/15 to $880m today. In future, now that revenue from hardware and SAF has all but disappeared, all advances made in SW/Services will, both in actuality and appearance, be understood as markers of substantial growth.
2. The ASC-606 accounting changes at the beginning of FY/19 made it appear as if BB's flagship business -- enterprise software -- had endured a significant relapse. The present trajectory of growth needs another quarter or two to convince analysts that the company is making genuine progress.
3. The Licensing and IP division has been hampered by lumpiness and lack of transparency, given all the non-disclosure agreements that dominate every agreement BB signs in this field. Still, a cursory glance shows a fairly steady and impressive increase in revenue over the past 3 years. It is only a matter of time before analysts and investors understand the ongoing contribution of L.IP.
A future article will focus on several ways in which BlackBerry might plausibly double or even quadruple from the market's present valuation. Much will depend on information investors receive from the imminent finalization of BlackBerry's acquisition of Cylance.
Note: I'd like to personally thank SA member "Yasch22" for the great help he gave me with the concept of this article as well its editing process.