On May 17th, Hewlett Packard (NYSE:HPE) announced they had acquired Cray Inc. (NASDAQ: CRAY) for $35/share.
That day, the stock of the Seattle-based company surged to over $36 and I sold all of my stake at that price, achieving an outstanding gain in less than nine months, clearly crushing all the possible benchmark comparisons on the market (see picture below).
Source: Dividend Channel
I think it's worth reviewing the dynamics involved in this investment.
These types of trades are not common for any investors. It is incredibly difficult to gain over 70% over a nine-month period and without leverage, while the global markets are flat, at best. Indeed, I don't expect to replicate such a performance any time soon.
Nevertheless, I believe that the correct thinking process that led me to buy this company is easily repeatable. Therefore, I decided to identify the key points of my CRAY investment thesis, not because I want to boast (well, maybe just a little), but to attempt to model a correct approach that would bring outstanding long-term results to my future investment choices.
It goes without saying, what is useful to me could be useful to my readers too.
So, how did I get that?
I started the coverage of this supercomputers' maker in July 2018. In a previous article of mine, I highlighted how CRAY managed to build a compelling business in the supercomputer arena, where it is considered as one of the most reliable names, always tops the vendors' list and keeps a relevant market share. Notably, CRAY's competitors were, by far, bigger and ranged from Dell (NYSE:DELL), to IBM (NYSE:IBM) and HP to the Chinese giants Huawei and Lenovo (OTC: LNVGF), just to name a few.
This could be a first important takeaway: choose small companies which show they can compete with bigger companies.
I am aware that many investors are hesitant to buy a small fish, as they are afraid of budget constraints and competition headwinds. This is the underlying risk, of course, but it is usually offset by the growth opportunity, which could eventually lead to an acquisition (as it happened in CRAY's case).
It was quite obvious, given CRAY's market share in the worldwide supercomputer business, that the Seattle company managed to face stiff competition comfortably and without resorting to debt (its current assets exceeded total liabilities by far and there was no long-term debt). These results were probably achieved thanks to their specialization.
In fact, CRAY has always focused on building supercomputers, whereas its competitors were mostly tech conglomerates that ran several different businesses at the same time.
Competitors' budgets were a big yes, but they were unlikely to shift money from one of their business to another. In these cases, almost invariably, the most profitable long-term choice for the big fish is to acquire the small competitor, in order to increase its market position and cut a great deal of recurring expenses, thanks to the synergies stemming from the merge.
To sum it up: seek a small but very focused fish, which has a healthy balance sheet and that swims in the same pool with large and un-focused whales! This is already a formula for success.
Is Mr. Market bearish for the right reasons?
CRAY had reached a peak of over $42 per share a couple of years ago, just before plummeting by more than 50% and bottoming up to less than $18 at the end of 2018. This was due to a poor guidance of decreased investments and inadequate spending activity for CRAY's targeted niche of high-end supercomputers, storage and analytic systems.
The company's revenues declined by almost 50% compared to that peak.
In any case, the reason for the debacle was related to the intrinsic cyclicality of the demand for high-end supercomputers rather than to operational problems. As already mentioned, CRAY's market share didn't decline that much even when its sales plunged.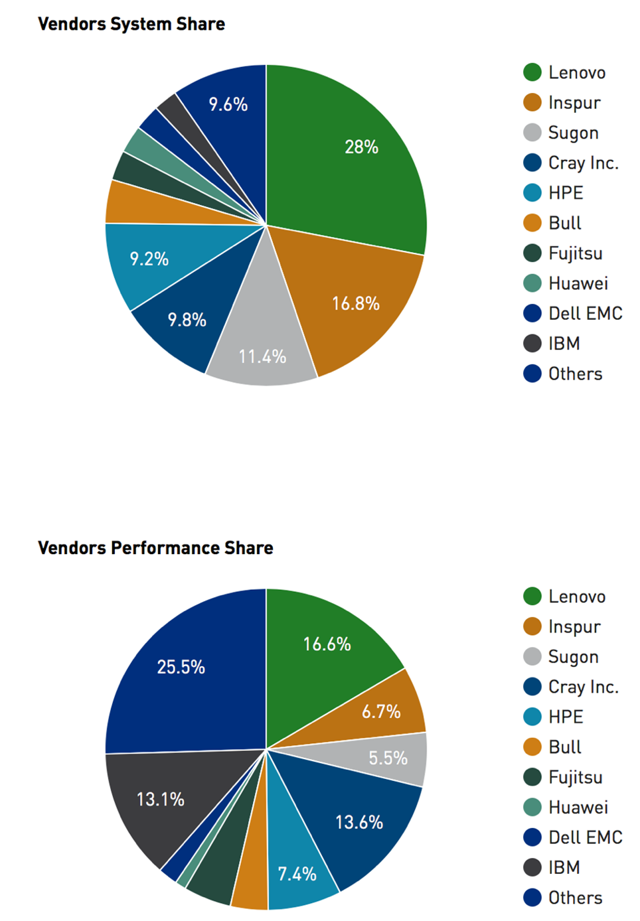 Source: Top55.org-November 2018
In spring 2018, the market reached its bottom and, according to CRAY's management, it started a slow but reliable recovery.
Moreover, I identified at least two recent key developments in CRAY's business which would allow the company to count on more recurring and less cyclical sales.
The first was the increasing percentage of revenue from private entities. The commercial market business grew at a double-digit rate and already accounted for nearly one fifth of CRAY's total sales.
The second was the continuous improvement in the service business. Actually, CRAY's service sales had never been so high in the company's history and their recurring nature ensured that the ups and downs of the hardware supplies hardly affected them. Instead, in difficult times, when companies and public offices cut expenditure, they kept their systems longer than the average four years (which is the standard period for supercomputers' obsolescence) and ended up spending more on maintenance and services.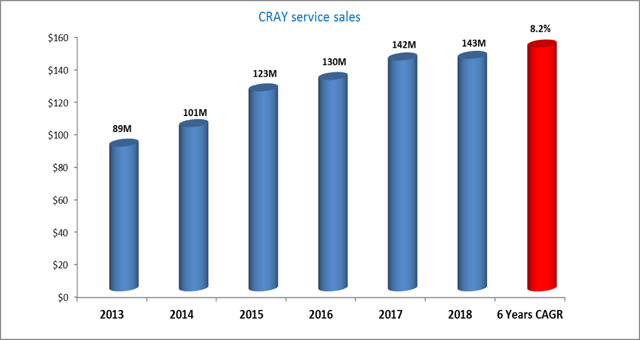 Source: Company's reports - Author's elaboration
Naturally, this part of the business had intrinsically better margins too. This was encouraging since, historically, CRAY's gross margin averaged at around 33%, a decent level for a hardware manufacturer, but nothing to be excited about.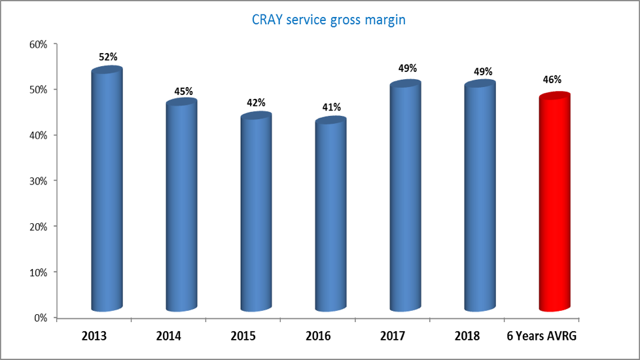 Source: Company's reports - Author's elaboration
Check the price. Always!
I started to follow CRAY at the beginning of last summer, exactly one year ago. Yet, I didn't buy the stock at that time.
I always invest for the long term, but I am quite reluctant to buy a stock if the medium-term downside/upside ratio is a relatively high number (it should be as small as possible).
I don't usually like to build a gradual position throughout a period of time either. Instead, I prefer to use the expected value, assigned by me, to calculate how much of my capital will be devoted to the purchase.
As I discussed in my first public coverage of CRAY, the stock was trading at a level of about $25 per share at that time and I regretted not buying it a few months earlier, when it costed around $20. Therefore, I wrote a positive article, but I didn't take a position at the time. In the end, I thought that the rest of the summer season, with its increasing volatility, could provide a better entry point. After all, CRAY's investors needed to be patient, I thought, because the company usually didn't show the real shape of its business until after the fourth quarter call, which often made up for the majority of the annual revenue and profit. Such type of investors is not easy to find. Consequently, in my opinion, there was a high probability that many shareholders, discouraged by a disappointing intermediate quarter, would lose their patience and sell the stock before the fourth quarter release.
Last August, I was lucky enough to witness a plunge in the stock price of almost 20%. The decrease was not caused by any disappointing news and I attributed it entirely to the usual summer volatility of the stock exchanges.
I thanked Mr. Market and bought my CRAY's shares at last.
Therefore, here's my advice: the future is always uncertain and that's why the upside must greatly offset the downside. Don't buy if you are not able to detect a comfortable margin of safety.
Conclusions
The closing of a very successful trade gave me the opportunity to discuss the rationale behind the investment process and the noble art of stock picking.
Hopefully, the observations I just outlined will serve as a useful memo for my future investment decisions.
My readers should probably take note too and give themselves a pat on the back if they followed my hints, since this trade was almost entirely covered by my articles on Seeking Alpha.
Disclosure: I/we have no positions in any stocks mentioned, and no plans to initiate any positions within the next 72 hours.
I wrote this article myself, and it expresses my own opinions. I am not receiving compensation for it (other than from Seeking Alpha). I have no business relationship with any company whose stock is mentioned in this article.