Please Note: Blog posts are not selected, edited or screened by Seeking Alpha editors.
Macro, Currencies, Long-Term Horizon, Medium-Term Horizon
Seeking Alpha Analyst Since 2017
Global Macro Trader. Investor. Dragon Enthusiast. Traveller.
author at dragon1.substack.com
Interested in unintended consequences.
Finding order in chaos.
Conditional probabilities.

Looking into ideas where fundamentals, technicals and market psychology align to give excellent reward to risk ratios.
Traded Emerging Markets currencies and interest rates products in London, managed fixed income funds for a major asset manager.
15+ years experience in the markets.

https://uk.linkedin.com/in/tomasz-zatoń-57516b

https://twitter.com/Tomasz_Zaton
Summary
Euphoria in the stock market as prices increase vertically.
Record M&A, IPOs and fund inflows.
"Bull Markets are born in pessimism, grow on skepticism, mature on optimism and die on euphoria".
Deterioriating technicals.
Can the bull market continue further? Comparing current behavioural and price signal with the previous bull market tops (2001 and 2007), we have just seen the top. It is time to short equity indexes.
Famous long term investor John Templeton said: "Bull Markets are born in pessimism, grow on scepticism, mature on optimism and die on euphoria".
Markets are always evolving, but the underlying psychological forces remain the same (greed and fear). Since March 2020, equity markets have defied any fundamental factors and marched higher and higher. Surely, central banking money printing provided lots of fuel for this rally. Last few weeks provided investment managers with food for thought for many years. We have witnessed an army of retail investors loosely linked on social media platforms cause radical moves in several stocks. The GameStop saga is an indication that the money printing experiment has gotten totally out of control. Such episodes of wild speculation (YOLO call options) are reminiscent of market turning points. When everyone believes that the markets can only go up, the risks are normally the highest. Who are you going to sell higher if everybody has already bought? The illusion of markets offering free money without any consideration for risk is just another major warning sign. It is the exact opposite of behavior in March 2009 when people are scared to buy stocks. The markets have completed the full cycle. From fear to greed.
There are a few general points that bear striking similarities to previous cyclical market tops and this article is aimed at analysing them.
First, lets see if can find the traits of euphoria in the markets.
Looking at prices alone, we can see a blow-off top.
It can be described as a rapid increase in price on little news, fuelled by pure speculation. We have seen such behaviour prominently within the current bull market. A number of high-flying tech stocks could be named as a perfect example. Tesla comes to mind first as the most prominent example (given its sheer size and publicity), increasing its market cap by a factor of 10 since March 2020 bottom with no change in current earnings (markets aggressively priced in future cash flows increases). The examples however are not limited to individual stocks. Looking at broad equity indexes like Russell 2000 (chart below), we see uninterrupted vertical increase since the pandemic lows.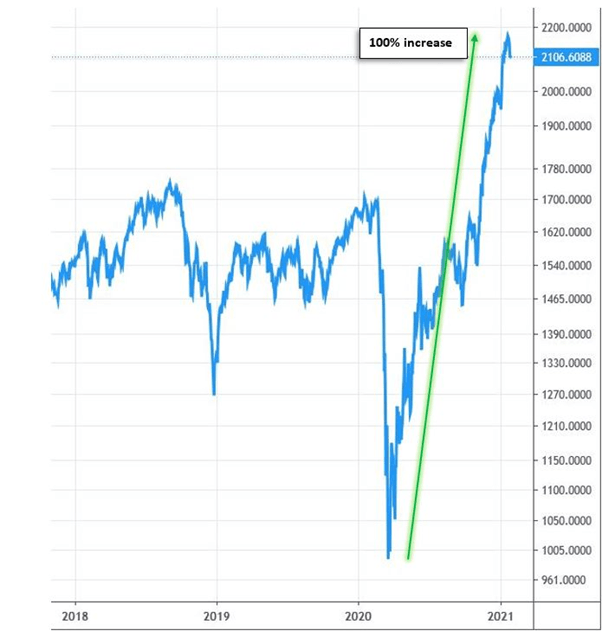 source: tradingview.com
A 100% increase within 10 months for a stock market index is a striking example of a blow off top. Other major indexes are not far behind: S&P 500 is up 70% since the pandemic low and Nasdaq 100 is up over 90%. Moves of similar magnitude preceded the top in 2001 in internet stocks and also in 2008 in commodities (OIL). Investors that missed the signs of the top were left with huge losses in the months ahead.
In parallel to previous bull market tops, we have seen heavy inflows into equity market mutual funds. Post COVID-19 investors rushed in to buy mutual funds. One of the world's largest investment firms – BlackRock alone has seen almost 400 billion $ in inflows across various strategies (equivalent to 2% of US GDP). Inflows picked up after the vaccine announcement by Pfizer as broad stock market indices soared. Other big investment funds enjoyed huge inflows too.
Signs of euphoria are also seen by the big pick-up in Mergers & Acquisitions activity in recent months. CEOs are always most bullish at the stock market tops. That is just basic human psychology. Last year, despite the virus, there was strong M&A activity with technology, media, telecommunications as the most active sectors. Total volume of deals was around 2.9 trillion $ in 2020. While slightly less than in 2019, it was still one of the best years ever for transactions. One of the largest deals in 2020 included S&P Global buying British IHS Markit for 44 billion $ or AMD buying Xilinx for 35 billion $. Big tech transactions were hallmark of the dot com bubble top and large banking M&A signalled the 2007 stock market top.
There are also numerous signs of euphoria within the IPO activity. Record amounts of money were raised in 2020 bringing back the memories of the mania days of dot com bubble. The market had a special taste for money-losing companies. The share of unprofitable companies that were floated was highest since 1999. Notable names that were floated in 2020 included Airbnb, Palantir, Snowflake or Door Dash. Sophisticated investors like Japanese Softbank were floating mega unicorns from their portfolios (in addition to gaming markets with call options purchases). If history is any guide, that behaviour happens exactly around the stock market tops.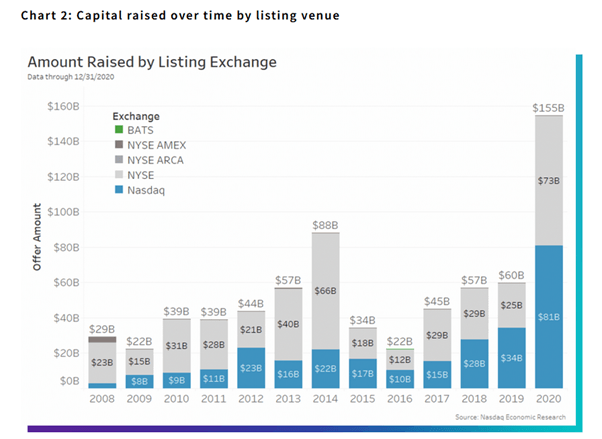 Technical picture has deteriorated too. Indexes dropped from record highs only last week, shedding around 4% for S&P 500 on turmoil connected with long/short equity portfolios at major hedge funds. They had to liquidate parts of their long positions to cover losses caused by significant short squeezes in several stocks.
The mega tech stocks are mostly flat for January and that supported the indexes somewhat. Behind the scenes however, the number of stocks above their 50 day moving averages has been dropping, as can be seen on the below example for the S&P 500 index.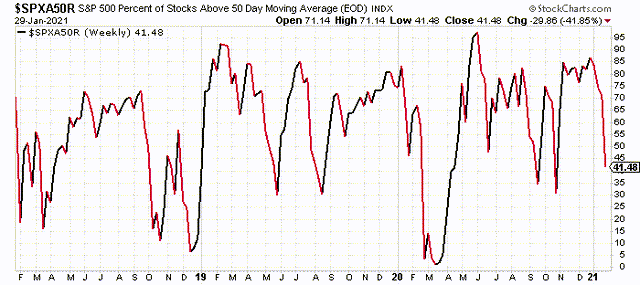 Source: StockCharts.com | Advanced Financial Charts & Technical Analysis Tools
Investors were slowly selling off the second and third tier stocks while buying / keeping the generals (FAANG) and that resulted in higher / stable equity indexes for most of January.
This weakening participation is not the only worrying sign. The S&P 500 index is also stretched on another key technical parameter. Since the start of the current bull market (March 2009), the percentage difference between the S&P 500 daily close and its 200-day moving average has been characterized by the following table:

Source: Author's own analysis
The current reading of places the index in the highest 10% of observations showing the degree of overextension.
S&P 500 corporate profits have also dropped. It should not be surprising given the last year's global pandemic, steep job losses and business closures. The gap between soaring prices and the lower earnings is becoming very wide. The resulting Price / Earnings ratios are the highest in the history for a broad index. Even some of the mega large caps, like Apple have seen stagnant to lower earnings in the last quarters. Often cited Warren Buffet's indicator of total market cap to GDP is the highest in history showing that investors are truly believing that the future is going to be attractive for stocks.

Source: Federal Reserve Economic Data | FRED | St. Louis Fed
Given these red flags (euphoria visible in prices and corporate behavior), warning technical signs and similarities to previous instances of stock market tops investors could take advantage of the expected bear market in a few ways.
Shorting SPDR S&P 500 ETF Trust (SPY) is one method. Another one could be purchasing ETFs inversely correlated to S&P500 index, such as ProShares UltraPro Short S&P500 (SPXU) or ProShares UltraShort S&P500 (SDS).
Analyst's Disclosure: I/we have no positions in any stocks mentioned, and no plans to initiate any positions within the next 72 hours.
Seeking Alpha's Disclosure: Past performance is no guarantee of future results. No recommendation or advice is being given as to whether any investment is suitable for a particular investor. Any views or opinions expressed above may not reflect those of Seeking Alpha as a whole. Seeking Alpha is not a licensed securities dealer, broker or US investment adviser or investment bank. Our analysts are third party authors that include both professional investors and individual investors who may not be licensed or certified by any institute or regulatory body.