Well-established and elite brands do not fail easily, and Tiffany & Co. (TIF) has arguably been one of the leading premium jewelry brands for decades. From the famous "Tiffany Blue" boxes to engagement rings meticulously handcrafted by highly skilled artisans, Tiffany appears to be too large and too popular to fail.
The jewelry industry, like most other luxury industries, took a hit during the recession when consumers were less willing to spend money on extravagant and unnecessary items. Although they have shown recovery from their net income drop in 2014 of 181.37 million (MarketWatch), the recent trend has shown a slow but steady decline in net income averaging 17 million per year since 2015. For a company that had nearly a 63% increase in net income from 2014 to 2015 of 181.37 million to 484.18 million respectively, such a steady decrease gives the feeling that Tiffany & Co. (TIF) has peaked as a top competitor.

(Yahoo Fiance, (TIF) stock prices from 2013 to 2017)
Competitors seem to be feeling a similar pinch; Blue Nile continues to hover around 10 million in net income (Google Finance) which is significantly lower than Tiffany's reported 446.1 million net income, but not a fatal difference considering the difference in size between the two companies. While there are countless factors that relate to the success and failure of this industry, there is one that needs to be addressed: millennials.
Several industries blame millennials for their downfall, and the jewelry industry might join that list. If millennials aren't spending their money on shiny jewelry, then what are they spending their money on?
There are several contributing factors here, not only where the money is being spent, but why. First, there is a higher value being placed on experience. Millennials want to travel the world and experience other cultures and seeing their peers post their travels on social media is helping fuel this trend, along with clever advertisements from travel agencies (Mya 2017).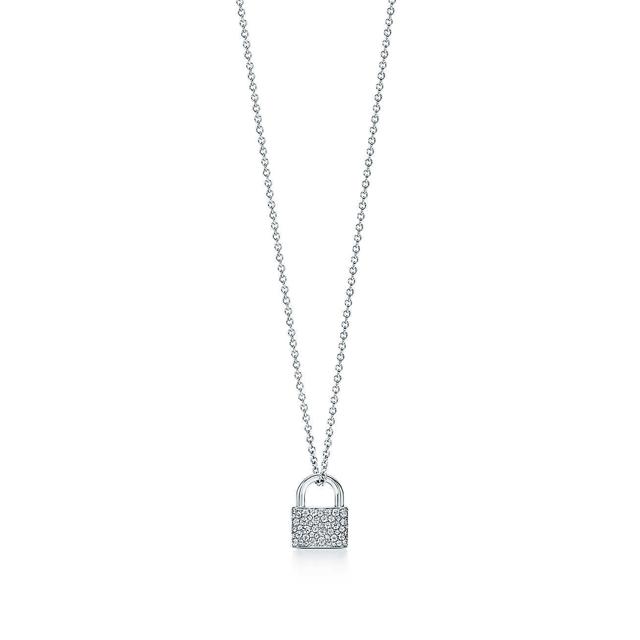 Consequently, the more trips an individual takes per year is less disposable income they can expend on luxury items such as Tiffany's $2,500 lock pendant necklace. In comparison, $1,999 gets an individual a round trip to Australia for three nights with a luxury king room and excursions. Not only do millennials realize this, but usually, they prefer it.
(Image of Lock Pendant from Tiffany & Co. Official | Luxury Jewelry, Gifts & Accessories Since 1837)
Another variable to consider is that millennials are throwing curve balls at conventional marriage trends. That is, if they are getting married at all, they are doing so much later in life. An article from Bentley University predicts that about 25% of millennials will never be married (Murphy). If this is the case, that's 25% of millennials that will have no need to purchase engagement rings, expensive anniversary presents, and so on. If they are getting married, they are getting married later in life after they have established a career and a life for themselves. Additionally, for a generation that feels more inclined for experiences rather than expenses, it is unlikely that such an individual would feel the need to splurge nearly $2,500 on themselves when that could fund them another meaningful life trip or another meaningful life event.
In summary, millennials are not purchasing engagement rings, anniversary presents, or splurging and treating themselves to expensive jewelry and other luxury items. Since millennials are not going anywhere anytime soon, what does that mean for Tiffany & Co?
The company needs to consider this changing consumer population into their future. While it is extraordinarily unlikely that 100% of the population will remain unmarried, Tiffany & Co. needs to be prepared for a continuing and steady decline in engagement ring purchases. Additionally, they need to be conscious of the fact that they will most likely have new consumers that are much more price sensitive than those have been in the past. If every single engagement ring Tiffany offers is above $10,000, then the company is sure to suffer a slow and painful failure.
But Tiffany & Co. cannot change from differentiation to cost leadership to cost leadership so drastically and suddenly; it would certainly ruin their brand name. Instead, a more reasonable solution would be for the company to find a way to indulge their population's new taste for experiences. Whether that be an exclusive membership for travelers or finding a way to offer specific products in high tourist traffic areas that the traveling millennials can collect, Tiffany & Co. cannot ignore the fact that their population will be changing. They have the capability of maintaining their differentiation while adapting to some of the crucial changes that have been presented to them. They are undoubtedly a very successful and popular company; however, if they ignore the potential changes that are coming their way for too many years, it could mean the end of the luxury company.
References
MarketWatch. 2017. Article.
Murphy, Meg. Bentley University. 2016. Article.
Mya, Kacey. U.S. News & World Report. 3 February 2017. Article. 2017.
Disclosure: I/we have no positions in any stocks mentioned, and no plans to initiate any positions within the next 72 hours.