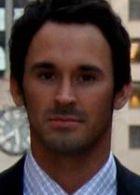 Dan Carroll - Seeking Alpha Profile
Over the past weekend, I had the chance to meet up with Dan Carroll, the Founder of kaChing.com, over a cup of coffee in San Francisco. It was a pleasant two hours of my weekend, not to mention good coffee.
Never heard of kaChing? Well you will soon…because kaChing is a revolutionary, SEC approved financial site that aims to "rock the investing world".
I immediately noticed when Dan walked in the coffee shop recognizing the profile pictures I dug up online. What impressed me the most is not the fact that he is a 27 year old founder of a hot, buzzworthy company, or his taste in clothing (rather preppy), or his generosity to buy me coffee, but is the amount of knowledge he had amassed over the course of his trading career, which started before his teenage years. 
Today I share my experience interviewing Dan at the local coffee shop. He is an outstanding investor himself (check out his portfolio), so enjoy the story.
What is your background? How long have you been trading?
"I have been trading since I was….like 12. I started with around $10,000 and it had grown considerably by the time I was in college, which I ended up using to pay my way through college."
After graduation, he's held several roles including working as a fixed income trader and for a financial software firm. He then started FSX (now KaChing) on Facebook back in 2007, which leads him to where he is today.
What is your investment strategy? What about that particular strategy that you like about?
"I am a macro investor. I like to take the top down approach, looking at the overall macro picture with regards to interest rates, currency movements, growth rates, and inflation. I then dig deeper to particular sectors and companies, looking at the balance sheets and the fundamentals."
After listening to Dan's intense explanation of his trading strategy, I started recognizing how he thoroughly understands the different economic variables that impact each other and their interrelationships. This guy is no schmuck. He gets the system, and he is the most followed investor on kaChing for a reason. Well…ok I admit. Part of it is definitely the fact that he owns the site lol.
So where do I start if I wanted to start learning what you know and become a macro investor?
"Well…[hesitates] I don't think this strategy is for everyone. In order for you to be successful doing what I do, it really requires a thorough understanding of pretty much everything, from currencies to bond markets to the international markets. For the averages investors, it will be too overwhelming initially trying to grasp the interconnection of the market driving variables."
What do you think of day trading and short-term trading?
"Do I think there are investors who make money looking at the technicals? Sure"
But Dan believes in understanding the fundamentals, and good research comes with good fundamental analysis.
Do you believe that average Joe Schmoe can be a successful investor? Is it required to get formal education & certification to become a successful trader?
"Yea definitely. I mean, certifications? [shrugs] I don't have any, but I consider myself a good investor...and school education…while is undoubtedly valuable, you retain about 10% of it, so the true learning comes from actually getting involved and learning from your experience. With that said, I read everything and anything I get my hands on. I am always searching for my edge. "
This is definitely an encouraging message for the new investors. I, myself, am a believer that you don't have to have a financial background to be a great investor. I recently read an interview at WallStCheatSheet with Barry Ritholtz, in which Barry talks about his law degree. Look at Barry now, he's quite legendary.
How would you recommend new investors to learn? Where would you start?
Dan put a lot of thinking into this one. With all of the questions I asked, he always had something to say immediately, with great responses at that, but this question actually got him thinking.
"I think the best way to is to start learning from other great investors. Read books on how to understand the fundamentals. Read the research done by other great investors (there are plenty available at kaChing) and understand what variables they pay attention to. Learn from the best by learning how THEY think."
Me – "I couldn't agree more."
He also offered to send me a PDF version of the book that's worth $1,800 that I will share with my readers when I get a hold of it. Now that's a sweet deal. What an awesome guy.
Can you share some of your personal investing stories?
"I started with a little over $10,000 and managed to turn that into a sum enough to pay through college. I then lost a lot of money after. I also ended up making more money for my relatives than myself during this past year. [laughs] But honestly, without going through the experience of a loss, you truly don't gain the valuable experience you need as an investor. I am talking about emotional challenges too"
"You need to learn how to manage risk, and my experience taught me that."
"Let's say there are two investors. Investor A managed 15% return every year for the first 9 years. Investor B managed a 12% return for the same period. In this case, investor A would get more attention claiming him to be the best. But what happens if on the 10th year, Investor A lost 20% when the market crashed while Investor B managed to return 3% that same year? Guess who comes out on top?"
What do you think of BBBY? You're currently shorting the stock.
"You know...I covered a small part of my position since the latest earnings report, because I expect a potential short squeeze to happen (BBBY reported positive news by the way), but my thesis remains completely in tact. Without new stores popping up everywhere for BBBY, and same store sales continuing their trend in the doldrums of almost -2% for the quarter, Bed Bath & Beyond will have a hell of a time maintaining its growth going forward. I believe we are entering a new paradigm of lower consumer spending that is here to stay. The national savings rate is at its highest in 15 years, and the real estate market is still declining. The math just doesn't work"
"Many of the retailers successfully cut costs this year by cutting head counts, but they can only do that so much. I think retailers like Bed Bath and Beyond and even Best Buy will struggle to keep up with the pressure of this downturn in consumer spending."
So why did you start KaChing/FSX? How did you find your team?
Dan had the vision that mutual funds had lost their best talent to hedge funds and offered no transparency. He also thought that there were thousands of talented investors like himself out there that were better than 90% of these mutual funds. They just needed a competitive arena to prove it. So he sought out to make kaChing the destination for the best investors in the world where retail investors could invest in their performance, and we are all better off because of it.
"The old times of retail investors only having access to underperforming mutual funds with no transparency and archaic reporting practices is about to end. In this modern world, there is a cry for transparency and better talent, and we intend to lead that charge. "
With the help of a good developer and friend, he started FSX, a fantasy stock exchange, on Facebook. It quickly grew its member base (now close to 400,000 members) and he further pursued his vision to bring this to the "real world". He reached out to Andy Rachleff, a renowned venture capitalist, who was totally aligned with the vision. The rest is history.
How was the start-up process like? Was the journey of getting funded challenging?
"When you know someone like Andy who is very well connected to the venture capital industry, it is much easier to get in front of the right people."
What do you think of having a "trial" account so that new investors can first learn how to trade without jeopardizing your reputation such as KaChing IQ?
"The great thing about kaChing is that you can use your account to learn and try - if you improve over time, so will your Investing IQ."
What financial blogs or websites do you read?
"I read blogs like Market Ticker, The Mish, blog on China- Mpettis.com, Zero Hedge., etc…Do you know Zero Hedge?"
Yes I absolutely do.
"I don't know who he is or how he does it, but that guy pumps out content like no other. He reports on stuff the newspapers and outlets like Bloomberg just don't have access too. He is very well connected to the Street."
"Um, I also read The Fly from iBankCoin. That guy is f'i hilarious. Just read some of his posts. He's funny as hell but a heckuva investor."
What's next for the market? Where do you think it's headed?
"It's hard to say. It could continue its way up, but I would say the risk is definitely higher on the downside. There are obviously both views right now, but I would say the two sides are not equal and it's slightly leaning towards the downside."
"But I wouldn't be surprised either if it goes further up."
And before I even had a chance to laugh and say....
"And I know, that sounds like a politician."
Well that's all for this round guys. Dan, it was a pleasure. Hope you guys all enjoyed the interview. There will be more to come in the future, so stay tuned!