This article was written by Brad, an analyst at Invest Theory.
I wanted to take a moment to address the current market conditions and offer up some advice. Obviously the past week+ has been crazy with the market sliding quite a bit. Today in particular was brutal for anyone holding calls or shares os stocks long. I highly recommend either not trading during this time or limiting the amount of funds you are trading with currently until the market settles a bit.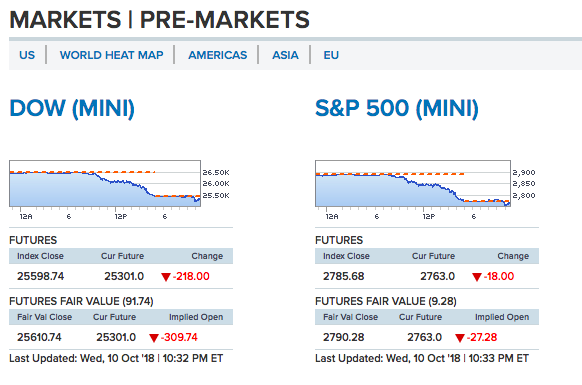 Check Yourself
This is the thought process for probably the majority of you when buying plays during current market conditions. "Everything has sold off so hard I am going to buy calls for cheap right now." Then the market sells off further and you get burned. Or the market starts to turn around for a few hours intraday and then your though is "Ok here comes the reversal let me jump on the train." Or "I don't want to buy puts right now because the market is already down so much if it reverses I will get screwed." Also for most of us being technical traders, looking at a lot of the charts they have shed through all support levels, they have broke all SMAs, they all show oversold indication, broken bollinger bands and keltner channels and all indicators are somewhat thrown out the window.
So you have to ask yourself "What am I basing my decision on to buy these calls/puts?" If you don't have at least 3 reasons why you bought it, you shouldn't have bought it.
Break is Good!
I really encourage most of you to take a few days off from trading or just sit on the sidelines with most of your funds until the market settles down a bit, during these rough stretches like last February I have seen a lot of people lose their whole account by continuing to trade and continuing to lose. You don't want to look back and realize you blew your whole account in 1 week/1 month. I recommend sitting on cash during this time and/or investing very little into any trades you make until things turn around.
I will share a little story about my adventures in February-April of this past year. I was trading in February with a $5,000 account and was in a few calls when the market turned to the down side and took a 1k loss on a call I was in during a few of the bad days we had... then I started trading just 1-2 contracts for the next several weeks and ended up consistently losing and ended up losing another $1,000. I decided to sit on my $3.,000 cash for a couple weeks till things settles down. Then when the market started to reverse I took that $3,000 and started to get back into trading, I turned that $3,000 into $18,000 in 2 weeks just riding the reversal wave. Had I been smart and not continued trading I wouldn't have lost that additional $1,000 while the market was consistently bleeding out.
What's Next?
I highly encourage you to play with very little money or just sit and watch the market at this time. When the reversal time sets up we will be able to ride that money train to the top! But if you continue to trade and lose all of or most of your account you will not be able to take part in the reversal that will inevitably happen. I personally, will be watching from the sidelines this time around and see how things shake out over the next week or so, learning from my February mistakes. I hope you all think about everything I have said and make a smart decision with your current portfolio and don't allocate too much into any one trade. I hate seeing people lose money and wanted to share this information and my 2 cents with you all. If you have any questions feel free to reach out!
Click here to join our options trading chatroom on Discord. Come learn from other investors like you. Our community has over 3,500 active traders.