LexaGene Holdings ($LXXGF) Outlook February 17, 2021
Please Note: Blog posts are not selected, edited or screened by Seeking Alpha editors.
Seeking Alpha Analyst Since 2017
An enthusiatic equities researcher, investment opportunist, and capital markets peruser with an undergraduate background in Finance looking to analytically validate financial opinions.
Summary
A look at LexaGene's ($LXXGF) competitors who have already received FDA EUA.
Estimation of LexaGene's time for FDA EUA.
Likelihood for LexaGene EUA.
PCR COV-19 Testing Competitors
Two companies, Visby Medical and Abbott Laboratories, have already received FDA EUA of their POC COV-19 testing technologies.
Visby Medical secured FDA EUA Sep 21, 2020 for the first FDA-approved PCR device used for COV-19 detection. It later announced Feb 10, 2021 that it received FDA EUA now available for use by any organization with a CLIA (Clinical Laboratory Improvement Amendments) certificate of waiver, meaning that the device is easy and riskless enough to be implemented in areas with lesser trained technicians such as schools and institutions.
Visby Medical
Visby's testing device is a simple-to-use, palm-sized machine that operates with the plug-in of the machine. Once the sample is placed in the device, three buttons are pushed (labelled in order), and the machine is plugged in. After a 30m delay, results will be clearly shown near the center.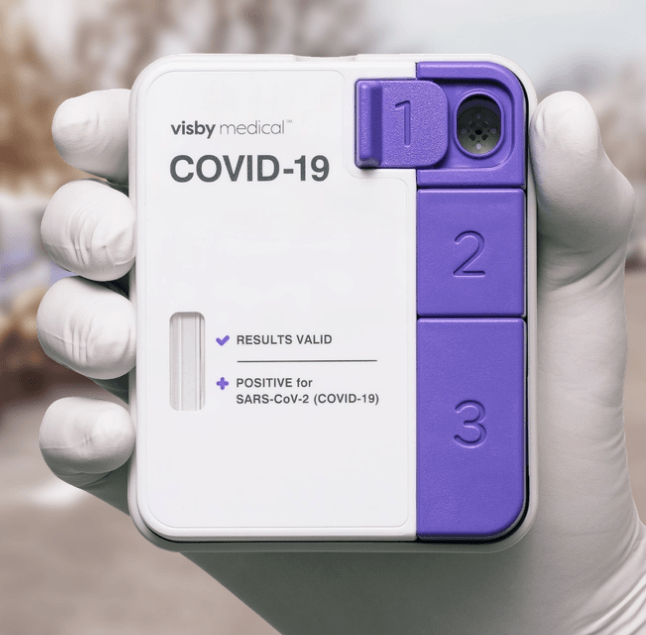 (Above: Visby's PCR COV-19 testing device. The user will insert the sample into the pocket to the right of the label 1 and above the label 2. After sliding the cover tight, the user will press each button in ascending order before plugging the device into a power source.)
Abbott Laboratories
Abbott received FDA EUA on March 27, 2020 with an even quicker COV-19 diagnostic time of 5-13m (dependent on positive or negative results) called the ID NOW. Similarly, as of Sep 17, 2020, Abbott could operate in facilities with a CLIA certificate of waiver. This device is substantially heavier (6.6lbs/3kg) and larger (the size of a small toaster/size of a petit bread oven) than its Visby counterparty except it had begun shipping out near the end of March 2020.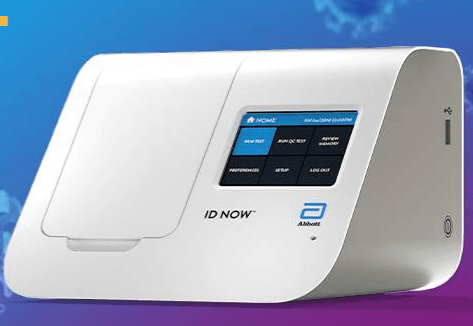 (Above: The larger but faster testing ID NOW system by Abbott ($ABT))
Estimation Process
At a high-level (as we do lack a Ph.D level understanding of polymerase chain reactions and molecular diagnostic processes) it seems as if LexaGene's MiQLab processes are simple and similar enough to both Visby and Abbott's that FDA EUA is highly likely. The time frame for authorization, however, is difficult to determine.
Without exact dates as to when Abbott or Visby submitted their studies for FDA EUA, we must instead select an estimate based on the closest similarities to LexaGene's MiQLab in 3 separate sections:
EUA Study Length

FDA Review and Authorization

CLIA Certificate Waiver
In terms of operating process, all three devices are simple enough that minor differences in simplicity will not have a large effect on EUA or speed at which said authorization is granted. Since we do not know when the EUA studies were submitted (and lack intricate knowledge on how such EUA studies are developed) we can assume that the earliest times these studies were conducted were near the beginning of the outbreak Feb 2, 2020 (first American death) or Feb 25, 2020 (CDC warns American public of local outbreak).
With Abbott receiving authorization on Mar 27, 2020 and Visby on Sep 16, 2020, that leaves around 1-2 months for the study and approval for Abbott (using the range of Feb 2 & 25, 2020 as a baseline "pandemic recognition" point) and 7-8 months for Visby. As Visby could have submitted a study whenever in these ranges of months we can not "reliably" (silly, we know) use their authorization time range to estimate LexaGene's authorization delay. However, LexaGene CEO Dr. Regan states:
Obtaining FDA authorization for use at a POC setting is a complicated and time-consuming process especially for a novel technology such as LexaGene's where FDA had no prior opportunity to evaluate the MiQLab System. We are confident that we can demonstrate to FDA the value of the MiQLab system and its COVID-19 assay to combat this pandemic through POC testing. we look forward to having deeper conversations with the FDA and presenting our data to them.
This further complicates how we can assess approval time as ID NOW is technologically dissimilar to MiQLab. As both Visby and LexaGene use a PCR process in COV-19 detection and in addition, MiQLab's inner workings are extensively more complicated, we assume that MiQLab's study and approval timing is not insignificantly greater than that of ID NOW.
With LexaGene announcing their study for EUA on Dec 30, 2020 there is still a considerable amount of time before submission to the FDA even begins. Moreover, there has been no announcement on whether the study has concluded or been submitted to the FDA. Given that LexaGene announced that they began the study (where Abbott and Visby both had not), it would stand to reason that they would also announce when they concluded or submitted the study. From that, we assume studies are still ongoing and have not been submitted to the FDA either.
Given that we can exclude Visby as a reliable source for inference and we have our estimated time for study and approval, we look to breakout how long Abbot took to conduct their study. We estimate that our benchmark, Abbott, completed and submitted the study in 1 week as we believe there is a minimum review time (2 months) the FDA cannot avoid when authorizing new med tech (with the knowledge that Abbott had at most 2 months to conduct the study and receive authorization and this was the fastest time possible). With that in mind, LexaGene's smaller employee and capital size compared to Abbott should result in an increase in time allotted to the study due to reduced capacity at the company. From these factors and the knowledge that LexaGene is in the midst of their EUA study for 1.5 months, we believe that LexaGene will require 2-4 months to complete the study.
For authorization, we believe the minimum time required is Abbott's maximum of 2 months. Since we stated before how it was not possible to use Visby's timeline as a benchmark, we infer that LexaGene's EUA lies a minimum 2 months + an advanced technology "premium" of 1-2 months, for a total 3-4 months out from after submission.
Lastly, there is the length of time required for CLIA certificate waivers which will allow for larger market access. Timing of FDA EUA for Abbott's CLIA certificate waiver ranged from June 1, 2020 to Sep 17, 2020 (3.5 months) while Visby's CLIA certificate waiver came in at Feb 10, 2021 from the original EUA date of Sep 16, 2020 (4.0 months). In this scenario, we believe it is safe to assume that the FDA will reach a decision in a fairly standard amount of time (3.5-4.0 months).
Summary of Estimation
In summary, my estimates for each separate time range of EUA for LexaGene:
EUA Study Length (2-4 months, LexaGene is 1.5 months in already so 0.5-2.5 months left)

FDA Review and Authorization (3-4 months)

CLIA Certificate Waiver (3.5-4.0 months)
This amounts to a range of 4.5-6.5 months for FDA Review and Authorization and an additional 3.5-4.0 months for the CLIA certificate waiver, in total, a considerable amount of time. The saving grace (for LexaGene) to all this is the unfortunate emergence of COV-19 variants and the alleged ability of MiQLab to detect these. It might be that MiQLab will be the only reliable medtech to detect variants of COV-19, bringing LexaGene back to the fray.
Overall, my outlook for the EUA of LexaGene's MiQLab remains extremely likely, however, depending on COV-19 mutations, existing competitors in the market will detract from how much this technology will be relevant.
Analyst's Disclosure: I am/we are long LXXGF.
Additional disclosure: Please read the following disclamer which applies to all my articles: This research is NOT a guarantee. This article was written to provide investor information and education, and should not be construed as a guarantee or investment advice. This research might not pertain to you. I am unaware of your personal risk tolerance, time-horizon, and tax circumstances: please seek the personal advice of a financial advisor. Information and data provided may contain errors. My articles use company releases, government filings, third-party data, and academic research. These may contain approximations and errors. Please check estimates and data for yourself before investing.
Seeking Alpha's Disclosure: Past performance is no guarantee of future results. No recommendation or advice is being given as to whether any investment is suitable for a particular investor. Any views or opinions expressed above may not reflect those of Seeking Alpha as a whole. Seeking Alpha is not a licensed securities dealer, broker or US investment adviser or investment bank. Our analysts are third party authors that include both professional investors and individual investors who may not be licensed or certified by any institute or regulatory body.