Yesterday, the Bank of Japan (BOJ) ended its policy meeting with a unanimous decision to keep the both the benchmark interest rate and the quantitative easing program unchanged. The asset purchase size stayed at 66 trillion JPY while the credit lending facility is kept at 25 trillion yen.
The BOJ's decision was nothing short of expected. In fact, all 22 economists that were previously surveyed by Bloomberg had predicted no change.
Initially, the event had very little impact on the yen. However, once the day dragged on and the news was fully digested by the market, the currency slowly sold-off. USD/JPY rose to 81.71 from 81.35, EUR/JPY jumped to 104.65 from 104.19, and GBP/JPY climbed to 130.05 from 129.37.
Traders realized that even though no further easing was done, there could be one in the December BOJ meeting. After all, Japan's bleak fundamentals seem to indicate that it needs more quantitative easing support.
In Q3, Japan's growth rate was reported to be a -3.5% y/y--downright terrible by anyone's standard. For Q4, many analysts are predicting that we'll see another negative figure, which will put Japan in a technical recession.
Moreover, the next likely prime minister, Shinzo Abe, has been urging the BOJ to increase its inflation target to 3.0% from 1.0%. He's also pushing the central bank to implement an "unlimited easing" stance.
The yen's reaction to Abe's calls suggests that the winds and tides are changing for the yen. It seems that Abe is doing what the BOJ's jawboning, currency intervention, and easy monetary policy have failed to achieve - decoupling the yen from its safe haven status.
If indeed investors are worried about the possibility of higher inflation targets and lower interest rates, then the main driver of the yen's price action could eventually shift from general risk appetite to the country's interest rate policies.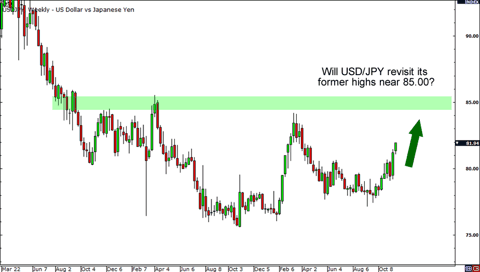 So while we wait for the elections next month, the possibility of easier monetary policy from the BOJ could continue to drag the yen up until the end of the year. If this happens, then USD/JPY might get back to the 85.00 major psychological handle, which was also a former support and a previous resistance on the pair's weekly chart.
Be careful though, as there are other factors that might affect the yen's price action. Euro leaders, for example, could arouse another round of risk appetite with their decisions, and exacerbate the yen's weakness if traders unwind their carry trade positions.
Even developments on the U.S. fiscal cliff could sway the yen's performance. As usual, always be vigilant when making your trading plans, aight?