It's time to bid Ciao! to Italy's technocratic Prime Minister Mario Monti. He made the announcement over the weekend, after former Prime Minister Silvio Berlusconi's party, Popolo Liberta party (PDL), withdrew its support for Monti's 2013 budget and stability law.
But Monti is not going down without a fight! He said that he would only step down if the latest sets of reforms that he proposed make it to Parliament.
Still, his exit looks like a done deal. This means that Italy would soon be in need of a new leader. Elections will need to be conducted in a few months time, with market junkies speculating that Italians will head to the polls sometime in February 2013.
Italy has garnered a newfound respect from the markets since the no-nonsense economist Mario Monti took charge of the government following the scandal-laden Silvio Berlusconi's resignation from office. He made good on his promise to shore up the country's 1.9 trillion debt, implementing budget cuts and higher taxes.
Although some of his policies have fallen short at stimulating economic growth, he has been largely credited by investors as well as policymakers for boosting confidence in Italy. The country's borrowing costs have dramatically fallen from the dreaded 7% level, hitting 4.4% just last week.
And so, it was no surprise that word of Monti's resignation was enough to trigger a sharp selloff in Italian equities, as investors worried that whoever would replace Monti might not be able to keep bond yields below the 7% mark.
A quick glance at EUR/USD's 15-minute chart would reveal that the euro didn't take news so well, too. The pair gapped down over the weekend, dipped to a low of 1.2885, before eventually recovering and trading back above the 1.2900 handle.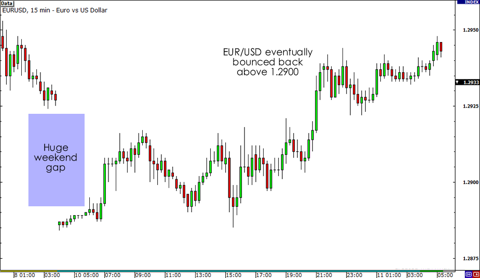 The markets' negative reaction to news of Monti's departure from politics just goes to show that there are still plenty of people who have faith in his leadership. His fans are hopeful that he will run for elections next year and Mr. Monti himself expressed his openness to the idea.
The problem, however, is that Monti isn't so popular on the home front as several Italians aren't happy with him for implementing strict spending cuts and tax hikes as part of their austerity measures. It doesn't help that a lot of voters also think that he's a pretty boring speaker!
With Monti projected to score less than 10% of Italian votes, there could be a chance that Berlusconi could emerge as the country's leader. After all, he did say that he would run for Prime Minister out of a sense of "responsibility" as he feels that Italy got worse off after he left.
Then again, his return could mean a comeback of sex scandals and corruption problems, which could put Italy on a less stable footing. And with euro zone starting to make baby steps out of the recent debt crisis, the last thing that Italy needs is someone who is likely to ruin that progress.
Another person who is touted to take leadership in Italy is Pier Luigi Bresani, who is currently heading the center-left Partido Democratico. As of this writing, this new kid on the block is holding on to 38% popularity among Italian voters as he expressed his support for Monti's economic policies. Although he clarified that Monti shouldn't exactly run for office, he did say that there could be a spot in government for the former Prime Minister.
For now, there are still plenty of questions and speculations regarding who Italy's next leader should be. What's important for the new Prime Minister is that he is able to keep Italy on the right track and farther away from default.