Due to the failure in the trial court against Fresenius, Akorn's share price has surged by almost 80% since the beginning of the year. Besides, key financial data has also been declining since 2017, which was caused mainly by increased competition and huge amount of R&D expenses. Despite all of these, we see many potentials for Akorn to recover in the future. Besides, the current P/B ratio suggests that Akorn's share is being undervalued, opening up a good chance for value investors. Therefore, we recommend a buy on its share.
Akorn's share price sunk after Fresenius won the trial to abandon its announced acquisition

(Source: Akorn's share price)
On 01.10.2018, Akorn's stock price dropped to $6.2, representing a sharp decline of more than 54% compared to the previous trading day. Since then, the price chart experiences some minor fluctuations but remains to be the lowest period in the last 5 years. This unfavorable price movement happened after Fresenius won the right to abandon its previous merger contract with Akorn (AKRX). According to the initial offer, each Akorn's share would be bought at the price of $34. Besides, Fresenius would also acquire Akorn's outstanding $450M debt, resulting in a $4.75 billion take-over. Now that the contract has been terminated, the generic drug manufacturer's stock price stood at $7.025, causing its market value to drop to just over $780M.
After losing the trial, Akorn filed for an appeal. It claimed that allegations made by Fresenius were misleading, and that Akorn has always been improving its procedures to comply with FDA regulations. As the retrial outcome cannot be foreseen, we won't make any assumption about that. Instead, our analysis is just based on Akorn's current value. But let's keep in mind, this retrial would be a good opportunity for AKRX to seek for some compensation, and in the best case-scenario, it would be able to force Fresenius to exercise the merger contract.
Though the number of FDA violations are quite large, most of which are not as serious as they might seem.
In October and November 2017, Fresenius received an anonymous letter who made disturbing allegations about Akorn's violation with regulatory requirements, which induced the German company to investigate the issues. According to Fresenius' experts, they found "material breaches" of the FDA standards in Akorn's operations; thus, they decided to terminate the contract.
Looking back at historical record, there were indeed several FDA inspections on Akorn's production sites that revealed violations. However, only one of them received official action indicated by the authority, while the remaining were "voluntary action indicated" or "no action indicated". Those district decisions implied that the violations were not so serious and that Akorn could solve the issues by itself. Similarly, in the 2018 inspection, FDA specified several violations in Akorn's practices and activities. Fortunately, many of the violations are manageable and can be quickly solved, such as: "Excessive movement and talking in the Class 10,000 areas during filling operations", etc. 
One thing to note is that not only Akorn but also Fresenius received many FDA complains, from which two cases of the German company were indicated  official actions by the authority. Currently, its production site in India also faces with several problems regarding standard regulation. Thus, it seems to be a common issue for companies in pharmaceutical industry to fail to comply with some of the regulatory standards, and as long as this failure is not something too serious, it will not be a huge problem as it might seems at first glance. So far, FDA still granted approvals for Akorn's new drugs, implying that the regulatory still have trust in the company's product quality. 
Decreasing revenues and high one-time expenses are causing negative financial results; however, there are still rooms for future improvements
Looking at previous financial key data, we can see that Akorn had been increasingly profitable from 2010 to 2016 before it started to experience net loss in 2017. However, the declining results can be explained by several factors, and we believe Akorn still has the potential to improve its performance in the future.
In 2017, Akorn realized an amount of $24.5M in net loss, which could be explained by the drop in sales of prescription pharmaceuticals, the growth in R&D expense and the increased impairment of intangible assets.
As any other generic drug producer, Akorn faces high and increasing market competition, resulting in a sale decline of several key products, including Ephedrine Sulfate Injection, Lidocaine Ointment, Progesterone and Clobetasol Ointment. This sale reduction of existing products urged Akorn to come up with new drugs in order to offset the negative impact from competition. To be able to do this, it is inevitable that the company invests a large amount of money on R&D. Looking at the table below, we can see that R&D expenses in 2017 alone was almost equal those in the previous two years combined. For pharmaceutical companies, an increase in R&D would be a good indication as the more they invest today, the higher probability they can develop a new drug that generates large source of income in the future.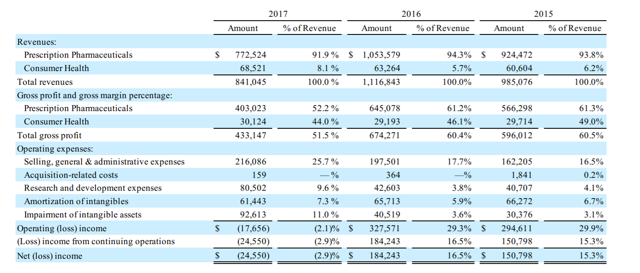 (Source: Akorn 2017 Annual Report)
However, when making adjustments to reconcile consolidated net (loss) income to net cash provided by operating activities, figures showed that Akorn was in fact generating more cash from operation and their cash holding was also higher in 2017 than in previous years, except for 2015.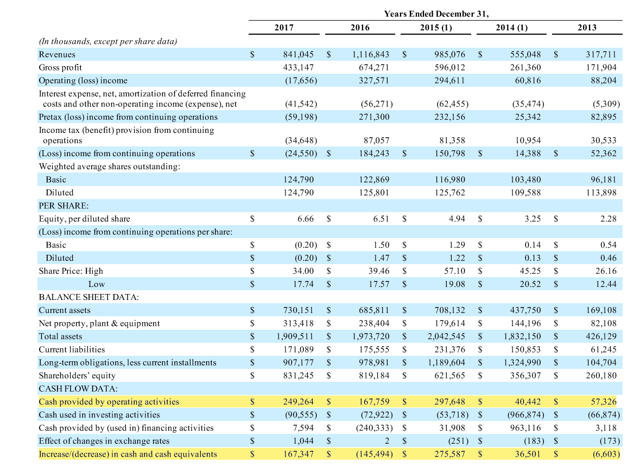 (Source: Akorn 2017 Annual Report)
Moreover, in 2017, Akorn received 26 new approvals and successfully launched 21 products. As new drugs need time to penetrate the market and gain market share, they were unable to immediately offset the overall net sales decline, but they did show some impact in 2018.
For the first six months of this year, sales revenue continued to decrease but at a slower pace than in 2017 (-17% and -24.7%, respectively). This can be explained by new sources of revenues generated from new products launched.
Also in this period, Akorn witnessed an operating loss of more than $116M. However, it is noteworthy that R&D - the main cause driver - increased significantly by almost 4 times compared to the same period year-prior, accounting for more than 28% of revenue. Besides, SG&A also went up by around 56%, mainly due to one-time legal expenses related to the Delaware Action. All of which have put a pressure on the bottom line. Nevertheless, for pharmaceutical companies, it is normal to observe some periods of negative net income as they have to focus on R&D before they can actually gain profit from the developed products.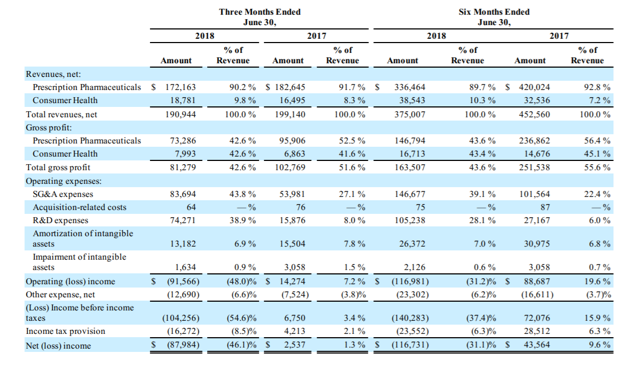 (Source: Akorn Q2 2018)
All in all, it is true that Akorn is now facing the problems of decreasing revenues and higher net loss for two conservative years; however, we believe that there are still rooms for future improvement. Firstly, the decrease in revenue is happening at a slower pace, which reflects the impact of new products. Secondly, one-time expenses such as the legal fees are expected to not re-occur in the future. And thirdly, the company is investing a large amount in R&D, suggesting that we may see more products coming to the market in the future, which would be important sources of revenues for Akorn.
A high risk, high return investment
As stated earlier, Akorn's share price is now declining by as much as 80%, which raises a question of whether to buy its shares at low price, or to completely abandon the company due to negative financial results. According to our analysis, Akorn's current conditions would suggest an attractive buying opportunity, even though the risk would also be high.
Akorn's P/B value is now 1.24, compared to 2.61 and 1.60 of Bausch Health and Teva, respectively. When compared to its historical data, Akorn's highest P/B was 16.87 and the median was 5.83, which might imply that the current share price is cheap relative to either competitors or to Akorn's past figure. Moreover, share price is already at the lowest level in the last 5 years with only some mild fluctuations, thus we expect no further reduction from this price.
Moreover, in the days after Akorn loses the trial, a large number of shares were short, with the highest short percent of 11.36%. However, short volume has declined steadily, resulting in a lower short percent of around 7% in recent days. It shows that investors are gaining back confidence in Akorn's performance, promising a higher price in the near future.

(Source: Akorn Short Percent)
As stated earlier, of the 26 approvals in 2017, 21 new products were launched. As there are still other drugs that were approved but not yet introduced, we expect the launch of those products would help to further reduce the speed at which revenue is decreasing. Moreover, in Oct 2018, Akorn received FDA approval for generic Bimatoprost Ophthalmic Solution, 0.03%, which generated more than $63M for the year ended August 2018. On average, a drug would lose around 80% market share in 12 months after the first generic version comes to competition. As Akorn's product is the second generic drug, we expect it to account for around 30%-35% of market share, or equivalent to around $20M in sales. Overall, total revenues for 2018 is expected to be around $750M, which is only $90M lower than last year (keep in mind that sale in 2017 was approx. $275M lower than that in 2016). Thus, the introduction of new products can help to offset the current declining sales.
Besides, Akorn now has generic Clindamycin 1% gel in phase 3 clinical trial, which is expected to be completed in November 2018. The completion of phase 3 trial would reduce the amount of R&D spending, which will also decrease the overall operating expenses, putting less pressure on the bottom line. Using earnings multiple basis, we expect the target price for Akorn to be around $11.54, making it a good investment today.
Conclusion
In conclusion, it is true that Akorn is currently facing a lot of challenges: the termination of M&A contract is putting huge pressure on its stock price; decreasing revenues and increasing R&D expenses are negatively affecting company's profitability; and future huge efforts and expenses are needed to deal with the retrial against Fresenius. Having said that, we still believe Akorn is able to recover from this unfavorable situation. According to our analysis, the current share price is very close to its book price and is very unlikely to further decline in the future. Moreover, the problems with the FDA are not as serious as they might seem at first glance. Lastly, Akorn continuously receives approvals for their new products, indicating its R&D is paying off. Thus, we believe this is a good buying opportunity for investors who are willing to take on higher risk for a higher return.
Disclosure: I am/we are long AKRX.