The Dividend Aristocrats (NOBL), S&P 500 constituent companies that have successfully increased their dividends for at least 25 years, have outperformed the S&P 500 over the past  decades.
Traditionally, the Dividend Aristocrats tend to outperform in down markets. (see also my article on the performance of the Dividend Aristocrats during the last recession) In the last few years the Aristocrats are under-performing a bit compared to the S&P 500, but this is not alarming. The relative performance was -0.5% in 2015, -0.2% in 2016 and -0.1% in 2017.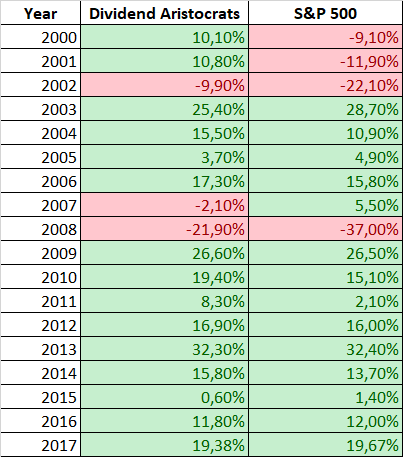 Source:moneyinvestexpert.com
Performance September 2018
The list of the all the 2018 Dividend Aristocrats can be found below including the performance over the month September 2018, based on the close of 8/31/2018 and the close of the last trade date in September. Based on the last month's performance of the Dividend Aristocrats, some active dividend growth investors may be able identify potential bargains.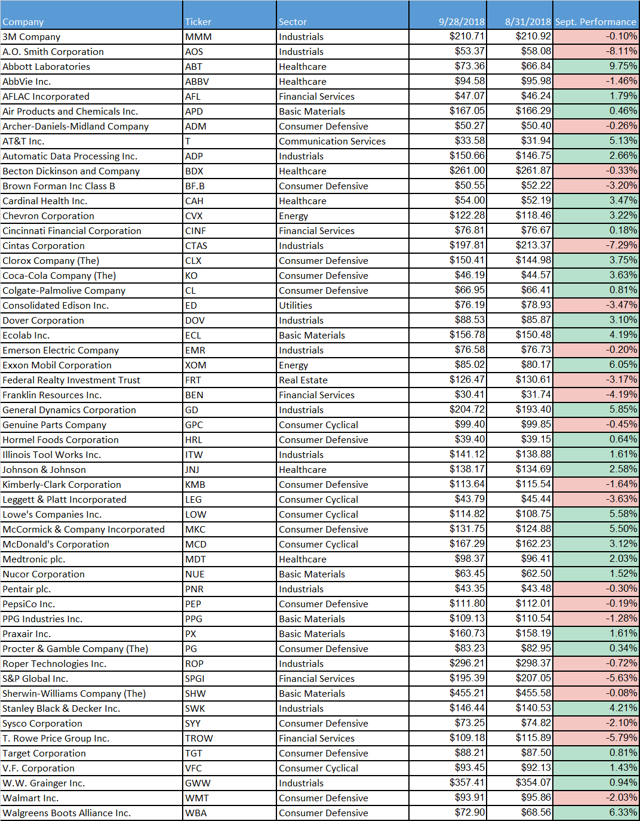 A.O. Smith Corporation (AOS), T. Rowe Price Group Inc. (TROW) and Cintas Corporation (CTAS) showed a poor performance in September. While Walgreens Boots Alliance Inc. (WBA), Exxon Mobil Corporation (XOM) and Abbott Laboratories (NYSE:ABT) have shown an excellent performance for this month.
Year-to-date performance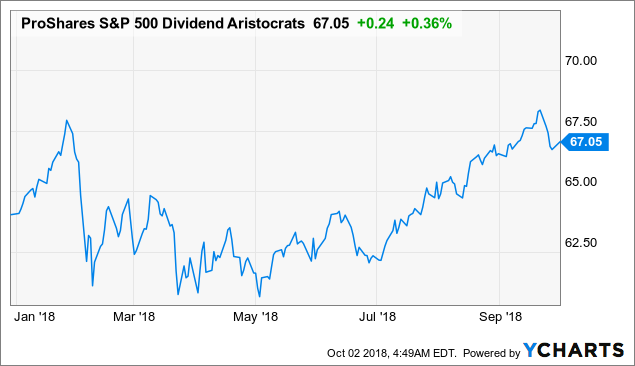 Looking at the YTD-perfomance, MMM, AOS, AT&T (T), SKW are the weaker stocks in the Dividend Aristocrats list. Top performance year-to-date are: ABT, ADM, TGT, VFC and especially GWW.

Figure 2: Performance year-to-date 2018
Selecting the best Dividend Aristocrats is an essential part of my Dividend growth investing plan and has resulted in the 10 defensive aristocrats and outperforming the Dividend Aristocrats (NOBL) over a longer period of time.
The Defensive Aristocrats are selected on performance based criteria:
Geometric Annual performance of the last 10 years
Win-ratio, the chance of a positive monthly performance
Loss-ratio, the chance of a monthly loss multiplied by the weighted average loss
The Defensive Aristocrats list could be another source of "dividend inspiration".
Disclosure: I am/we are long NOBL.