2018 was the worst year for stocks, the S&P 500 and Dow fell for the first time in three years. Sticking to index-trackers such as the DIA (-3.74%) or the SPY (-4.57%) was not a winning strategy. The Dogs of the Dow strategy outperformed both the S&P 500 and DJI. The 10 Dogs of the Dow ended just in positive territory with a performance of 0.02%. The small Dogs of the Dow were even up with 0.81%
Dog of the Dow 2019
If you like dividends, the Dogs of the Dow strategy is a good place to start.
The Dogs of The Dow is an investing strategy that consists of buying the ten stocks with the highest dividend yield out of the 30 DJIA components at the beginning of the year.  The Small Dogs of the Dow, are the five lowest-priced Dogs of the Dow.
Here are the Dogs of the Dow 2019:
Compared to 2018, the 2019 list contains one new company. JP Morgan (JPM) made the 2019 list. General Electric (GE) was on the Dogs of the Dow 2018 list, but GE was removed from the Dow Jones Index last year. 
Performance Dogs of the Dow
The performance of the DOW DIA (-3.74%) and the S&P 500 SPY (-4.57%) were negative in 2018. Over 2018 the Dogs of the Dow showed a positive performance of 0.02% and the small dogs a plus of 0.81%. Both outperforming the Dow Jones Index with 3.76% and 4.55%.
Out of the 10 Dog stocks, 6 showed a positive total return over 2018, while 4 were on the negative side.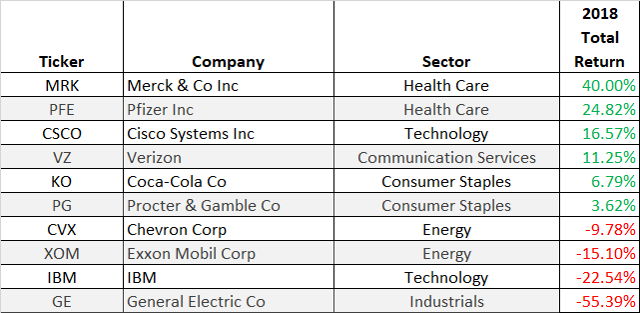 Although GE has been removed from the Dow Jones and a shocked the market with a dividend cut, one has to stick to the strategy.
Looking back over a longer period  of time (2006-2018), the average annual return of the DJIA was 9.73% versus 11.16% for the Dogs of the Dow strategy. The small Dogs of the Dow are over time slightly better with an average annual return of 11.81%. The out-performance in percentages is 1.43% for the general Dogs strategy and 2.08% for the small dogs. Both strategies outperform 8 out of 13 years.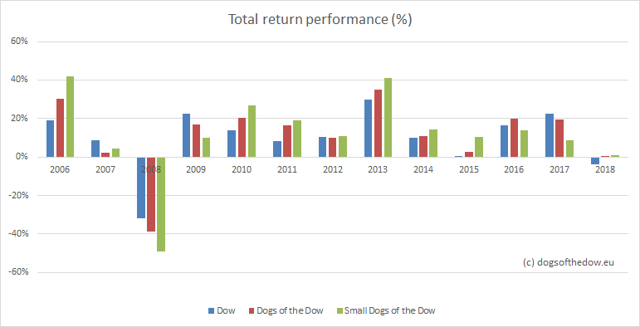 Source: dogsofthedow.eu
Some final thoughts, dividend stocks and the Dogs of the Dow strategy are an interesting starting point for dividend investors. General Electric (GE) showed that dividends are not always safe. Without GE, the Dogs strategy would have performed fare more better, but keep the (investment) emotions out and sticking to your strategy is an essential part of successful investing. The Dogs portfolio for 2019, looks promising with high dividend yields and a back-test over 2018 performance of +4.90% and a Max. Drawdown of -7.45% versus -11.29% for the Dow Jones Index.
Disclosure: I am/we are long JPM, IBM.