The Dividend Aristocrats started the first month of the year 2019, with a positive performance, recovering somewhat from the negative performance last December. The Dividend Aristocrats index total return is 5.43% for January 2019. This is below the total return of the benchmark S&P 500-index, the S&P 500 (SPY) is up 8.01% in January.
Four New Aristocrats
On January 24th, 2019, S&P Dow Jones indices announced that Chubb (CB), Caterpillar (CAT), People's United Financial (PBCT), and United Technologies (UTX) were added to the Dividend Aristocrats Index. These changes will be effective prior to the open on February 1st 2019. As from February the Dividend Aristocrats will have 57 constituents.
Business overview
People's United Financial (PBCT) is a bank holding company that owns People's United Bank. People's was founded in 1842 in Bridgeport, Connecticut. The bank has grown to a regional bank with more than 5,000 employees and 400+ branches in Connecticut, southeastern New York State, Massachusetts, Vermont, Maine, and New Hampshire. It is the second largest bank in New England, one of the largest in the Northeast, and the 46th largest in the United States.
People's United has $48 billion in total assets and provides commercial and retail banking, as well as wealth management services. The company generates $1.8 billion in annual revenue and the stock has a market capitalization of $6.3 billion. PBCT reported a net interest income total of $332.6 million in 4Q18 (( Q4 earnings report )) compared to $306.4 million in 3Q18. Furthermore the net interest margin increased two basis points from 3Q18 to 3.17%. Also the adjusted earnings-per-share came at $0.36, an increase of 16% year-over-year. Other good news for shareholders is the positive development of the profit margin, reaching for the 30% levels. People's United efficiency ratio has improved in the past four quarters, declining from 59.4% to 55.1%, which is a major benefit for the long-term and will eventually result in a lower cost-income ratio.  

Source: Income statement PBCT
Performance People's United
Before having a closer look at the fundamental data. Below a chart of the price return and the total return of People's United over the last 5 years.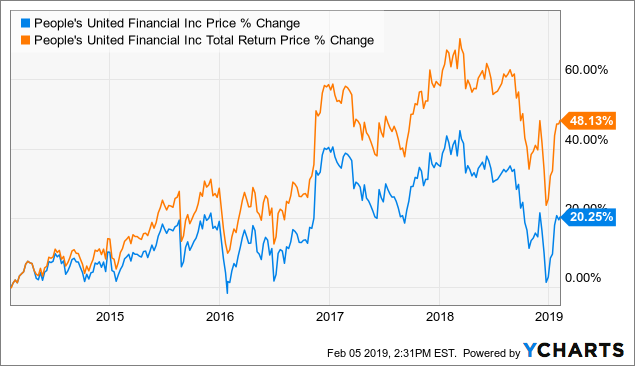 The chart shows a stable performance, where the dividend yield is an important and supporting factor for the total return. The past performance will give at least some guidance/range, when calculating the expected total return for PBCT.
People's United dividend metrics
For dividend growth investors three important dividend metrics are:
Dividend Yield
Dividend Growth
Consecutive years dividend payouts
Since People's qualified for the Dividend Aristocrats member, the stock paid steadily increasing dividends for at least 25 years. The company is clearly making a statement with their dividend policy toward dividend growth investors.
People's United Bank is paying out a quarterly dividend of $0.175 per share at the moment, with a dividend yield of around 4.2%. This is relatively good compared to the Financial Sector with a yield of 2.18% and the S&P 500's average yield of 1.97%.
People's United has increased its dividend 5 times on a year-over-year basis, with an average annual increase of 1.50% (CAGR). The table below list the different dividend growth rates.

Source:PBCT Dividend Growth
The growth rate for People's United is inline with their business model and fair. People's United has a strong dividend growth history, especially for the highly cyclical financial sector they are in and have the ability to increase dividends even trough-out the financial crisis. The dividend payout amount grew even during the 2007-2009 period.
Also the current adjusted earnings-per-share of $0.36 ((Q42018)), representing a 16% year-over-year growth, and a payout ratio below 50%, provides enough room to continue the dividend increasing policy.
Based on the historical average dividend yield of 5.30% and the current dividend yield of 4.2%, the stock is overvalued with 26%. Based on dividend yield and growth forecast models, this will result in a yearly negative effect of -2.35%.
This calculation is based on the theory that a stock's yield will revert to its historical norm within 5-10 years, based on the assumption that over this time period, stock prices are purely a function of fundamentals. The table below lists the year-end dividend yield, the payout amount per year and the average dividend yield 2008-2018.

Source: Moneyinvestexpert analyses
People's United Peers
Other dividend aristocrats active in the financial sector are listed below, including current dividend yield and 10 year growth rate (CAGR):
Aflac (AFL) 2.25% - 8.17%
Cincinnati Financial (CINF) 2.72% - 3.29%
Franklin Resources (BEN) 3.46% - 15.47%
S&P Global (SPGI) 1.17% - 9.22%
T. Rowe Price Group (TROW) 2.94% - 11.92%
Chubb (CB) 2.18% - 8.33%
The PCBT stock has the highest yield, however the 10 years growth grade is low compared to the above-mentioned dividend aristocrats. Still not all business models are the same for the above mentioned dividend aristocrats. Main purpose of the above figures is, when considering adding dividend aristocrats in the financial sector to your portfolio, People's United is certainly worthwhile considering. Especially given the high dividend yield, compared to other sector members.
Valuation
People's United has today a price-to-earnings ratio of 11.80 ((fwd)) based on an estimate of $1.42 of earnings-per-share (EPS) for 2019 (FY). In 2018 the EPS is estimated at $1.29. This is lower than our fair value estimate of 13 times earnings, and also significantly below the average of 21.0 The 10-year historical valuation price-to-earnings ratio for People's United stock can be seen in the diagram below:

Source: Moneyinvestexpert analyses and Macrotrends data
Based on the current valuation, which are below the 10 years averages and the earnings-per-share growth at 5% annually, the People's United stock is on an attractive share price level from a fundamental point of view.
Calculating the expected total annual return, means combining the earning-per-share growth, the current dividend yield and the fair value distance based on the average P/E ratio. So, EPS growth, 5%, current yield 4.2% and the fair value compensation 2.5%. The total expected return for the next 5 years will be roughly around 11%((annual)).
Bottom Line
People's united is at present a stock with potential based on its relatively low valuation, strong competitive position and on-top also an attractive dividend yield above 4%. For these reasons, PBCT is a compelling investment opportunity for long term dividend investors. We rate People's United as buy.
Disclosure: I/we have no positions in any stocks mentioned, and no plans to initiate any positions within the next 72 hours.
I wrote this article myself, and it expresses my own opinions. I am not receiving compensation for it (other than from Seeking Alpha). I have no business relationship with any company whose stock is mentioned in this article.