The "Corona-virus"-week
As coronavirus fears spread, U.S. equities were beaten down, the S&P 500 was down 8% in February. The S&P 500 is now down 13% from its peak on February 19th, entering correction territory. Especially in the last week of February the Dow fell more than 12% (+3,500 points) — its biggest weekly percentage loss since 2008. Also, the S&P 500 lost 11.5% last week, which is its worst weekly performance since the crisis. The Nasdaq showed a similar pattern.
The charts below display the Dow Jones (DJI) over the last year and last month, including the S&P 500 total return.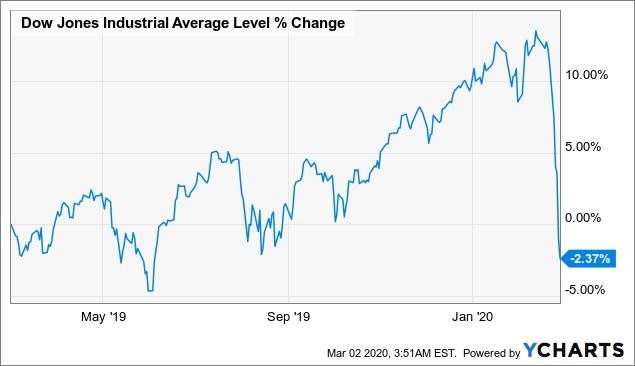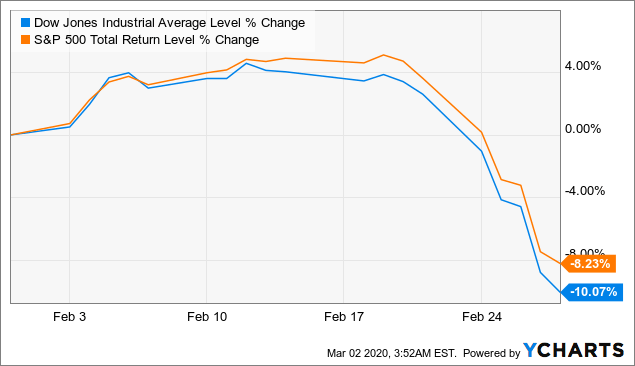 Dividend Aristocrats
The Dividend Aristocrats (NOBL) lost an -8.79% return in February. Year-to-date the performance is now -11.15% for the Dividend Aristocrats Index versus -8.27% for the S&P 500 index. The Dividend Aristocrats declined almost at the same rate as the index, not showing its "defensive play". 

Source: moneyinvestexpert.com
Also, last week was in-sync with on average a decline of -11.30% for the aristocrats and -11.5% for the S&P 500. Below are the ten "best" dividend aristocrats for the worst week since 2008:

To complete the picture below also the ten laggards based on last week's performance:

Also, the seven new Dividend Aristocrats, added to the index in 2020, had a difficult week.

Due to the decline in share price the dividend yield has gone up for all stocks. There are now five stocks with a dividend yield of around 5%. Those stocks are AT&T (T), AbbVie (ABBV), Chevron (CVX), PBCT (PBCT) and Franklin Resources (BEN).
Final thoughts
The Dividend Aristocrats are the 'best of the best' dividend growth stocks and do have a long history of outperforming the market with lower volatility. The lower volatility should give investors a "peace of mind" but last week didn't show the defensive character of the Dividend Aristocrats. Investors and Emotions is typically not a good mix, so the advice is to stick to your investment plan, especially when it is based on dividend growth stocks for the long run.