BioPharmX Corporation (BPMX) is a California-based specialty pharmaceutical company focused on the dermatology market. The company is focused on the development of proprietary drug delivery platform technologies that target a variety of dermatology market segments.
Their strategy is to bring new products to the market while using FDA-approved or well characterized active pharmaceutical ingredients and biological materials. This approach reduces the regulatory timeline, cost and risk profile typically associated with new product development.
Strong Pipeline

Their pipeline consists of three platforms: Therapeutics, Aesthetics and Cosmetics.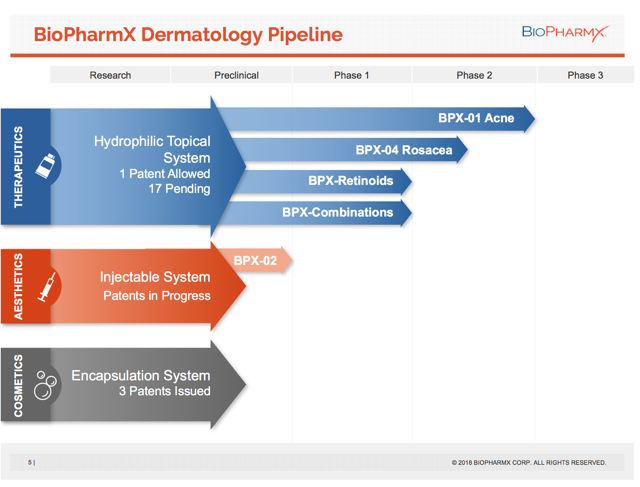 Source: Company presentation, 30th Annual ROTH Conference
BiopharmX currently have 16 patents pending (one patent was granted after the above slide has been published) for their Therapeutics platform. The last patent granted by the U.S. Patent and Trademark Office (U.S. Patent No. 9,918,998, second patent granted in 3 weeks) now protects its novel topical gel delivery system that allows for greater bioavailability of an active pharmaceutical ingredient.


"This patent protection is a significant milestone for BioPharmX," said President and Co-founder Anja Krammer. "It recognizes that our development of a topical tetracycline-class drug, something that has eluded the pharmaceutical industry since minocycline was first commercially used in the 1970s, is truly unique."
The patents protect their valuable intellectual property for a substantial length of time and may be a huge benefit for both the company and investors during the commercialization stage.
Main Products
Their main products BPX-01 and BPX-04 are non-oil-based topical gels with fully solubilized minocycline that have been shown to penetrate the skin to deliver the antibiotic to its target.
BPX-01 has been developed to treat acne vulgaris and BPX-04 to treat rosacea.
BPX-01 (Acne Vulgaris) highlights:


Treatment of inflammatory lesions of acne
Robust Phase 2
FDA Concurrence
Finalized Phase 3 Study Design
44% reduction in inflammatory lesions after 4 weeks (oral minocycline takes 12 weeks for the same results)
Less side effects than oral minocycline
Efficacious & Well Tolerated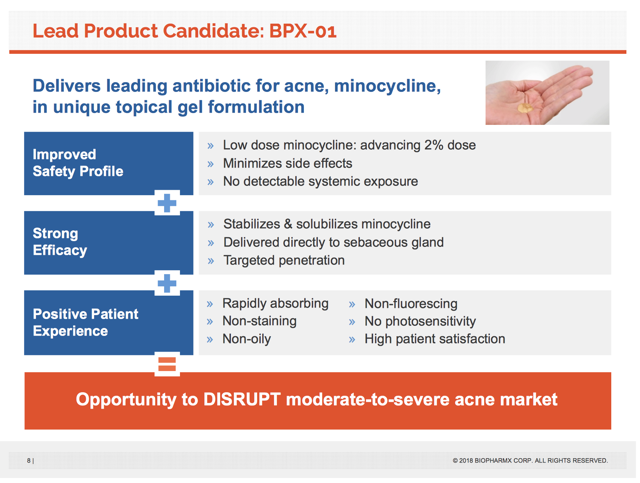 Source: Company presentation, 30th Annual ROTH Conference

Last year, the company announced positive phase 2b dose-ranging study results for BPX-01 and currently plans the upcoming phase 3 clinical trials. In November 2017, the company announced it has received positive feedback from the U.S. Food and Drug Administration (FDA) regarding design of its planned phase 3 clinical trial for BPX-01 for the treatment of inflammatory lesions of acne vulgaris. This has been a major win for BiopharmX, as it heavily reduces the potential risk for a phase 3 fail.
The company estimates the phase 3 clinical trials to cost about $25 million.
Anja Krammer, the CEO of BiopharmX explained during the 30th Annual ROTH Conference, they do not want to raise capital through a new offering, but rather through a strategic partnership. (Full presentation and recording at 30th Annual ROTH Conference)
"We estimate around $25 million for phase 3, we know this is a significant amount of capital. We are considerate about how we try to raise capital and how much dilution we put on the company (!!!). Right now we believe that strategic partnering makes all the sense in the world to us, because it validates it. It also allows us to get funded by a partner, that picks up that $25 million."
Source: Anja Krammer, 30th Annual ROTH Conference
The fact that the CEO publicly states that they do not want to further dilute for phase 3 trials is more than good news. They are currently in active discussions with potential strategic partners that are interested in a relationship with BiopharmX. This makes it the MAJOR short-term catalysts for this stock.
Investors need to understand the huge potential for BPX-01. In 2015, the global acne market totaled $10 billion. BiopharmX targets the oral and topical acne market, which means a huge $3.8 billion opportunity.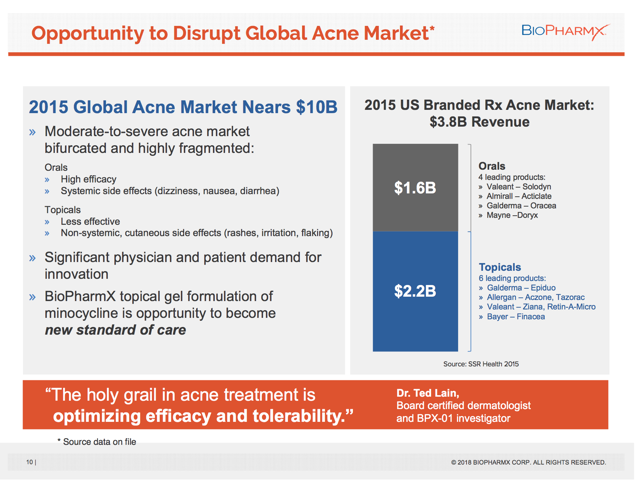 Source: Company presentation, 30th Annual ROTH Conference
When you think about those numbers and the efficacy of BPX-01 there is a great chance for juicy upfront and milestone payments from the strategic partner, which would ultimately increase the company's market value.
Main catalysts for BPMX (including 16 pending patents):
Fiscal year Q2 (May, June, July 2018)
Commercial partnership
Phase 3 for BPX-01 for acne
Initiation of phase 2 study of BPX- 04 for rosacea
Submission of new product candidate to FDA
2H 2018
Complete phase 2 enrollment of BPX-04 for rosacea
Advance preclinical candidate into clinic
Phase 3 program ready to initiate for BPX-01 for acne


Strong Institutional Ownership
Institutions own approximately 19.42% of BioPharmX' shares. Among active positions in the latest quarter, 7 holders increased their positions by a total of 10.8 million shares. This means there is a net increase in ownership of 9.61 million shares, which may suggest that institutions feel bullish about the stock.
Current Cash as of March 9, 2018
Pro-forma cash of $14.2 million

$7.6 million as of January 31, 2018
$6.6 million in proceeds from warrant exercises after the end of the quarter
Expired Reverse Split
Another super bullish fact is that the company let an already approved reverse split expire. I asked the company about this and their response was:
"Regarding the expired reverse stock split, the company and its shareholders did not feel such an action would be in the best interest of the shareholders once the company was able to bring the company back into compliance with the NYSE American's continued listing standards. The company is optimistic that it will be in compliance for continued listing standards regarding its share price by the June deadline."
Source: Mail from BiopharmX, Investor Relations
I like the fact that the company acts in the best interest of its shareholders and is careful about their actions. This shows that the company is well-managed and shareholders are in good hands.
Compliance NYSE American
Concerning compliance, the company already gained back equity compliance and only needs to trade above $0.20 for a 30-day average on June 1, 2018 (30 trading days before June 1, 2018).
Given the vast amount of upcoming catalysts, that should not be a problem.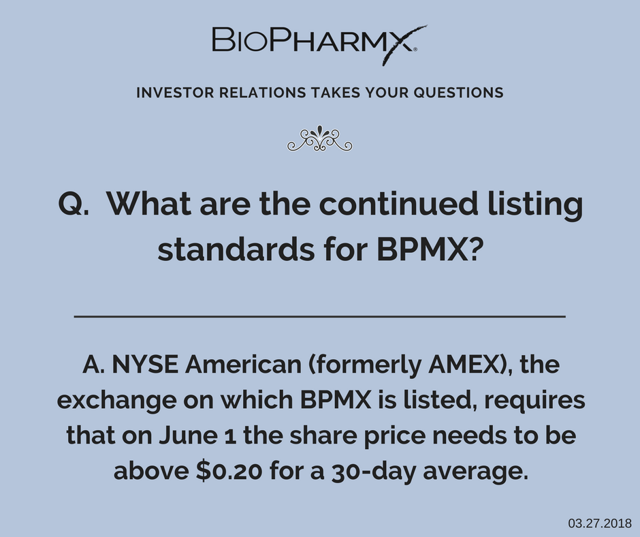 Source: BiopharmX Facebook Profile

What can we expect?
After a strong climb from .10 to .37, the stock currently consolidates. The stock moved without any news (patent news at the end of climb).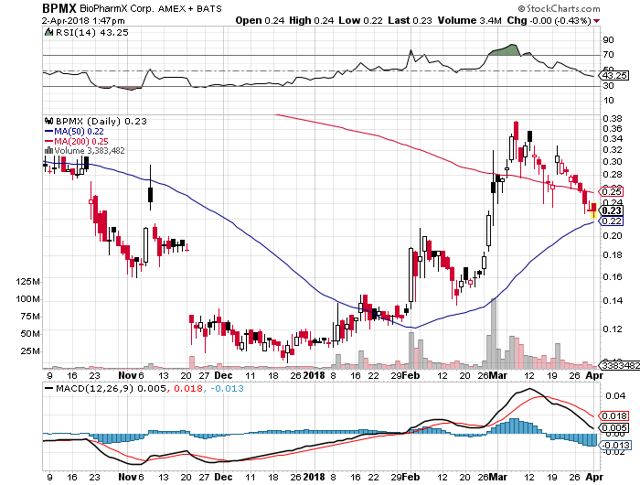 Taking into account the current cash situation, the solid pipeline, the strong institutional ownership, the many upcoming catalysts and a market capitalization of only $43.7, BPMX is a strong buy. When the company announces the strategic partnership between May and July, I expect a significant increase in the share price. Analysts expect BPMX to become a key player in the targeted markets for dermatology by 2019. They further think that BPMX will become profitable during fiscal year 2020 with an expected total revenue of $62.5 million. The market for acne treatments is huge and BPMX wants a big bite out of it!
Analysts have price targets between $1 and $3 for BPMX.
At this current level, BPMX stock seems more than cheap, and an has the potential for an "AKER-like" move. 
This is a great hold for a few months in my opinion!
Disclosure: I am/we are long BPMX.
Additional disclosure: Disclaimer:

I wrote this article myself, and it expresses my own opinions. I am not receiving compensation for it. I have no business relationship with any company whose stock is mentioned in this article. This article should not be seen as investment advise.