It was unbeknownst to me that Jamaica had a stock market, until I visited the country this Winter with a school trip. I went with an investor mindset and was intrigued by this country's nearly unheard-of investment opportunities. I broke away from the rest of the group one day and made a visit to the Bank of Jamaica and the Jamaica Stock Exchange (JSE) to learn more. The following is what I learned.
To give a basic understanding of Jamaica's economic situation, here are some quick facts.
2017 Inflation Rate (CPI)= 5.2%

Unemployment Rate= 12.2%

Government Debt to GDP= 123%

Overnight Interest Rate= 3%
Data Provided by Trading Economics.com
Jamaica has been struggling with government debt for a long time, but its debt level has been decreasing. The International Monetary Fund, World Bank, and other organizations have injected funding to the Jamaican government to help continue growth and improve economic and social conditions. The government has been taking steps to ease the process of business development and foreign investment. According to Santander Bank, Foreign Direct Investment (FDI) was USD 856 million in 2016, up from USD 580 million in 2014. During my visit at the JSE, I found it surprising to learn that only about 3% of trading accounts transacting on the exchange were American. If Wall Street and other institutional investors begin trading on the JSE as well, Jamaican stocks could see massive price gains.
The Jamaican Stock Exchange has two primary markets; Main Market & Junior Market. There are several requirements to list on each market, but the main difference is the market capitalization of a company; Main Market- large companies, and Junior Market- small companies. Currently, there are around 100 companies listed on the exchange in total, but several companies are adding their names to the markets each year. Daily trading volume in the markets are low, around 5.8 million shares/day, whereas it is common for a single stock in the U.S. markets to have a daily volume in the tens of millions. The JSE has underperformed for years, but in recent years it has seen extraordinary gains. 2016 saw the Main JSE Index climbing 27.6%, compared to the S&P500's 12.25% return that same year, including dividends. In 2017, the JSE returned a whopping 47.66%, putting the S&P500's 2017 return of 21.14%, including dividends, to shame. The JSE is already off to a great start for 2018, with a promising macroeconomic outlook and an encouraging domestic environment, with the Bank of Jamaica already cutting the overnight interest rate by 25bps.
Taxes in Jamaica are like those in the U.S., but there are some key differentiators. Corporations in Jamaica pay a rate of 25%. General Consumption Tax (GCT) is charged at a rate of 16.5%; much higher than in the U.S. According to PWC, personal income is taxed at 25% on income that is more than the annual tax-free rate. In addition, individuals with income over JMD 6 million may be taxed at 30%. To encourage investment in Jamaica, there is no capital gains tax; however, dividends are taxed at 15%. Listing shares on the Junior Market provide substantial benefits for the issuing company. The issuing company is exempt from income tax for five years following the year of the listing. Then, in the five years following that period, the issuing company is exempt from 50% of income tax. If investing in Jamaica from overseas, one should consult their brokerage house about taxes the individual might be liable for.
Throughout my visit, I had several conversations with locals regarding tax policy and the role of the Jamaican government. What I learned was not what I was expecting. Tax evasion in Jamaica is common, and if an individual goes without paying taxes, there are very minor consequences, or none. The government has addressed this issue in several ways, most notably by implementing an online payment process and making the process of obtaining credit easier. However, the individuals I talked to primarily lived in the mountains, which is very remote, and so government is less present there. Opinions may vary from different areas within the country. There was a common perception among many individuals there that the government does not do anything for them. They likely feel this way because the roads are horribly worn and torn, and electricity is unreliable. They say if the power goes out, it might be a week or two until it is fixed. So, what is the government really doing?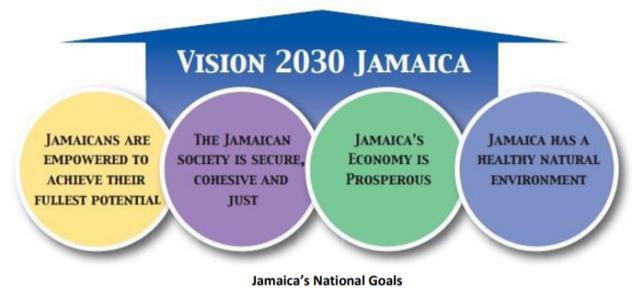 Planning Institute of Jamaica Vision2030 Report
The Jamaican government is showing progress in many aspects, as shown and outlined in the Planning Institute of Jamaica's Vision2030 program report. The plan's main goals are shown above. The report also shows progress in specific goal areas, such as school enrollment rates, government effectiveness, percent of renewables in energy mix, and school attendance rates. For further information on the progress and goals, I would encourage readers to visit the Planning Institute of Jamaica's website. The International Monetary Fund has been active part of Jamaica's initiatives, mainly providing funding through a USD 932 million Extended Fund Facility (EFF) agreement. This funding helped the government enact numerous structural reforms to its economy. It seems that the government is taking meaningful steps to make Jamaica thrive, but it will likely be a long and arduous effort.
As wonderful as this all sounds, there is substantial risk. The country has very high crime and violence rates, and, according to Trading Economics, youth unemployment is high at 26.2%. That may be cause for concern in the future. The educational system needs to be improved, as I saw firsthand during my trip. Students oftentimes must travel a total of two hours a day to get to and from school. The government infrastructure is weak, so roads are poor and almost dangerous for travel. Children sometimes do not even go to school, due to the long commute time. From what I saw at the school we visited, teachers need more training and structure, as the classroom dynamic is often highly chaotic and unproductive. There has been education reform in the country, but it now needs to be spread from the cities into the rural communities. It is also imperative that the government controls the nation's debt load and further simplify rules for business and investment. There are so many more variables that affect the Jamaican investment, economic, and social environment, which I simply cannot cover here.
My visit to Jamaica was eye opening and I believe there is extraordinary opportunity for investment in the country. Foreign investment will drive progress and growth in Jamaica. The government has taken important steps in controlling the debt load, making it easier for businesses and investment, and providing the appropriate resources for Jamaicans to realize their full potential. Jamaican equities and bonds are great portfolio diversification tools. However, there is substantial risk, so due diligence should be taken before a significant investment is made.