Canada bank earnings week (Tuesday to Friday)
            Focus markets: S&P/TSX, BNS, RY, CM, TD, NA
As one of the largest sectors in the Canadian market, Bank earnings week tends to attract a lot of attention from investors and traders. During this quarter, which ran from August to October, stock markets around the world continued to climb so we could see positive results from wealth management operations.
On the other hand, there could potentially be more volatility in personal and commercial banking results and guidance. During the quarter, measures undertaken earlier this year to cool the housing bubble in Ontario really took effect, although the impact of that on banking is unclear as many of the targeted foreign buyers were paying cash and not taking out mortgages with Canadian banks.  During the quarter, the Bank of Canada raised interest rates twice, raising concern about consumer debt levels. Although the economy performed well, any significant changes to loan loss provisions could attract attention.
Canadian banks have been trending upward throughout the year and have been trading recently near their 52-week highs. While these positive trends remain intact for now and could be supported by strong results, any negative hints or surprises in results or guidance could have a significant impact on currently buoyant sentiment. 
Canadian Banks Index (iShares S&P/TSX Capped Financials Index ETF)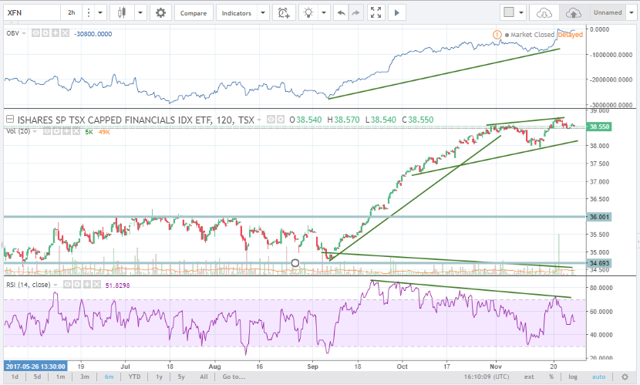 Source: www.tradigview.com
After trending sideways through the summer, the Canadian banking sector has been on a tear in recent months. This suggests that expectations are significantly higher heading into the current earnings season compared with last quarter. While higher lows and an increasing On Balance Volume indicate that the primary uptrend for bank stocks remains intact. On the other hand, the emergence of a negative divergence between the iShares sector ETF price and the RSI indicator as well as the emergence of a bearish rising wedge suggest that upward momentum is starting to slow and a consolidation phase starting.
The breakout from the previous $34.50 to $36.00 trading range generated a measured objective of $37.50 which has been achieved. The shares have started to settle into a range between $38.00 and $39.00 a double count objective. Next upside resistance on trend could appear near $40.00, with next support back near the $36.00 breakout point.    
On a technical basis, heading into earnings week, Canadian banks overall have been levelling off and looking tired following a big advance. 
Canada Bank Stocks
That being said, there could still be opportunities for trading and investment in individual bank stocks depending on the results over the next few days, based on valuation and results, based on the table below:
Canada Bank Earnings Preview Q4 2017

Bank

Report

consensus

consensus

P/E incl

P/E to

Dividend

Date

Q4 EPS

growth

Q4 est.

Growth

Yield

Fundamentals

Bank of Nova Scotia

28-Nov

$1.66

5.1%

12.78

2.52

3.6%

Royal Bank of Canada

29-Nov

$1.87

13.3%

13.35

1.00

3.3%

CIBC

30-Nov

$2.59

11.6%

10.19

0.88

4.3%

TD Bank

30-Nov

$1.39

15.8%

16.55

1.05

3.1%

National Bank

1-Dec

$1.38

74.7%

11.68

0.16

3.5%

Bank of Montreal

5-Dec

$1.99

(2.5%)

12.20

n/m

3.5%

close

RSI

Price above or below

24-Nov

52 wk

52 wk

50 day

200 day

Technicals

high

low

average

average

Bank of Nova Scotia

$83.73

59

(2.1%)

15.9%

2.6%

6.3%

Royal Bank of Canada

$101.06

60

(1.1%)

16.4%

2.2%

5.5%

CIBC

$115.10

60

(4.7%)

10.8%

2.6%

4.0%

TD Bank

$73.99

67

(1.0%)

20.3%

3.2%

10.2%

National Bank

$63.31

61

(1.3%)

26.9%

3.1%

11.1%

Bank of Montreal

$99.06

58

(4.9%)

12.5%

2.0%

2.9%
Source: The Fundamental Technician
As is often the case, the valuations of Canadian banks are similar for the most part with a few outliers. The Fundamentals section of the table above shows where there is the potential for surprises. In terms of growth expected over the same quarter a year, TD Bank is expected to have the highest growth at 15.8%, the Bank of Montreal is expected to decline slightly, and Bank of Nova Scotia's growth is expected to be softer than the group. This suggests the potential for a positive surprise at BMO and possible disappointment at TD.
Looking at what growth has already been priced into the market, looking at the P/E ratio, TD is currently the most expensive at 16.5 while CIBC is the lowest at 10.1. Generally speaking, the market is willing to pay up for growth so I also like to look at the P/E to growth ratio (where 1.0 is a normal level P/E equal to the growth rate) which shows CIBC the cheapest at 0.88 and Scotiabank the most expensive at 2.52. The dividend yield for most banks is similar just above 3.0%, except for CIBC which is significantly higher at 4.3%.
From a technical perspective the RSI indicators for the banks is in the 60s. Above 50 confirms the banks remain in uptrends and at the same time, levels below 70 indicate they aren't overbought at this time. The banks have been trading near 52-week highs which could present a resistance barrier. The banks with the most room to rally toward their 52-week highs are CIBC and Bank of Montreal between 4.5% and 5.0%. On the other hand looking at the 50 and 200-day averages as potential support in a correction, TD Bank and National Bank have slightly more room to potentially fall to their 50-day averages and significantly more potential downside measured against the 200-day averages.
Based on this, heading into the results, is appears that TD Bank is under the most pressure to deliver, with the most downside should there be a shortfall. On the other hand, CIBC appears to be the cheapest relative to expectations with the most potential room to run should it deliver a positive surprise.
Disclosure: I/we have no positions in any stocks mentioned, and no plans to initiate any positions within the next 72 hours.