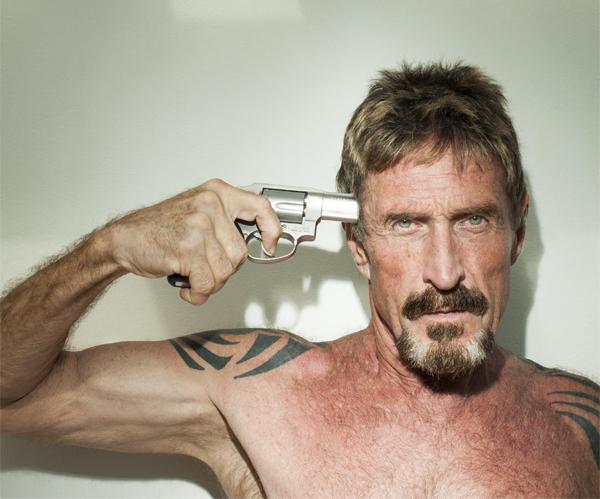 It's do or die for cybersecurity legend, John McAfee. 
This piece is intended to briefly detail the rise and fall of an early dot com era technology icon, and lay out an introductory case for why he is not only poised to rise again, but do it bigger than ever before. We, with our first Seeking Alpha piece here at Gopher Brook Capital, hope to convey how if not for John McAfee defying all standard '90s business convention with his mad genius persona (he still has it too just check out his TWTR feed @officialmcafee). He would currently be garnering attention of San Francisco's VC titans with his newest venture, offering them share in private markets. This article will be the introductory piece of our bull case on how the fall of a name that defines cybersecurity, presents unparalleled opportunity for the retail investor to participate in a company that is epitomized in true venture capital fashion, "the risk, it turns, is actually not to be in." We would like to introduce you all to an Over-The-Counter (OTC) trading market stock of which John McAfee owns a 12.5% share. A company which mined a couple 1,000 bitcoins these past few months. A company whose revolutionary hybrid hardware/software cybersecurity product, Sentinel, is not only preventing your bitcoins from being stolen and your networks from being robbed blind, but offering a chance for one of the biggest names and brightest minds that technology has ever seen, to reclaim his spot atop the cyber world mantel. We welcome you, to MGT Capital OTCQB:MGTI.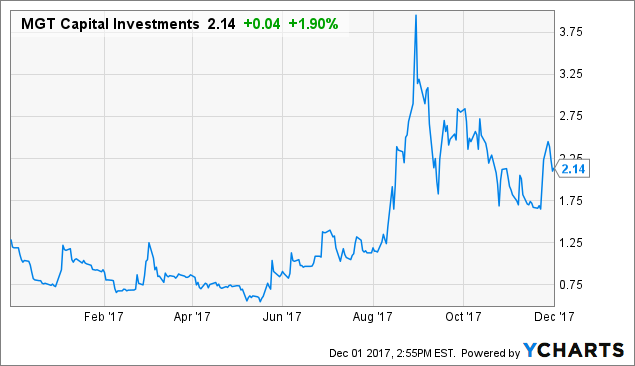 There can be no doubt that John McAfee is a cybersecurity legend, the man all but invented the space, once claiming he coded the first version of his McAfee antivirus program "in a day and a half" and that "4 million people were using it within a month." The software bearing his name still comes standard with this very HP Pavilion on which I type. And although Intel lost around 50% on their 7.7B purchase of the company he founded, transforming it into a memory hogging pop up machine whose real purpose was to make sure your credit card was still active. We at Gopher Brook Capital have excellent news, and are here to tell you the legend is back, knee deep in the cybersecurity game. He begins his journey once again from the ground floor, peering off the edge and looking into the dawn of a new age in cybersecurity, as it transforms largely from a geeksquad salesman buzzword, to a most vital piece of 2020 digital infrastructure. It remains largely forgotten however, that when McAfee was sold to INTC in 2010, John McAfee was long gone, selling his stake in the company he founded after disputes with business partners in 1994, and later losing out on billions.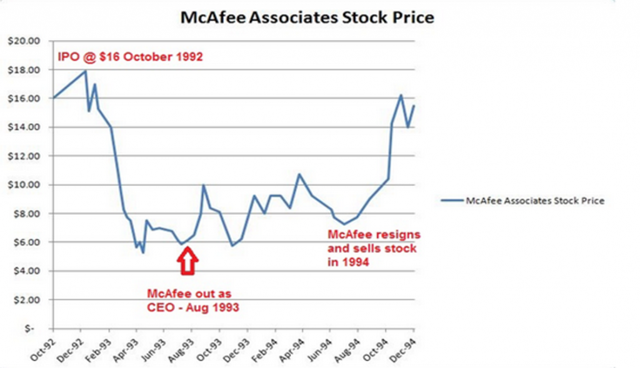 A few years after the dot com bubble had ran its course, the once great cybersecurity icon found himself in a day of darkness, when it fell suddenly upon him. Fleeing endless lawsuits after the puncture of the housing bubble began to devour the last of the geniuses cash, McAfee wound up in Belize, with the intention of manufacturing local plants into antibiotics for a desperate land. But the darkness followed him, and soon he found himself on the run from Central American governments, clamoring that the once great tech titan was guilty of several severe crimes. Wrapped up in a Hollywood tale of drugs, guns and government extortion, he fled Belize and made his way back to North America in 2012. With the years of skirmish in the physical world wearing heavily upon him, he was given light again in the meeting of his future wife Janice, who seems to have been able to rein in the madman, and help him focus his genius where it belongs, doing battle once again in cyber world.
It is not everyday that Gopher Brook has interest in investing in OTC stocks, where fraudulent CEOs rampantly run pump-and-dumps on the unsuspecting investor. However in MGTI we find a company which really shouldn't be trading here, it is not often original founders of 7.7B dollar technology companies take ownership stakes in OTC shells. But in 2015 McAfee was approached by MGT Capital's management about buying technologies in his new cybersecurity company, D-invasive. And in 2016 terms were met for the best move in MGTI company history, bringing technology icon John McAfee aboard. 
Fast forward to 2017 and John McAfee controls over 12.5% of a 100MM business, and has MGTI positioned to be a leader in two of the hottest and fastest growing spaces in markets. He had the company mining its first bitcoin shortly after he joined, and now is managing operations of one of America's largest bitcoin mining companies, just as the price of the "digital gold" being mined is going parabolic. Enter December 2017 with the bitcoins trading at $10,000 USD, next quarter a 100MM Over-The-Counter stock appears to have locked in place an operating source of millions of dollars in revenue a month, a month. Absolutely unheard of. A bay area level venture capital equity, in penny stock clothing.. someone call the NASDAQ? 
All that is to say nothing of MGTI cybersecurity, another wholly owned division  of the company that just debuted McAfee's new $2500 MSRP cybersecurity product, MGT Sentinel, which could not only change the game in network security, but in time bring MGTI investors all the way into the cybersecurity HACK ETF. Taking a next generation, hybrid approach to cybersecurity by utilizing both hardware and software defenses, McAfee's Sentinel directly monitors vulnerable network nodes for intrusion, deploying network user alerts and advanced AI algorithmic counterattacks upon being triggered.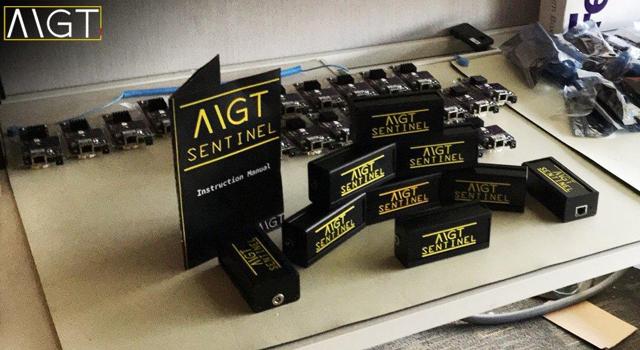 Gopher Brook is honored to initiate coverage of our first equity here on Seeking Alpha, we have high hopes for this equity (we do touch on price targets and the like at the end of the piece) and plan to continue covering on Seeking Alpha into next year and beyond. In the next few articles, as we delve into a much deeper analysis of the various components of MGTI and how to value them. I want to leave readers with two questions to consider regarding investing in this so atypical over the counter equity.

(1) Is bitcoin (or cryptocurrency, doesn't have to be bitcoin) mining going to be a real business of the future? Will it indeed be profitable to own and maintain thousands of processing units that crunch the millions of digits encoded in these blockchains? Is it possible that bitcoin miners, or similar "miners", become lifelong dividend paying companies, perhaps within years? Imagine a 1 in X shot at owning a KO or a NKE before it ever paid a dividend. how do we find X? and is it even worth it to try? Call me a fool, the risk seems not to buy!
Sequoia Capital, a name synonymous with VC, invested several millions into the world's largest bitcoin mining operation, a private Chinese company called BITMAIN. In a combined deal with IDG Capital, the 50MM investment by the two VC powerhouses resulted in a valuation of BITMAIN at "several billion dollars."
McAfee seems to have a budding relationship with BITMAIN CEO/founder Jihan Wu, an extremely important figure in the Bitcoin world. He invented the first Application-Specific Integrated Circuit (OTC:ASIC) for the SHA-256 cryptographic algorithm, resulting in his company's ASIC chip being the fastest bitcoin mining chip in the world. By the end of Q1 2018 McAfee will have around 5,000 BITMAIN mining rigs in action for MGTI. While the door is closed to us retail investors to participate in a young Chinese chip giant such as BITMAIN, is it possible that McAfee's MGTI provides us retail investors a chance to get in at ground zero of an entirely new sector of computational business? A $2.25 share price on MGTI gives almost exactly a 100MM valuation, suggesting to us that multi-fold returns are not at all be out of the cards on the bitcoin mining side of MGTI alone. Is it unreasonable to suggest that McAfee could lead MGTI mining operations to a $1B+ valuation like his Chinese counterpart?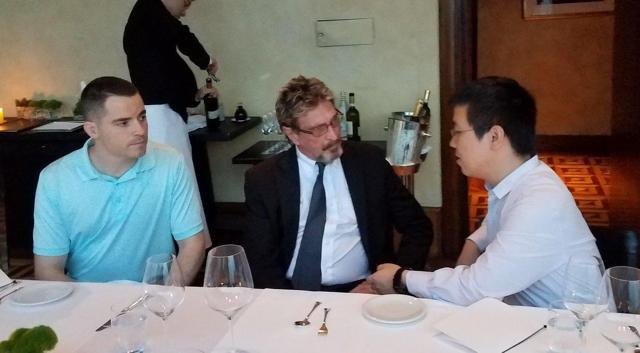 John McAfee (middle) discussing business with BITMAIN founder/CEO Jihan Wu (right) at his birthday party in Hong Kong.


That leads me to question (2), John McAfee started a future billion dollar cybersecurity business the last time around, how is it not at least remotely in the cards he does it all over again? We all are familiar of the great OTC pump, penny stock will be the next amazon!!! But this is John McAfee here, with a 12.5% stake of his own?  How many times in an investing career does that opportunity present itself? Regardless of what you think of bitcoin, it certainly appears that the age of digital money is here, beyond that, the number of cyber hackings appear to be on the rise, with record number of corporations and even hospitals  becoming victims of "cyber stickups." Into 2020 it will become paramount that all our devices have bulletproof security whether we are sending $5 or storing $5MM. That our hospitals and governments local networks become impenetrable. McAfee has great experience and knowledge of things of this world most of us could only dream of understanding. He paid many years and many millions to acquire them, as investors in MGTI we get to buy them for satoshis on the bitcoin, and we believe that he is here to show not only old time silicon valley, but the world, that he IS cybersecurity. Just think, the cybersecurity ETF (HACK) does not have John McAfee's publicly traded cybersecurity company in it. Blasphemous.
We would like to thank readers for taking the time to read this first piece by Gopher Brook and hope this is the just the beginning of bringing many intriguing and profitable equities to your attention. We are long MGTI ~$2.25 at the 100MM valuation and have absolutely no plans of liquidating any of our MGTI position at a valuation less than $1B ($25 at current share structure, a reverse split will likely be authorized on Dec. 19, 2017, which is why we often talk of buying the name at certain valuations rather than prices). We advise taking multiple entries to establish a position in MGTI due to its 90 day rolling variance (see chart), but Gopher Brook is in it for the long haul, we are not day traders in MGTI and believe MGTI will trade over a 400MM valuation by end of Q2 2018 ($10 at current share structure), and that will be our official target on this our first Seeking Alpha coverage initiation and we do find it likely that it will end up conservative. If you find that insane or that of a "pumper," we have no problem with that and encourage you to put your own capital up in the name on the short side. 

Any comments/questions would be appreciated, and will be responded to as best as possible. Thank You - Gopher Brook Capital
".... And their experience invariably matched mine that is, they made no real money out of it. Men who can both be right and sit tight are uncommon. I found it one of the hardest things to learn. But it is only after a stock operator has firmly grasped this that he can make big money. It is literally true that millions come easier to a trader after he knows how to trade than hundreds did in the days of his ignorance" -  #JesseLivermore 
Disclosure: I am/we are long MGTI.