2017 was a very generous year for E-Trade's common shareholders, who currently do not receive a dividend, with the stock up more than 40% since its closing on 1/3/2017 at $36.56 per share. The company has certainly changed its marketing strategy since its near fatal collapse during the financial crisis of 2007/2008 with the iconic E-Trade investment baby no longer serving as the firm's mascot. But the more important questions are as follows:
What is E-Trade's core competency today and how does it stack up against major competitors?
Has E-Trade divested from risky mortgage backed securities that nearly precipitated a bankruptcy during the last financial crisis of 2007-2008?
Does the company possess de-risked and diversified revenue streams in the event of an equity market correction or depressed retail trading activity?
E-Trade describes itself as follows: "…a financial services company that provides online brokerage and related products primarily to individual retail investors." Its founding identity was always a brokerage platform that offered an innovative online ecosystem where non-institutional retail investors could actively trade securities across the globe alongside highly sophisticated investors. Today, E-Trade's initial market dominance in the online brokerage world has transformed the company into a pseudo investment management firm that still markets securities brokerage as its core focus. Instead, E-Trade leverages its brokerage facilitated cheap capital base to invest in agency MBS, high leverage first and second lien residential mortgages and executes a high-risk margin lending business.
Commission revenue from E-Trade's core brokerage business has stagnated over the last 3 quarters despite strong retail trading activity
E-Trade's core brokerage business has seen its Daily Average Revenue Trades (DARTs) flatline in the most recent 3 quarters since September 30, 2017. 1Q17 saw ~ 207,000 DARTs, 2Q17 ~ 208,000 and 3Q17 ~ 206,000. Meanwhile, the average commission on each of those trades has dropped ~ 29% since 3Q16; 3Q17 clocked an average commission trade of $7.76, down from $10.97 in 3Q16. The stagnation in DARTs over recent quarters may presumably be attributed to the lack of growth in active brokerage accounts on the E-Trade platform which has seen a putrid increase of only 4% between 3Q16 and 3Q17. More worrisome, however, is the secular decline of E-Trade's trade commission revenues and what this implies for other key divisions in the company. In the table below, one can see that trade commissions have become an ever smaller component of E-Trade's total revenue since year end 2015 and has seen steep deterioration in 2Q17 and 3Q17.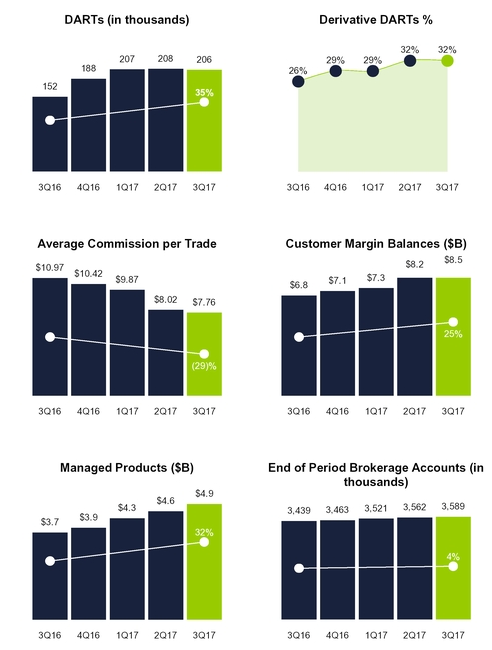 One of the few bright spots of late has been the customer asset growth in Managed Products which is an area that E-Trade has hinted as being among its top strategic priorities going forward. Still, the $4.9 billion customer asset base for Managed Products (as of 3Q17) generated fees and service charges that only comprised ~ 15.4% of net revenue in 3Q17.

Disappointing credit fundamentals in its one-to-four family and home equity mortgage loan portfolio
The table below from the company's 3Q17 filing show that more than $160 million of one-to-four family loans have LTVs > 100%, meaning there is already implied principal loss for the current note holder since the underlying value of the asset exceeds the outstanding principal balance of the mortgage.

Similarly, more than $314 million of home equity loans on the company's balance sheet have LTVs > 100%. The pipeline for these under water assets is also notable with ~ $292 million in one-to-four family loans having LTVs between 80% to 100% and ~ $319 million in home equity loans having LTVs between 80% to 100%.
While it's a good sign to see a majority of the mortgage loan portfolio possess borrowers with FICO scores >= 720, the $522 million and $291 million of one-to-four family and home equity loan assets with borrower FICO scores < 659 should be a worrying balance sheet problem if there is an economic downturn.

Interestingly, while the nominal exposure to the higher risk mortgage loans has decreased since December 31, 2016 (as seen below), the concentration of delinquent loans as a % of the overall pool balance is actually higher as of 3Q17. While the total balance of delinquent loans stands at $268 million as of 3Q17 (9.7% of total loans receivables), the analysis in this section demonstrates there is a realistic potential that recessionary economic conditions may balloon that balance even higher and cause heightened balance sheet pressure. If significant depositors withdraw balances from their E-Trade banking and securities account (since it may not be their primary banking account) in the event of a market downturn, then the rapid decline in asset values and difficulty recovering par value in a sell-market may lead to a severe strain on E-Trade's balance sheet and reserves.   

Securities based margin lending business is a high-risk source of revenue growth predicated on the continued rise in equity markets
Interest earned on loans collateralized by securities for margin accounts has held steady as a substantive component of revenue from net interest income. Margin loans contributed ~23% of Total Interest Income through year end 2015 and continued to maintain its 20%+ share of net interest income as of 3Q17.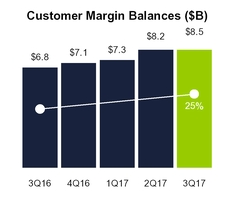 From the company's 3Q17 filing:
"Customer margin balances represents credit extended to customers to finance their purchases of securities by borrowing against securities they own and is a key driver of net interest income. Customer margin balances were $8.5 billion and $6.8 billion at September 30, 2017 and 2016, respectively. Customer margin for periods prior to September 30, 2017, includes OptionsHouse balances which were held by a third party clearing firm. In connection with the integration of OptionsHouse, $0.4 billion of customer margin held by the third party clearing firm was transferred to our balance sheet and is reflected as margin receivables at September 30, 2017."
While the yields on these relatively high interest rate loans can be an impressive revenue stream during bull equity markets, if equity values take a systematic down swing and collateral values decrease dramatically, the company can expect trader activity and margin balances to be scaled back. A meltdown in the US equity markets is unlikely at this point (all key indicators seem to suggest so) but a market correction may not be outside the realm of possibility. It's not a farfetched scenario where a slight downturn in equity prices causes margin lenders to fire sale underlying collateral assets to recover loan proceeds but in turn causes further downside pressure on the market, and the cycle continues.

As mentioned previously, the interest income from margin accounts has held steady as a % of net interest income which the table above clearly shows. But the ~ $1.7 billion increase in margin account balances between 3Q16 and 3Q17 should be viewed as a significant source of increased company risk since these assets have far riskier profiles than most of E-Trade's balance sheet.   
Conclusion:
While E-Trade was a revolutionary player in the early internet era of the 1990s and 2000s, its market leading status has been marred by significant technological developments that have thinned the competitive advantage it once held. Today, there are countless online brokerage platforms that offer a similar diversity of securities and market research for its users. The once dominant securities business helped lead the capitalization of E-Trade Bank as customers sought greater integration between their investment activities and trading accounts. However, that seamless integration is offered by several key competitors to E-Trade – notably Bank of America. Numerous brokerage platforms offer similar if not better research capabilities than E-Trade while also providing lower commission fees per trade. This article from Nerd Wallet provides a neat comparison of various commission fees from top brokerage service firms. As one can see, E-Trade charges higher commission fees than several peers such as ally, TradeStation, Charles Schwab and Fidelity.
If E-Trade Bank generates a majority of the company's net income through its net interest margin, yet is largely dependent on a stagnating securities business that is no longer a dominant market leader to grow its asset base, then where does long term value lay for this security? If new market entrants see E-Trade as a middle of the way online brokerage experience and current E-Trade customers scale back their trading activity or cease all together, then E-Trade will see a secular stagnation followed by eventual decline in its customer deposit balances.
If exposure to the online brokerage services industry is a must for your portfolio, then it may be prudent to purchase a more established financial bank at a cheaper multiple who has demonstrated an ability to weather economic cycles while also properly de-risking its asset base and diversifying into consistent risk-adjusted revenue streams.

So, let's assume that everything goes well in the economy in the next twelve months and a significant downturn does not precipitate, is E-Trade still a fairly value security? Not according to my proprietary DCF model below. The model included very optimistic assumptions such as the growth of interest earning asset to $114 billion (!!) in 2024 and similar net interest margins on those assets. Even then, the implied equity price is almost 40% lower than where E-Trade's common shares are currently trading.
Investors shouldn't be thrown off by the headline attractiveness of E-Trade's net interest margin on liabilities that are essentially non-interest bearing. This attractive financing arbitrage only exists so long as clients see E-Trade bank as a useless plug between their investment funds and securities trading activity. As competition heats up from nascent players such as Robinhood and continued pressure from established industry names, E-Trade will present an apparent value trap for new retail investors. The fundamental tension in this company is the fact that it was never supposed to be a net interest margin driven bank that risks public shareholder capital to investment in hundreds of millions of dollars of high risk and relatively illiquid mortgage assets. That's what nearly caused its demise in 2007-2008 and will likely cause it further tension and instability in the future.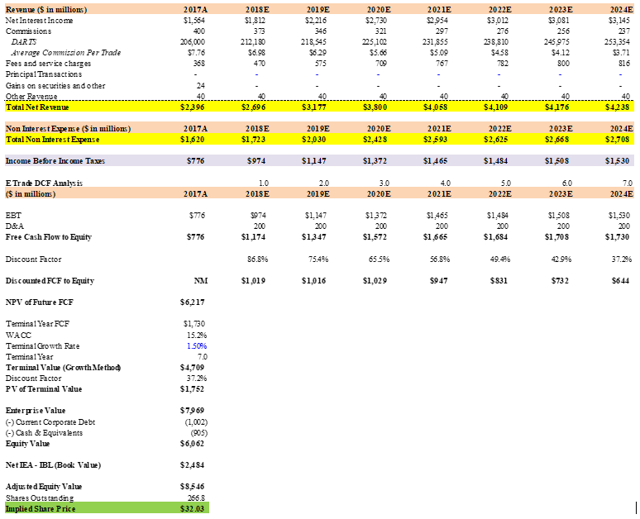 Disclosure: I am/we are short ETFC.
Additional disclosure: All opinions included herein are solely my own opinion and not a reflection of any other individual's or institution's perspective. Securities investing can lead to significant principal loss so invest at your own peril.