BBY Share Price Action

Core business model is fully exposed to the secular decline in brick & mortar retail and migration to e-commerce based experience
By now, most investors have grown tired of the endless prognostications from market pundits that brick and mortar retail is headed for the graveyard as e-commerce giants such as Amazon continue to vanquish rivals (see below for a few interesting graphs that depict traditional retail's decline and the ascendance of e-commerce). While this has been true for many of the big box retailers including but not limited to JC Penney, Sears and Macy's, surprisingly one name - Best Buy - has been able to avoid the pit of retail doom. Why?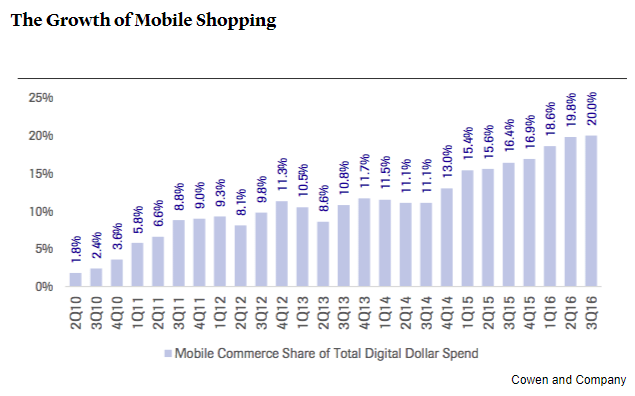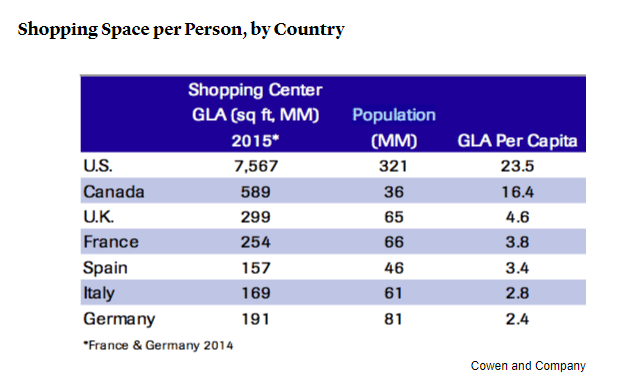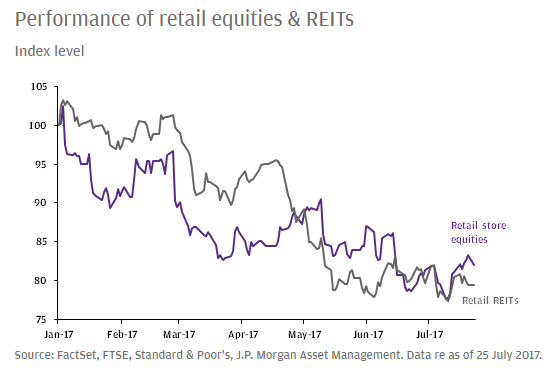 On the surface and to many market pundits, increasing sales in retail is the key indicator of a company's health. For a retail company that controls its own brands and products such as GAP or J. Crew or (insert any brand that doesn't exclusively sell through a big box retailer), increasing sales would be fantastic because it shows that consumers genuinely like the products offered which provides support for the long-term health of the company. The same principle holds for every industry, and particularly for the industry at focus for our analysis of Best Buy - the retail technology industry.  
Best Buy is to technology products as Macy's (or any big box retailer) is to any brand that it carries in store.
Best Buy doesn't control most of its products and faces tremendous sales competition
Just like Macy's or any other big box retailer, Best Buy is fully exposed to the mass societal transition to an online based shopping experience. Whether the underlying product is a brand name sweater or the next hot smart phone, the consequence is the same for every brick & mortar retailer who carries that product, in store sales will decline. That doesn't necessarily mean the overall sales for the specific product will decline, but the channel for the sale of the product will undoubtedly change to an e-commerce dominated revenue mix. 
Best Buy doesn't design or own the rights to the most popular products it sells in store, similar to most big box retailers. They usually purchase those items wholesale from the particular manufacturer like Apple or Samsung (usually a discount to the retail price) and then sell them to the consumer at market prices, which tend not to deviate much for the most popular products such as mobile smart phones and laptops. This barter and trade business model is highly dependent on the leverage the retailer (Best Buy) has in reaching its end customers. In today's world, Best Buy and other big box retailers have little to no leverage in dictating strong terms with major product vendors like Apple. Apple itself has a vibrant retail sales operation, which according to this The Balance article totaled more than 450 stores as of January 2016. For other key manufacturers of hot smart phones like Samsung and LG, there are dozens of popular sales channels that carry their products - most notably, the phone carrier themselves who provide the underlying cellular services.
If someone wanted to get an iPhone, where would they go in the future? Maybe an Apple store. Maybe the AT&T store. Maybe the Verizon store. Maybe the online platforms of any of the proceedings names. Andddddd then maybe Best Buy. See how much retail competition Best Buy faces for its biggest source of revenue?

Low margin business with high exposure to U.S. mobile phone sales and uncertain technology product releases
As you can see below, Best Buy is a very low margin business. What the graph below means is that for every $1 of revenue that Best Buy generates only ~ 4-5 cents of that revenue is realized as operating profit! That means almost 95% of that revenue value is consumed by the operating profile of the company.

According to Best Buy's FY year end filing for 2017, the company has almost 125,000 full-time, part-time and seasonal employees on its firm's books!

Meanwhile, Apple, which has a market cap of $800 billion and produces billions more in free cash flow, has an employee count of almost 123,000 as of September 2017.
Best Buy's operating profit per employee is pretty dismal when you consider the market believes this is a ~ $20 billion market capitalization company.

The advent of the smart phone was a true revolution for the consumer technology space, it opened doors to individual efficiency that were believed to be decades down the road. The penetration of this mobile phone technology is most advanced in the United States where mobile phone life cycles are 1 to 2 years at max. This means the introduction velocity of mobile phone technologies is very high so outdated features are siphoned out rapidly. This graph from Statista indicates the rapid penetration of smart phone technologies in the Unites States, but it also signals at a worrying trend of an emerging saturation point.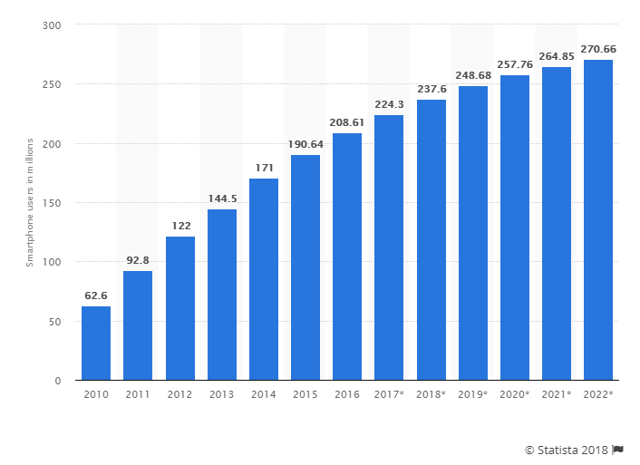 For example, the growth rate in smartphone users from the graph above was ~ 48% from 2010 to 2011 but only ~ 9% from 2015 to 2016. One should expect this annual growth rate figure to decrease further in the future as the mobile user growth rate converges towards the overall population growth rate. Meanwhile, the overall life expectancy of the products is improving with warranty services available to mitigate expensive replacements and users willing to prolong new phone purchases as incremental gains in technology outweigh the current high cost profiles of smart phones relative to discretionary income. 
The below cut out from the Company's FY 3Q 2018 10-Q filing shows that a large majority of its revenues are from domestic sales. The international segment has been under a restructuring process to improve performance but suffice it to say that it will not be a huge bright spot for the company anytime in the near future. Refer to the recent 10-Q and 10-K filings for quantitative support on the international segment's struggling financials.

More than 40% of Best Buy's revenue was derived from "Computing and Mobile Phones" which likely includes both sales and profit sharing from 3rd party warranty collaborations. If the growth rates in mobile phone usage continues to decrease, consumers continue to migrate to online shopping platforms and  Best Buy derives most of its sales from US, then what does it portend for the company's future top-line growth prospects? Not well. 
Even if the company grows revenues in FY 4Q 2018 at the same QoQ rate as they did in 2Q to 3Q, total annual revenues still fall short of last year.

The annual revenue growth rate will likely disappoint this year unless the holiday shopping season outperforms significantly this year.

At the end of the day, total revenue is what drives cash flow for this company and if revenue is set to experience significant head winds in the future, one can expect cash flow to correspondingly decrease. Again this long term revenue decrease prediction does not mean Best Buy itself is a terrible company, it's simply the product of secular industry trends. If more people choose to buy smart phones less often and increasingly make those purchases online, then Best Buy is the innocent victim of greater market efficiency and decreasing consumer discretionary spending. 
Warranty and repair business under pressure from innovative players such as SquareTrade
Here's an interesting description of Best Buy's 3rd party warranty program that is helpful (Source: 3Q 2018 10-Q):
"The profit-share revenue included in our non-comparable sales relates to our extended warranty protection plans that are managed by a third party underwriter. We may be eligible to receive profit-sharing payments, depending on the performance of the portfolio. When performance of the portfolio is strong and the claims cost to the third party underwriter declines, we are entitled to share in the excess premiums."
What's important to keep in mind is that despite being a very small source of overall revenue in the company, the margins on these revenue dollars must be much higher for Best Buy since the insurance risk is on the 3rd party provider. Any residual profit is given to Best Buy which translates to nearly pure profit dollars for Company. 
Best Buy reported these revenues as follows (Source: 3Q 2018 10-Q):
"In fiscal 2017, we recognized $110 million of such profit-share revenue, with an equal impact to gross profit and operating income.  In fiscal 2016, we recognized $148 million. The fiscal 2017 profit-share revenue decrease from fiscal 2016 reflects reductions to the premiums that we pay to the third party underwriter. In light of the continued impact of these lower premiums, we expect the profit share payments to continue to decrease in future periods."
Most notable from the commentary above is that the company acknowledged the fact that revenues will likely decrease in the future. Despite being a very small portion of revenue, profit sharing disproportionately comprises the operating profit:

The company's acknowledgement that revenues from profit-sharing will decrease aligns with the outcome expected if consumers purchase new smart phones less often while hanging onto their current ones much longer. While Geek Squad and the repair maintenance side of the business is a nice accessory to Best Buy's retail offerings, it has never been and should never be in the future the core identity of the company. The company does not have the expertise and is far behind established leaders in the field such as Asurion and SquareTrade. Even one of the leading players in the technology insurance space - SquareTrade - was bought by All State for $1.4 billion despite being an unprofitable enterprise. Insurance is not Best Buy's expertise nor is computer repair, so there isn't much Best Buy can do on this front to hedge against the anticipated profit loss.  
Highly over-valued company even at optimistic revenue growth assumptions
Here is a proprietary free cash flow valuation of the company at reasonable revenue growth rates (which is highly unlikely):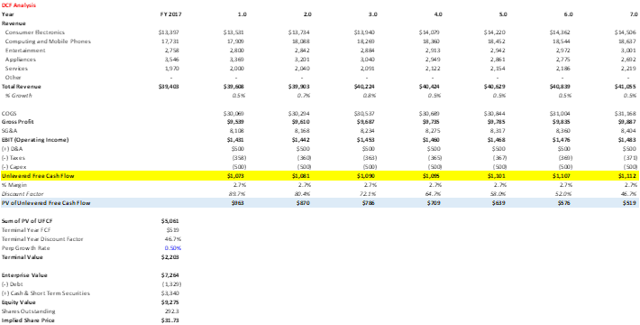 The rosy analysis above implies that the intrinsic equity share price of the company is around $32 per share rather than the $70 per share that it is currently trading at - an almost 55% premium to the implied intrinsic value. 
Despite the sell recommendation on the company, Best Buy's management should be given credit for stoking optimism in long term free cash flow generation with its 2020 strategic initiatives. The company has been able to coat tail on the headline revenue generated by its low margin technology retail business while clouding the headwinds facing some its most profitable business segments. It's almost crazy to think this company saw its equity share price rise almost 60% in 2017. The "$30+ billion in revenue" headline may be impressive but you won't see anything about the company's "4% operating income margin!"
The company's rise has likely been caused by a market optimism towards the company's headline strategic initiatives that focus on providing an amenable customer experience as well as the macro environment of unlimited money floating around. However, as the market begins to see increased monetary policy tightening from the Fed as well as overall bearish view towards continued U.S. growth, there will be recognition that this company is HIGHLY over-valued.  
Disclosure: I/we have no positions in any stocks mentioned, but may initiate a short position in BBY over the next 72 hours.