Investment Thesis
With the recent 20% pullback from the stock's all time high, Aritzia (OTC:ATZAF) is reasonably priced given its tremendous growth opportunities lead by US expansion. 
US Brick & Mortar Expansion
Aritzia plans to open 5-6 new stores in FY2019 and plans to reposition 5 stores in Canada and the US. Aritzia has not come close to their full potential in US markets, therefore new stores will build the foundation for their brand recognition and market share south of the border. For example, Aritzia currently has 3 stores in New York City and 13 stores in Toronto (similar city, yet smaller). Aritzia has lots of room to expand in the US, as their retail presence in the US is very weak (No stores in Houston, Philadelphia, Phoenix, Las Vegas, etc) . As their brand equity grows in the states, they will be able to fully penetrate massive markets such as NYC like they did with Toronto.
Aritzia has been using pop-up stores in the US to gain customer insights on how to better serve each geographic region in the US with their new stores. Successful pop-up stores have been converted to full sized stores. This is a great method to test expansion since Aritzia gains experience in US markets and rallies hype towards their products with US customers.
The company boasts 15 consecutive quarters of positive comp sales growth, further proving their strength in Canadian and US markets. In addition, Aritzia has never closed a store since inception 32 years ago. This gives me confidence in management's executional abilities, providing evidence that new US stores will show strong success.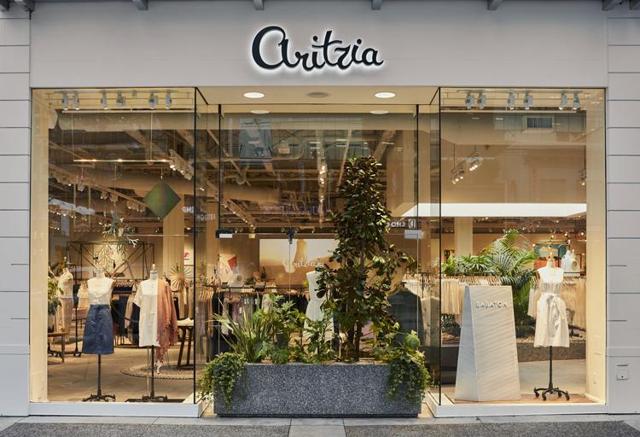 Strong Brand
Aritzia serves a niche market segment between "fast fashion" and luxury, allowing customers to purchase quality apparel for fair prices. This segment is geared for those who want fashionable clothing without paying premium luxury prices (ie. Canada Goose) or sacrificing quality (ie. H&M). This business model is a proven success in the US with H&M (OTCPK:HNNMY) and Zara (OTCPK:IDEXY) leading the way.
The company is vertically integrated, thus they can adapt to fashion cycles faster than most luxury competitors since they control all operations from design to final sale. This is also similar to the way H&M and Inditex operate, however Aritzia offers much higher quality apparel.
Aritzia holds 12 in-house brands which are sold exclusively in their stores and on their e-commerce website. This hedges against customer preference changes as each brand has a different style and target customer.
Aritzia offers a premium store experience, differentiating them from competitors. Stores are located in high traffic areas and are designed with a modern sense to effectively please millennial customers, permitting Aritzia to charge higher prices. Employees are friendly and knowledgeable about the products, adding to the premium store experience. This premium store experience has led to a cult following of the brand among adolescent women, which will only grow over time in the US.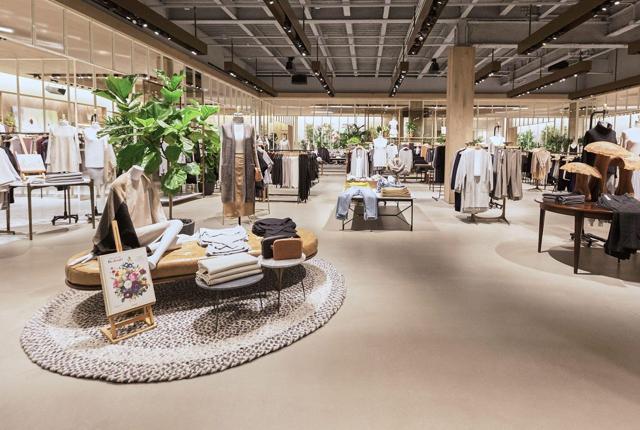 E-commerce
Aritzia's e-commerce segment represents a smaller fraction of total revenue in comparison to other high growth apparel retailers. Aritzia expects their online segment to grow to 25% of total revenue by 2021 (Aritzia does not disclose e-commerce sales data). Their e-commerce segment allows Aritzia to gain brand recognition in areas of the US/internationally where they do not have brick and mortar locations. When Aritzia eventually expands to these cities, the brand will already be known by the population. 
Aritzia has been constantly improving their website to allow for faster checkouts, improved search functions, and improved mobile compatibility. This ensures customer satisfaction, enabling their e-commerce segment revenues to grow rapidly. This segment generates higher margins compared to brick and mortar, therefore driving higher profitability.
Aritzia's e-commerce segment sells internationally, which provides insights into country by country metrics which can be used to fuel future international expansion as management has hinted on.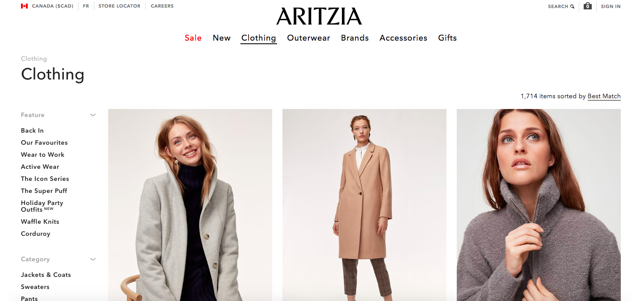 Momentum
On May 10th, the company announced they would begin a share buyback program. The company plans to repurchase 10% of its public float between May 15, 2018 to May 14, 2019. The decrease the total shares available on the public market will rising EPS, resulting in a higher share price. 
Q2 Update - 10/10
Aritzia released excellent Q2 results on October 4th, beating analyst estimates. Key highlights include, comp sales growth reached 11.5%, EBITDA increased 60% YoY, Net income tripled YoY to $15.1M, and Revenue increased 18% (40% increase in US segment). Management attributed this quarter's success to US and e-commerce growth. Numbers look very strong, supporting the development of the thesis below.
Aritzia still remains very financially strong. Debt remains very low (EBITDA interest coverage ratio of 16.3x despite expanding quickly). There was a solid increase in gross margins from 36.3% to 37.3% YoY, proving an increased profitability likely due to e-commerce. Inventory turnover ratio increased from 1.29 to 1.35 YoY, indicating that Aritzia is selling and replacing their inventory faster than previous years.
Industry Overview - Trends & Millennials 
US retail sales have been relatively strong through 2018, while Canada remained more sluggish. US clothing sales grew 0.8% in October and 0.5% in September, driven by a strong economic climate (Source). US clothing sales grew in all months this year aside from April (Source), while Canadian clothing sales were more lacklustre being negative in both August and February (Source). Consumer confidence is near all time highs, lead by minimum wage hikes and strong job numbers through 2018. However, with a recession looming in CY2019/2020, consumer discretionary may be in danger.
Currently, millennials are estimated to have the most purchasing power out of all generations (Source) since they are entering their prime spending years. Additionally, millennials spend 8% more on apparel than those aged 35-44, despite earning 22% less income (Source). This gears well with Aritzia's value proposition since millennials are their target demographic.
Fashion cycles are becoming much faster, however Aritzia's vertical integration allows them to adapt to fashion changes quickly. Additionally, Aritzia has adapted to the industry wide e-commerce trend by improving their online shopping experience.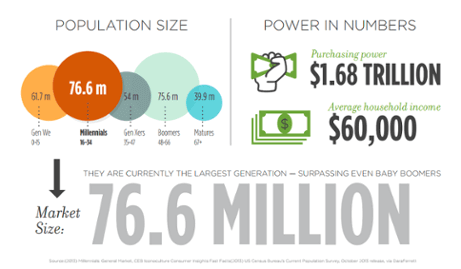 Risk Overview
US and Canada's macroeconomic health will play a major role in the success of consumer discretionary in the next few years.
As Aritzia pays most employees around the minimum wage, minimum wage hikes across the US may drive expenses higher as they expand in the US, hiring more employees. In contrast, Ontario's minimum wage hike has not hurt their business. 
Consumer preference changes and new trends in the fashion market can be seen as a threat. Aritzia needs to be able to adapt to trends quickly in order to compete with fast fashion competitors (ie. H&M)
Aritzia is more exposed to real estate risk than competitors such as Lululemon due to higher number of total store locations in Toronto/Vancouver).
Material costs will rise over the next year (ie. wool). Management claims Aritzia is using a sourcing strategy to combat this issue. 
Catalysts
Aritzia has partnered with Kendall Jenner to promote their new Super Puff jacket on Instagram. This is a great way to expand their brand equity in the US, where the Aritzia brand is not a household name yet. The marketing plan was proven fruitful as the jacket sold out shortly after the Instagram posts. Social media marketing campaigns with high profile celebrities are an excellent opportunity to grow brand equity in the US which pairs great with Aritzia adding new US stores.
Management claims they are working out a partnership with Facebook to further market and sell their apparel. This opportunity would allow Aritzia to reach a large international audience. Management has not spoken in detail on this partnership, so the exact implications and opportunities are not certain.
Comparable Companies
Valuations are as of December 21, 2018. EV/Sales and EV/EBITDA were used as they are both are crucial for a comparing the sales and free cash flow of high-growth retail businesses with Aritzia. 
| | | | | | | | |
| --- | --- | --- | --- | --- | --- | --- | --- |
| Company Name | Price | Market Cap | Sales | P/E | EV/Sales | EV/EBITDA | FY Sales Growth |
| Ted Baker (OTCPK:TBAKF) | 26.2 | 1673.9 | 1029.8 | 12.9 | 1.3 | 10.5 | 11.42% |
| Lululemon Athletica (LULU) | 154.2 | 26524.0 | 3915.9 | 39.9 | 5.0 | 20.0 | 16.50% |
| Urban Outfitters (URBN) | 43.2 | 6050.7 | 5018.0 | 16.5 | 0.8 | 6.2 | 8.50% |
| Tapestry (TPR) | 44.5 | 18751.9 | 7658.5 | 17.7 | 1.8 | 8.4 | 4.40% |
| Roots (OTC:RROTF) | 3.1 | 288.9 | 328.2 | 9.4 | 0.8 | 6.8 | 11.70% |
| Canada Goose (GOOS) | 57.3 | 8263.0 | 656.7 | 61.8 | 9.9 | 40.3 | 28.80% |
| Average | 54.7 | 10258.7 | 3101.2 | 26.4 | 3.3 | 15.4 | 13.55% |
| Aritzia Inc (OTC:ATZAF) | 15.2 | 1735.5 | 796.6 | 25.0 | 2.2 | 13.5 | 16.00% |
The market is not valuing Aritzia (OTC:ATZAF) on par with its peers, despite offering similar/greater revenue and EPS growth compared to many of the comps above. I believe the market is not putting ATZ within the same basket as growth beasts such as Canada Goose (GOOS) and Lululemon Athletica (LULU), despite being fundamentally similar. Aritzia should be grouped with these high-growth retail companies, thus warranting higher multiples.
Valuation
I used a discounted cash flow model in order to estimate Aritzia's intrinsic value. Revenue is assumed to grow 13-16% for the next 5 years (Canada segment at 10-13%, US segment at 20-25%), while costs rise accordingly. NWC and capex rise in line with Aritzia's future retail expansion. An 8% WACC and a 2% terminal growth rate were used, in line with industry metrics.  The DCF model gives an intrinsic value of $22.17 per share (45% upside).
I chose to apply an EV/EBITDA multiple of 15x and EV/Sales multiple of 2.5x to my projected 2019 EBITDA and Sales estimates. This resulted in a share price of $21.85 (43% upside) and $20.11 (32% upside) respectively. I chose these multiples based on the comps set seen above. I took the average EV/EBITDA and EV/Sales among comps and reduced these values slightly as some equities in the comp set may be overvalued (ie. Canada Goose).
By placing a 50% weighting on the DCF valuation and a 25% weighting on both the EV/EBITDA and EV/Sales valuation, I obtained a 12 month target price of approximately $22 (42% upside) along with a strong buy rating. 
Takeaways
Aritzia had a great year and is positioned well for excellent future growth, mainly through US expansion 
Industry trends are favorable towards millennial focused brands like Aritzia
The company is currently undervalued compared to their high growth peers
With the company's Q3 earnings upcoming on January 9th, we will see how Aritzia performed over the holiday season against their retail peers. Stores in Toronto have always seemed packed this month, but not significantly more packed than during Q2 (in my personal experience). Let's see if Aritzia can deliver solid results in prime spending season. 
Disclosure: I am/we are long ATZAF.