Investment Thesis
Turtle Beach (HEAR) is a market leader within a rapidly expanding market of multiplayer gaming, and has just entered the profitable PC gaming market. I believe HEAR is currently undervalued on a EV/EBITDA basis and has a strong runway for growth over the next few years.
Market Leader
Turtle Beach is the clear leader in the console gaming headset market holding around 43% of sales and offering products across all price ranges.
More importantly, Turtle Beach dominates the entry level headset market, as 90% of their headset sales are under $150 (Maxim group believes 50% of gamers are entry level). As entry level gamers mature into serious gamers, the Turtle Beach brand will stick with them as they purchase higher end products. 
Casual gaming has allowed growth in the total number of gamers to outpace industry wide gaming revenues growth (Total gamers doubled from 2013 to 2017). This pairs well with HEAR's value proposition for entry level gaming.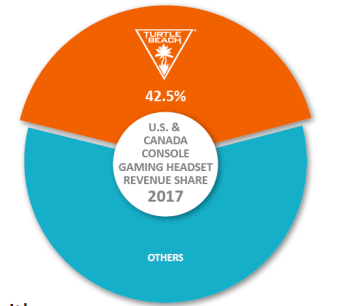 Multiplayer Gaming Landscape
Multiplayer is the most popular form of gaming nowadays and will be the future of the industry. Using Call of Duty (ATVI) as a baseline game, for the past 3 games only 16% of players completed story mode (single player), compared to an average of 28% for the 6 prior games (Source). In Fact, ATVI did not even include a single player mode on their newest game (BO4), further proving the death of single player. Gamers are flocking to the more interactive multiplayer game modes, where headsets allows gamers to chat with teammates via game chat, parties, discord, etc.
Battle Royale is here to stay, and will be implemented in future games. Success in this game mode is extremely dependant on communication with teammates, aligning with Turtle Beach's core competency. Management claims 80% of battle royale players use a headset, and is increasing (Unsure if this statistic is accurate unless management was including PS4/Xbox voice chat device given with console purchase). These new gamers brought in by Fortnite are almost entirely entry level gamers, the market segment that HEAR has the biggest command over. 
Fortnite has proven the free to play business model is successful on console/PC. Free to play games leave more cash in the pockets of gamers to spend on accessories such as headsets.
Twitch and Youtube further enhance the multiplayer experience as it promotes multiplayer gaming even further. Turtle Beach has sponsorships with major personalities such as Dr. Disrespect, Ali-A, Scrump, Castro, and Josh Hart. Twitch viewership grew with a 21% CAGR from 2013-2017, showing the massive exposure Turtle Beach products are getting (Source).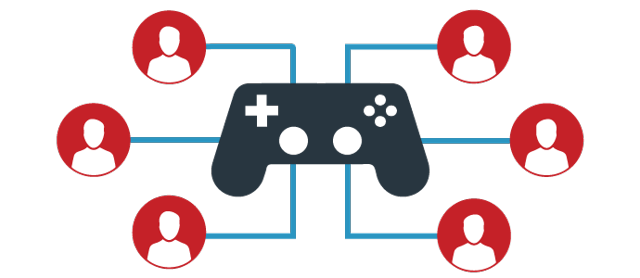 PC Market Entry
On October 1, 2018, HEAR announced they would be entering the PC gaming headset market, and released their ATLAS line of PC headsets. Currently, the $49 model has 4.1/5 stars on Amazon and the $99 model has 4.2/5 stars on Amazon, proving the products' strong quality.
PC headsets make up 46% of industry wide headset sales, despite the PC market only holding 20% of industry wide gaming sales (console holds 24%, mobile holds 51%). This supports the ideal that PC gamers are more serious about gaming and thus are more willing to purchase headsets.
As for the accessories market, PC headsets make up 33% of accessory sales (mice at 14%, keyboards at 18%, console headsets at 38%). Therefore, HEAR is strategically entering a market nearly as big as their current market (Console headsets), showing a runway for future growth as their brand recognition develops among PC gamers.
Turtle Beach's entrance into this market promotes their expansion in China and South Korea, since PC gaming dominates over console in these countries. While, HEAR has not focused on international expansion, this will provide a strong opportunity for international growth down the road.
Assuming the refresh timeline for the new influx of customers (due to Fortnite) is 1-2 years, strong PC headset sales will be needed to drive revenue growth in 2019, as console Fortnite players will likely not be buying a new headset in 2019.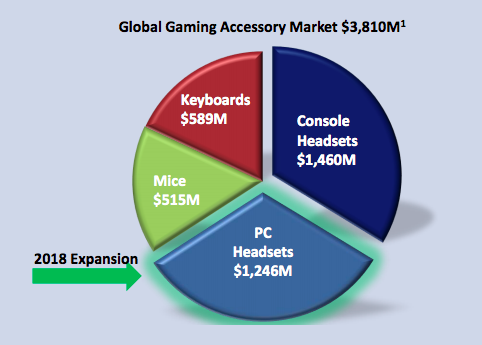 E-Sports
Turtle Beach has been developing their sponsorship portfolio as E-sports is a massive platform to market their products. Current sponsorships include Optic Gaming, Houston Outlaws, Astralis, Splyce, Team Allegiance, as well as sports based esports teams such as New York Knicks and Manchester City. They have also sponsored directly with the e-sport events such as Dreamhack, Blast, and Fifa E-sports World Cup. These all give Turtle Beach headsets huge exposure since fans will see their favourite gamers or teams using Turtle Beach products. 
Along with this, some tournaments are shown on ESPN, providing even more marketing exposure for HEAR. For reference, the 2018 Overwatch Tournament got similar ratings to an MLS soccer game, representing lots of room to grow in terms of television viewership. However, most gamers will watch tournaments on Twitch or other streaming platforms.  
Pro gamers at these events are seen using the highest end headset models. This shows fans at home that Turtle Beach is not just an entry level brand, but that they can compete on the professional gaming stage.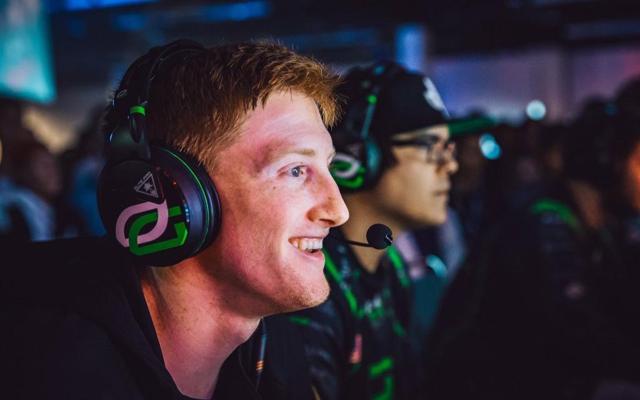 Other Bullish Thoughts
Improving Balance Sheet
LT loans and preferred shares decreased from $46M last year to $26M.
Total debt decreased from $65M (Q1 2018) to $38M (Q3 2018).
HEAR paid off $5M in subordinate debt in October 2018.
Decreasing leverage; EBITDA interest coverage: 16x in Q3 2018 compared to 1.6x in Q3 2017.
Management plans to continue cleaning up the balance sheet until March 2019.
Patent Portfolio
Strong patent portfolio covering headset technology and new hypersound technology.
Hypersound technology creates a 3D audio experience and has possible future applications to VR, healthcare, and commercially.
Industry Overview
The gaming industry has had steady growth for years with a 12% CAGR from 2013 to 2017.
Digital downloads are becoming extremely dominant, with a 79% of sales in 2017 (Source). This is expected to grow to 93% by 2021 (Source). This trend promotes gamers to purchase more games since they do not need to travel to a brick and mortar store. Purchases will be more spontaneous and larger in quantity. This enhances the entire gaming industry, including the accessories market, as gamers will get more out of a headset (since they own more games). In addition, this trend allows for more shelf space for gaming accessories (ie. headsets) which are traditionally purchased in stores. 
Free to play is the latest trend, popularized by mobile gaming and Fortnite. This brought an influx of casual gamers into the market, the area of the market where HEAR succeeds the most. 
VR gaming has been growing in its household reach. VR gaming revenues rose 66% in 2018 (Source) and are expected to grow with a 26% CAGR from 2018 to 2023 (Source). 
Risk Overview
HEAR sales are dependent on the success of gaming releases from Activision (ATVI), Electronic Arts (EA), and Take-Two (TTWO). In addition, retail sales are highly dependant on only 3 retailers, Best Buy(BBY), Walmart (WMT), Gamestop (GME) which collectively hold 46% of revenue.
High level of competition; Astro (LOGI) and Razor are the main players the high end segment. See a set of reviews here.
Voice chat has not been innovated in years
Management has been selling their shares, possibly indicating their opinion that valuation is too high
Share price has been very volatile, thus some investors may be reluctant to this opportunity 
Catalysts
Expansion to China and Korea (mentioned above)
Hypersound proves useful to VR and/or gaming 
Future gaming releases
Comparable Companies Analysis
As of January 22, 2019.
Company Name

Price

Market Cap

Sales

P/E

EV/Sales

EV/EBITDA

FY Sales Growth

Logitech International (LOGI)

33.7

5846.0

2692.4

26.1

2.0

17.4

10.00%

Dolby Laboratories

(DLB)

62.98

6485.8

1171.9

55.3

4.6

14.2

8.00%

Vuzix Corporation

(VUZI)

4.6

127.2

7.7

N/A

13.4

N/A

71.00%

Plantronics Inc

(PLT)

35.3

1403.1

1154.1

N/A

2.5

18.9

107.00%

Guillemot Corporation

4.5

69.4

100.9

2.3

0.2

1.9

20.00%

Average

28.2

2786.3

1025.4

27.9

4.5

13.1

43.20%

Median

33.7

1403.1

1154.1

26.1

2.5

15.8

20.00%

Turtle Beach

15.1

214.6

255.8

5.8

0.9

4.9

75.00%
Many players in the gaming accessories market are private companies or are 1st party console producers (SNE), thus Logitech is the most useful comp above. 
As seen in the comps set above, HEAR is trading at a heavily discounted valuation relative to their competitors (especially LOGI), despite offering very strong future growth avenues. Thus, I chose to apply a 10x EV/EBITDA multiple to my projected 2019 EBITDA. Due to the differences in sales and market caps as a result of weak comps, I chose 10x rather than the average comps set multiple of 13x. The market appears to be deflating HEAR's price as some believe it ran up too quickly ($1.73 one year ago, to $15.08 today). However, the cleaning of the balance sheet and multiple growth vectors mentioned throughout this report have transformed Turtle Beach into an innovative and fundamentally sound company, warranting a higher multiple. 
Valuation
I used a DCF model analysis to estimate the fair value for HEAR. Revenue is expected to remain fairly stagnant next year, while revenue picks up around to a growth rate of 10% for the next few years due the refresh cycle and PC sales growth. Gross margins are expected to stay at 35% and EBITDA margins are around 18% for the next 5 years. Interest expenses are to decrease to 0 by 2020 as I expect the company to continuously clean their balance sheet. I used a 15% WACC and a 2% terminal growth rate, to arrive at a share price of $21.28 (41% upside)
Applying the EV/EBITDA multiple of 10x mentioned above to 2019 EBITDA, I reached a share price of $23.98 (59% upside)
Placing a 50% weight on the DCF valuation and a 50% on the EV/EBITDA valuation, I arrived at a 1 year price target of approximately $23 (representing a 50% upside)
Disclosure: I am/we are long HEAR.
I wrote this article myself, and it expresses my own opinions. I am not receiving compensation for it (other than from Seeking Alpha). I have no business relationship with any company whose stock is mentioned in this article.