Company Summary
ANGI Homeservices (ANGI) is a major player in the digital marketplace for home services, with their main objective being connecting homeowners with service professionals (SPs). ANGI's platforms include HomeAdvisor, Angie's List, Handy, among others.
Platform Breakdown
HomeAdvisor (Marketplace Segment)
ANGI's largest and fastest growing platform
HomeAdvisor provides customers help local, pre-screened, customer-rated service professionals (SPs). Then customers can instantly book appointments with the SPs online.
This platform takes customers down a filtration/funnel system regarding their project to find an accurate service request (SRS), showing the user 1-4 possible SPs to work on their project. The SPs are then charged by ANGI for a membership fee and a matching fee (membership fee is approximately $300 per year, matching fees are over $3000 per year on average).
Free to homeowners to search, review profiles, review ratings, submit SRs
Handy (Marketplace Segment)
Handy connects customers with SPs that can provide smaller scale household services such as cleaning and handyman services
Fixed cost model – prices are pre-set by ANGI rather than by the SPs
Partnerships with Wayfair and Walmart for furniture assembly
Angie's List (Advertising & Other Segment)
Provides a listing of SPs for your unique project
SPs are charged an advertising fee to stand out among others (similar to Tinder Gold). ANGI recently switched to this monetization model from a membership fee for SPs.
Other Platforms
Felix, mHelpDesk, Homestars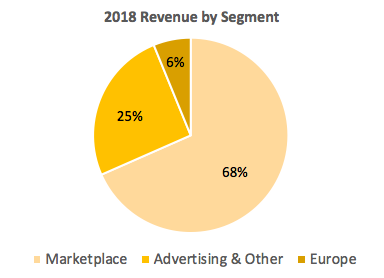 Investment Thesis Overview
Early stages of the online shift in the home services market
Category leader
Expanding EBITDA margin & secular top line growth
Early Stages of the Online Shift in the Home Services Market
Massive market with annual spend of $400B (TAM) with a 3% CAGR since 2005 in the US. The acquisition of Handy rises ANGI's TAM even higher since Handy offers new services and addresses new customers
The online home services market is severely underpenetrated. Currently only around 10% of home service purchases are made online in the US, compared to online travel at 50%, e-commerce at 15%, and ride hailing at 15%. ANGI currently commands around half of that 10% online spend. Therefore, following the trends seen in these industries, an online shift is likely to come in the near future as millennials and Gen Z become homeowners. This gives ANGI some serious upside as 90% of the industry is not using online platforms for their home services.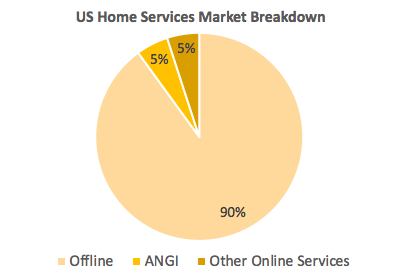 As the millennials and Gen Z reach the home buying age, demand for online home services will likely rise rapidly, since currently 2/3 of homeowners are over 50 years old. As seen in the below graph, homeownership rates have been increasing steadily, driven by the younger generations. This acts as a tailwind for ANGI as increased homeownership induces more home improvement projects.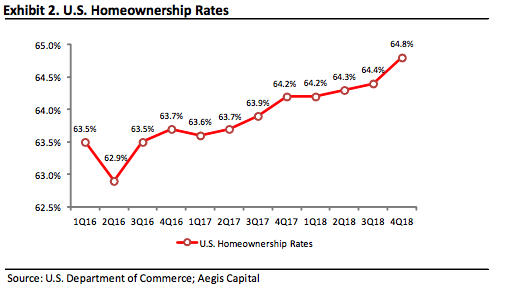 Currently homeowners complete about 7 projects a year (or 12 when including smaller maintenance projects). On average HomeAdvisor users complete 1.8 projects per year in 2018 (1.6 in 2017), again representing the large upside in market share that ANGI will have the opportunity to capture.
Category Leader
ANGI holds approximately 50% of US online market share, crowning them the clear industry leader. In addition, ANGI's scale is reaching new heights with over 15M SP reviews, 250k SPs, and over 23M SRs in 2018.
Network effect: as more SPs join an ANGI platform, their competing offline SPs are pressured to join, therefore creating a more valuable experience for homeowners, creating a never-ending cycle (similar to how Facebook rapidly grew their user base).
ANGI is working to become the one-stop-shop for all home related services. The addition of Handy allows ANGI to offer new services and experiment using a fixed price system. Handy should be the dominant platform for small projects, while HomeAdvisor covers the larger projects.
ANGI is constantly innovating their customer experience, ie. instantly connecting homeworkers with an SP, same day services, fixed price services (Handy). The fees for SPs for these on-demand features are 1.5x the typical matching fees, thus adding to their strong top line growth and revenue per SP.
Expanding EBITDA Margin & Secular Revenue Growth
EBITDA margin has been increasing each year starting at 3% in 2016 and growing to 20% in 2018. I forecast that this trend will continue, eventually topping out in the 25-30% range over the next 5 years.
Increased SP monetization through on-demand features will drive future profitability, ie. Handy's 1.5x fees. Adding a fixed pricing feature to HomeAdvisor will likely increase profitability and scale the fixed pricing approach to a larger audience.
Take rate (Revenue/Job Value) remains very low compared to fellow marketplace based internet companies at similar scale, thus showing room to improve SP monetization as the online shift commences.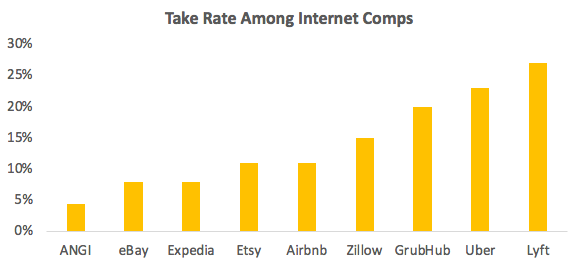 Secular growth in the online home services market represents a major tailwind allowing ANGI to produce strong top-line growth for the next 5 years
Product innovation through on-demand features will also drive sales growth and build a larger repeat customer base. Repeated customer use has already been on the uptrend over recent years, and these new products will only further promote repeat customers. Now that ANGI is offering services for smaller projects via Handy, their addressable market moves towards the 12 projects per year statistic mentioned earlier, representing significant upside in TAM.
Top-line growth for Angie's List have been negative since the company removed their subscription based payment structure. However, with the industry tailwinds and new product innovations/strategy, Angie's List may be able to return to revenue growth in the coming years.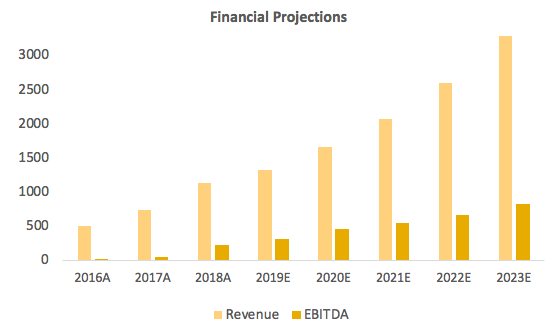 Catalysts
Future strategic M&A transactions
Partnerships with retailers, ie. Wayfair, Walmart, Crate & Barrel
Product Innovation
Integration of HomeAdvisor, Angie's List, and Handy
Risk
Increasing competition from large scale tech companies (Amazon Home Services, Google Local Service Ads) as well as traditional home improvement retailers (Home Depot Home Services, Lowe's Installation). The economies of scale of these competitors can significantly drive costs down, providing them an opportunity to steal SPs from ANGI, and ultimately gain market share.
IAC holds an 84% stake in ANGI, 98% of voting shares, and 4/11 board seats. Eventually IAC can choose to liquidate their position for a massive return, driving ANGI's share price down.
Macroeconomic risks and real estate uncertainty pose a major threat to ANGI's operations. However, 2/3 of ANGI's customers' projects are non-discretionary, meaning only 1/3 of their business is at risk to economic/real estate concerns.
Valuation
Based on the comps set below, it appears that ANGI is trading in line with competitors, despite offering market leading services in early stages of an industry with rapid secular growth ahead. As seen by EBITDA margin, ANGI is outperforming its peers on core profitability, in additional I am forecasting that EBITDA margin will expand to the 25-30% range, providing additional merit for the premium that ANGI deserves. Nevertheless, outside of its internet marketplace peers, ANGI's valuation does seem very high. Given the incredible growth story and the many opportunities for ANGI to dominate as mentioned above, ANGI is deserving of a premium multiple.

Therefore, by using a 20x multiple on 2020 EBITDA, we arrive at a share price of $16.29 (16% upside). The 20x multiple was derived by taking the average of NTM EV/EBITDA multiples excluding Zillow (outlier).
Using a DCF approach with the perpetuity method, we arrive at an intrinsic value of $17.81 (29% upside) using a 9% WACC and 2% PGR. Using an exit multiple approach, we get a share price of $18.19 (29% upside) using a 9% WACC and 14x EBITDA exit multiple. Below is a summary of the DCF model.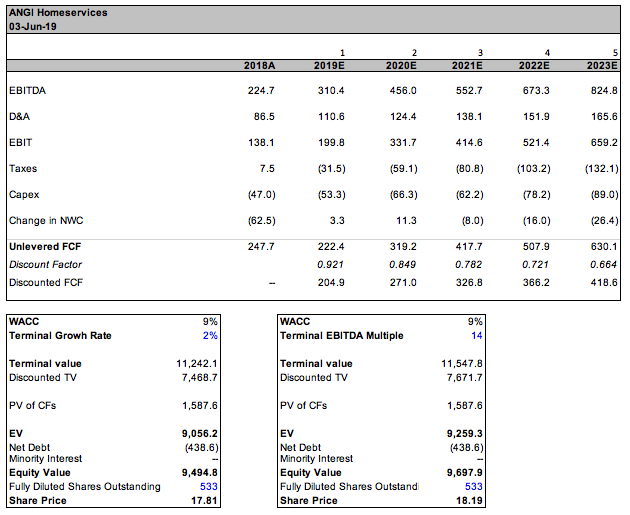 ANGI has gone through a ~20% pullback over the past month, due to macroeconomic concerns based on a possible trade war. ANGI does no business in China, thus I believe the pullback is unwarranted and gives investors an opportunity for entry.
Takeaways
ANGI represents an opportunity to invest in the category leader within a market that will likely undergo a shift to online services in the coming years.
I am placing an outperform rating on ANGI with a 1 year price target of $18 based on a 20x 2020 EBITDA multiple valuation and a DCF valuation. This represents a 28% upside from the closing price on June 3rd 2019.
Disclosure: I am/we are long ANGI.