Ampio Pharmaceuticals Expands Platform Drug With New Research Collaborations
Please Note: Blog posts are not selected, edited or screened by Seeking Alpha editors.
Special Situations, Biotech, Senior Management Consultant.
Seeking Alpha Analyst Since 2017
Ph.D. in chemistry, Masters certificates in International Finance and Program/Project Management. Over 38 years experience in high tech and biotech.
Summary
Ampio to pursue rare pediatric diseases with AmpionTM.
Rare disease treatments are a lucrative segment of pharma.
AmpionTM is a platform technology drug that can be used where steroids are inadequate.
Background
The scientists and researchers at Ampio Pharmaceuticals (AMPE) have for years known about the platform technology potential of AmpionTM. These findings have been masked by the company's singular focus on Osteoarthritis of the Knee (OAK). As a consequence, the value of AmpionTM as a platform technology has never been truly understood or factored into the stock price. What the COVID-19 pandemic did was uncover the enormity of this platform technology, but the development of the COVID-19 indication is just scratching the surface. Ampio recently announced the expansion of AmpionTM into discovery for the treatment of rare pediatric diseases, including pediatric Kawasaki disease where children are not responding to IVIG, and Fontan's. While these programs may seem "far off" in the future, it's important to keep the perspective that once a drug is approved these programs possibly could turn into label expansions. It's well known that rare diseases are a lucrative segment of biotechnology to invest in, so Ampio shareholders should monitor the situation closely. The payoff could be huge.
A few months ago, AstraZeneca (AZN) acquired rare disease company Alexion Pharmaceuticals for $39 billion, with SVB Leerink's analyst noting that rare diseases are one of the most attractive business segments in pharma. Additionally, Alexion's Soliris, used for treating paroxysmal nocturnal hemoglobinuria (PNH) and atypical hemolytic uremic syndrome (aHUS), is somewhat famous for being one of the most expensive drugs on the market in the U.S. It is not far behind some gene therapies that cure genetic diseases, costing over $678,000 per year. Zolgensma, a gene therapy cure manufactured by Novartis (NVS) for rare disease spinal muscular atrophy (SMA), costs over $2 million, but is a one-time treatment that some have even cited as cost-effective, and some insurers allow payments from insurers to be paid in installments over the course of a few years. SMA is estimated to have a prevalence of approximately 1–2 per 100,000 persons and incidence around 1 in 10,000 live births (for type 1 SMA, 60% of all cases). Because of the relatively high prevalence and excellent clinical data Zolgensma generated, Novartis bought AveXis for $8.7 billion, both to gain a foothold in the gene therapy space and to profit from Zolgensma. aHUS, on the other hand, is more rare, with an estimated incidence of 2 per million in the U.S., and a prevalence of about 3.3 per million in the U.S., below the age of 18. Finally, PNH is estimated to affect around 1 million people, with an incidence rate of about 12 per million. Needless to say, excellent rare disease therapies can make billion-dollar companies.
Rare Diseases and Valuation Benchmarks
A rare disease is a disease that affects a very small portion of a population. Generally, in the United States, this means a disease that affects fewer than 200,000, but there is no well-defined, set in stone threshold for the prevalence. Drugs developed for rare diseases can be given orphan drug designation from the FDA, with years of market exclusivity. The high price tags that come with some orphan drugs are somewhat justified since the diseases are too rare to support traditional development and marketing; without high prices, no company would make a return on their investment in rare disease treatments.
Some valuation benchmarks for rare diseases include Nightstar Therapeutics, which was bought by Biogen for about $800 million. Nightstar is developing gene therapies in late-stage trials for rare diseases that lead to blindness. Recently, another company focusing on some of the retinal diseases Nightstar was pursuing an IPO for over $1 billion, with various phase 1 programs and an improved gene therapy platform designed to avoid immune surveillance.
Another rare disease biotech example that is not in the gene therapy space is Omeros (OMER), which is developing a MASP-2 inhibitor mAB for HSCT-TMA, aHUS, IgAN, and Lupus Nephritis. Omeros' market cap is over $1 billion, with the aHUS, HSCT-TMA, and IgAN programs in phase 3 trials. Narsoplimab is intended to "do the same thing" as Soliris/Ultomiris, blocking the complement cascade from its deleterious effects, but only from one pathway, so that patients' complement cascades work when activated by the classical pathway, via antibody/antigen interaction. AstraZeneca generates ~$5 billion from these C5 inhibitors alone.
Ampio's Pursuits into Rare Pediatric Diseases
On December 10th, 2020, Ampio announced that it had entered into clinical research collaborations for additional indications for AmpionTM, including rare inflammatory pediatric diseases, and inflammatory kidney diseases. The collaborations are with a top U.S. children's hospital and a respected scientist at Vanderbilt University Medical Center.
The company did not disclose which top U.S. children's hospital it will be collaborating with to study AmpionTM in rare pediatric diseases, nor did it specify which diseases it would be studying in the press release. However, the company's website alludes to Fontan disease and Kawasaki Disease as potential targets. So, while their press release seemed a bit open-ended, Ampio added a page to their website implying that AmpionTM is going to be explored for children at risk for developing complications after undergoing the Fontan operation, as well as for Kawasaki disease. It is unclear if any other pediatric inflammatory disease indications will arise from this collaboration.
The key to Ampion'sTM use in these indications is its ability to reduce inflammation without being immunosuppressive like steroids, and its ability to reduce vascular permeability, along with an excellent safety profile, so far even seen in high doses as seen in dosing COVID-19 patients with an IV formulation. Steroids reduce interleukins, neutrophil and leukocyte migration, fibroblast function, histamine production, nitric oxide production, and prostaglandin production, via affecting gene transcription for inflammatory genes through affecting transcription directly, but also by blocking phospholipid conversion to arachidonic acid (which can be converted to various prostaglandins and leukotrienes through cyclooxygenase and lipoxygenase, respectively).
AmpionTM, on the other hand, can affect inflammatory transcriptional signaling distinctly from how steroids act. For instance, certain prostaglandins are increased with AmpionTM treatment instead of decreased, though steroids and AmpionTM (LMWF5A) can reduce TNF-a release in a similar fashion. Research has shown AmpionTM can reduce T cell cytokine release by affecting multiple pathways with multiple components. For instance, DA-DKP increases rap1, which has been shown to be essential for naive T cells homing to the lymph nodes, but also helps prevent the homing of the activated T cells that would otherwise cause damage. In immune cells, AmpionTM has been shown to activate immunoregulatory transcription factors PPARγ and AhR and inhibit NF-κB (also inhibited by corticosteroids) and STAT1α. Without going through all the details, AmpionTM can affect inflammation in distinct ways from steroids, perhaps increasing good inflammation and reducing bad inflammation.
Post Fontan Protein Losing Enteropathy
When children are born with congenital heart defects, various surgeries are required to fix their heart's architecture so that oxygenated and oxygen-deficient blood don't mix. In a series of operations, typically the Fontan operation is performed last, where the blood running through the IVC is routed to the pulmonary artery to return oxygen-poor blood from the lower body straight to the lungs. These series of procedures, while different for various congenital heart defects are performed so that blood can be routed straight through the lungs into the heart's single functioning ventricle so that the one functioning ventricle can pump fully oxygenated blood straight to the body. Below is a comparison of a tricuspid atresia heart compared to a normal heart.

Source: Centers for Disease Control and Prevention, National Center on Birth Defects and Developmental Disabilities
The CDC estimates that 1 out of every 3841 babies is born with Hypoplastic Left Heart Syndrome (another defect that requires the Fontan operation), others have estimated that about 1 in every 9,751 and others have estimated that there are about 1062 Fontan operations performed in the U.S. every year, in children with various heart issues having a single ventricle.
These children undergoing the Fontan operation have been observed to develop complications including protein-losing enteropathy (PLE), plastic bronchitis, liver fibrosis, chylothorax, heart failure, and arrhythmias. The long-term effects of Fontan have been described as analogous to progressive heart failure complications, affecting multiple organs. Inflammation seems to play a role in many of the complications, and therefore Ampion might be able to be a long-term solution to preventing complications for post-Fontan patients.
So, regarding PLE, some have hypothesized increased permeability of the gastrointestinal epithelium as a primary problem allowing PLE:
"The cause of PLE associated with cardiovascular diseases such as CHF and the Fontan procedure is generally considered to be increased hydrostatic pressure from venous hypertension which, at least in part, results in loss of protein into the GI tract. Interestingly, these patients do not have significantly elevated venous hypertension relative to similar patients without PLE making the exact pathophysiologic process less clear. Some of these patients seem to respond to treatments based at the level of the mucosal membrane, implying that perhaps mucosal injury is again a primary root cause. Some hypothesize that hemodynamic changes associated with the Fontan procedure result in increased mesenteric vascular resistance as a compensatory mechanism to poor cardiac output. This may in turn damage the mucosal epithelium, increase permeability and engorge intestinal lymphatics with an appearance histologically similar to congenital intestinal lymphangiectasia. There are also data to suggest that patients with univentricular-type congenital heart disease may have increased protein loss in the GI tract prior to the Fontan procedure; this may reflect either a response to the initial circulatory dysfunction of the congenital heart disease or concurrent congenital malformation of some component of the GI tract itself. Others have attempted to strengthen the argument for mucosal injury by demonstrating that patients who have undergone a Fontan procedure typically have elevated inflammatory markers."
Plastic bronchitis and chylothorax caused by sort of the same overload of supply and increased pressure as in PLE, but also in the lymphatic system, causing protein spillage into the lung's airways, which can cause asphyxiation.
Liver fibrosis also is a complication of Fontan's:
"The liver is the first organ upstream of the Fontan pathway. Elevated central venous pressure and the impedance to hepatic venous egress created by imposition of a Fontan circulation produces a state of chronic congestion in this highly vascularized organ. The hepatic parenchyma is particularly vulnerable to hypoperfusion because it is situated between the pulmonary vascular bed and the splanchnic bed. Mesenteric circulation may be compromised as a consequence of diminished cardiac output. A compensatory increase in mesenteric vascular resistance exists in the chronic heart failure state after Fontan, to shift flow away from the gut and redistribute blood flow to more vital organs. Hepatic venous congestion is believed to induce hepatic stellate ganglion cells to transform into fibroblasts that lay down collagen leading to progressive hepatic fibrosis. Thus, the risk for ischemia and progressive fibrosis are the hallmarks of hepatic injury after Fontan."
Basically, Fontan's can result in progressive liver scarring due to a lack of oxygen, which initiates inflammation and causes hepatic stellate cells to lay down collagen. Eventually, this scar tissue builds up and the liver's function becomes increasingly compromised.
Heart failure and arrhythmia can be mediated by adverse remodeling and scarring of heart tissue, which are inherently inflammatory-mediated processes that can be positively affected by AmpionTM.
Kawasaki Disease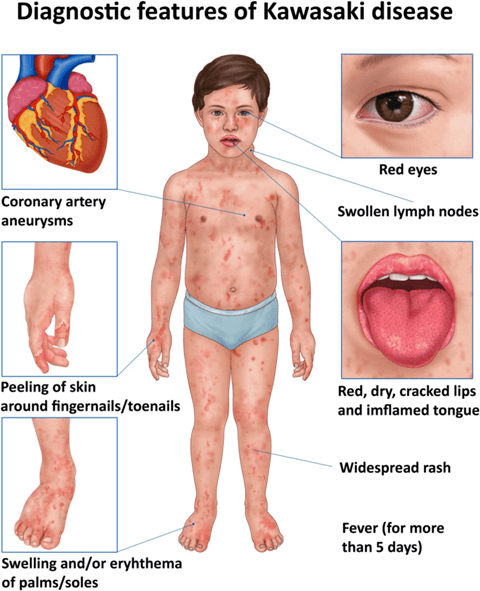 Source: Yale, S.H., Tekiner, H. & Yale, E.S. Tomisaku Kawasaki, and Kawasaki disease. Childs Nerv Syst (2020).
Kawasaki Disease (KD) is a systemic inflammatory disease with some autoimmune-like aspects, primarily affecting arterial and ductal tissues, and primarily found in children under five years old. Kawasaki symptoms include intense fever, significant rash, inflammation in the mouth, lips, throat, and lymph nodes, conjunctivitis, and most notably, inflammation in the blood vessels (vasculitis), which leads to serious complications including coronary artery disease and aneurysm. KD is also the most common cause of acquired heart diseases in children in developed countries. With a safe anti-inflammatory such as AmpionTM that is specifically expected to reduce vascular permeability (blood vessels are made permeable via inflammation), AmpionTM has great promise in this indication, where steroids are suboptimal.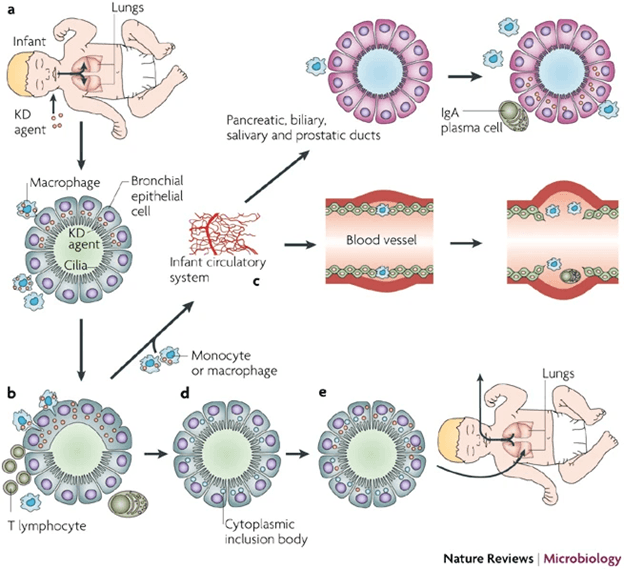 Searching for the cause of Kawasaki disease - cytoplasmic inclusion bodies provide new insight
A recent review in Nature suggests that Kawasaki has an infectious disease origin that begins the onslaught of damage mediated by the adaptive and innate immune system (macrophages and T cells), and that the immune system can carry around the disease to other tissues. In the bronchial tissues, it is hypothesized that KD agents shut down the production of viral protein and then hide in cytoplasmic inclusion bodies before eventually becoming reactive again. This prolongs the disease. Regardless, the vasculitis and inflammation in KD are undisputed.
The ability of AmpionTM to reduce inflammation and potentially Th1/Th17 type immune cells from damaging tissue while retaining their ability to become activated (through increasing rap1) might be a key trait in the treatment of Kawasaki.
Kawasaki patients are typically treated with aspirin, IVIG (to modulate the immune response and potentially contain the KD agent), and/or corticosteroids. 15-20% of patients do not respond to IVIG, and this would be the major target for AmpionTM, since corticosteroids would be a last-ditch effort to curb the detrimental effects of the inflammatory response on the endothelium. In addition, those with coronary artery abnormalities in the first few days of fever are the ones most susceptible to be refractory to IVIG, which further builds the case for an anti-inflammatory medicine like AmpionTM to be used in these patients.
Kawasaki has an incidence rate of about 9-20 per 100,000 children (under 5 years old) in the U.S., with about 5440 pediatric hospitalizations per year.
Other Potential Conditions
At the 2020 annual investor meeting, Ampio Director and Chairman of the Scientific Advisory Board David Bar-Or, MD, alluded to an additional potential rare condition that Ampio could be used in. In mothers with lupus, often the fetus will develop complications that affect its cardiac conductive system. In other words, mothers with lupus often have a baby that has an atrioventricular (AV) block, where the electrical signals that run the heart are impaired, which results in arrhythmias/tachycardias. In general, indications where steroids are relied upon, but are not effective or safe enough, maybe great indications for AmpionTM. Steroids have many side effects but so far, no serious adverse events have been observed with AmpionTM.
Transforming Ampio
Ampio has been criticized in the past for only doing only in-house studies with AmpionTM, which leads some investors to be skeptical that perhaps AmpionTM hasn't been shared for study because it is a marginal product. Now investors may be more certain than ever that the excitement surrounding AmpionTM is backed up by scientific evidence because third parties are now using it for studies in very important indications. Collaboration expands the indications for this platform drug, expands the pipeline, and also brings validation to the science, both in the scientific community and for investors.
Investment Summary
After the phase 3 clinical trial is completed in severe osteoarthritis of the knee (OAK), the door is wide open for Ampio Pharmaceuticals to pursue high-value rare diseases, inflammatory kidney diseases, and severe COVID-19. Due to Ampion'sTM differentiated effect on inflammation (which is a mediator of many chronic diseases), Ampio should have a bright future ahead of it. The value of the platform technology will be driven by the number of disease indications it can pursue, the total available patient populations in those disease indications, and the drugs ability to resolve the disease. Although the recent expansion in COVID-19 has ignited investor interest, the stock remains valued far below what other platform technologies are worth. The most recent example of an acquisition of a Platform technology was Gilead Sciences (GILD) acquisition of Immunomedics Antibody Drug Conjugate (ADC) platform for $21 billion. Immunomedics' indication in metastatic triple negative breast cancer (mTNBC 3L+) had a total available patient population of 14,000 patients which is about equivalent in comparison to Kawasaki's which is estimated at over 16,000. Big pharma is paying big premiums for these platform technologies after they are approved. Ampio Pharmaceuticals is clearly positioning to be the next big platform acquisition.
Analyst's Disclosure: I/we have no positions in any stocks mentioned, but may initiate a long position in AMPE over the next 72 hours.
I wrote this article myself, and it expresses my own opinions. I am not receiving compensation for it (other than from Seeking Alpha). I have no business relationship with any company whose stock is mentioned in this article.
Seeking Alpha's Disclosure: Past performance is no guarantee of future results. No recommendation or advice is being given as to whether any investment is suitable for a particular investor. Any views or opinions expressed above may not reflect those of Seeking Alpha as a whole. Seeking Alpha is not a licensed securities dealer, broker or US investment adviser or investment bank. Our analysts are third party authors that include both professional investors and individual investors who may not be licensed or certified by any institute or regulatory body.