The Center for Disease Control and Prevention (CDC) reports that over 30 million adults in the United States have diabetes and another 84 million have prediabetes. Diabetes is growing concern in todays world.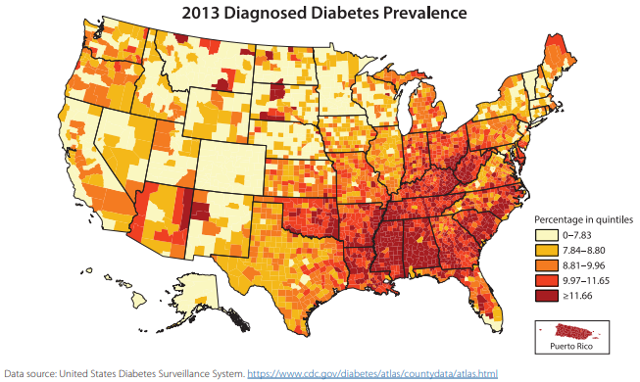 People with diabetes have reduced blood flow to extremities and increased susceptibility to infection. Fifteen percent of diabetics (4.5M) contract open wounds, often on the foot. These Diabetic Foot Ulcers, are difficult to treat and consume significant resources from the healthcare systems. Chronic wounds may never heal or could take years to heal. This creates emotional and physical stress on patients, the health care system, and financials. Chronic wounds open patients to greater exposure which can lead to additional complications thereby increasing the possibility of amputation. In 2014, there were 108,000 amputations of lower-extremities in diabetics in the United States (1 in 200). Amputation is an expensive procedure with expensive follow up and life changing where life expectancy goes down significantly after an amputation. It is estimated that there are 6.5 million patients with chronic wounds in the United States, including diabetic wounds (70%). Patients with chronic wounds desperately need better outcomes, luckily there is a relatively new and advanced solution.
In 2014, Dr Lavery published that Grafix® demonstrated overwhelming efficacy in a landmark study for the treatment of diabetic foot ulcers. Grafix® closed 3 times as many wounds as standard of care - the largest relative improvement ever reported in a multi-center, randomized, controlled clinical trial for DFU. Patients treated with Grafix® also suffered fewer wound-related infections. This is an option for patients when standard of care fails and a more advanced treatment method is needed. This helps patients, health care systems, and payers (e.g. insurance companies).

Several studies have subsequently affirmed the efficacy of Grafix®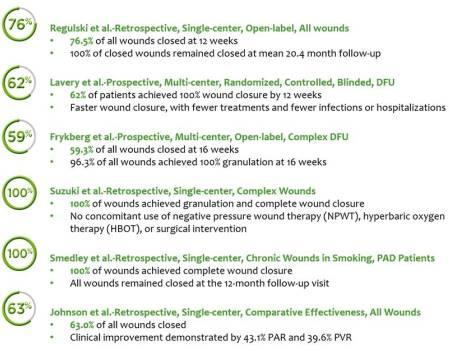 On April 25, 2018, Osiris published a retrospective study demonstrated the effectiveness of Grafix for the management of Diabetic Foot Ulcers. Of 441 wounds treated with Grafix®, the probability of wound closure at week 12 was 71%. This continues to expand the portfolio of evidence that Grafix consistently delivers the expected and needed results.
Subsequently we have read that Grafix® works better than Epifix® by MiMedx and Dermagraft® by Organogenesis for certain wounds.
The market for chronic wounds is significant and growing. Chronic wounds span venous ulcers, diabetic, and pressure ulcers. Further, chronic wounds are correlated with aging and therefore are likely to increase in prevalence as populations age.
Grafix demonstrates cost savings due to faster wound closure, less hospitalizations, and fewer adverse events. Payers (insurers) are increasingly stepping up to capture the value of Grafix. As an example, here is Aetna's policy:
"Aetna considers Grafix Core and Grafix Prime medically necessary for treatment of partial and full-thickness neuropathic diabetic foot ulcers that are greater than 6 weeks in duration"
After a favorable review by the BCBS Association in 2016, regional Blue Cross Blue Shield groups have stepped up to cover Grafix for diabetic lower-extremity ulcers. 
Non-healing wounds are implicated in increased healthcare expenditures estimated at greater than $3 billion per year per a September 2016 FDA report.
On July 11, 2018, Osiris announced a new study of Grafix® in the treatment of chronic Venous Leg Ulcers (VLUs). VLUs constitute more than half of lower leg ulcerations. The prognosis is not good, VLUs can remain open after years of treatment, 20% of ulcers remain open after two years. Treatment of chronic VLU is an unmet medical need until now. Chronic VLUs seriously impact the quality of life and are associated with more than $18B of annual costs.
Osiris Therapeutics (NASDAQ: OSIR) invented Grafix®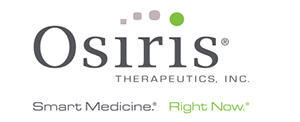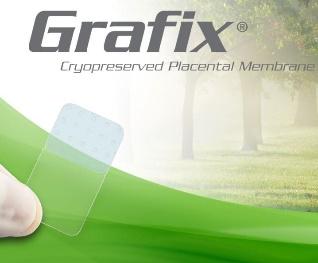 Osiris Therapeutics (Columbia, Maryland. NASDAQ:OSIR) spun out of Case Western Reserve University in 1992 to leverage stem cell technology discovered by Dr. Arnold Caplan. Osiris received marketing clearance from Health Canada in 2012 for the world's first approved stem cell drug (Prochymal). In 2013, Osiris selected a commercialization pathway for Prochymal through Mesoblast (NASDAQ:MESO) through a series of milestone and royalty payments. Mesoblast currently markets Prochymal in Japan as TEMCELL ® and is on the verge of FDA approval in the United States for aGVHD which will result in a $20M milestone payment to Osiris and signal the beginning of royalty payments to Osiris. Mesoblast has aligned funding in anticipation of US approval. Osiris' current product focus is Grafix®, Stravix®, Cartiform®, and Bio4®.
Shares of Osiris rose when the efficacy results of Grafix® were announced but were crushed when financials were delayed. Shares have started to recover as financials became current again.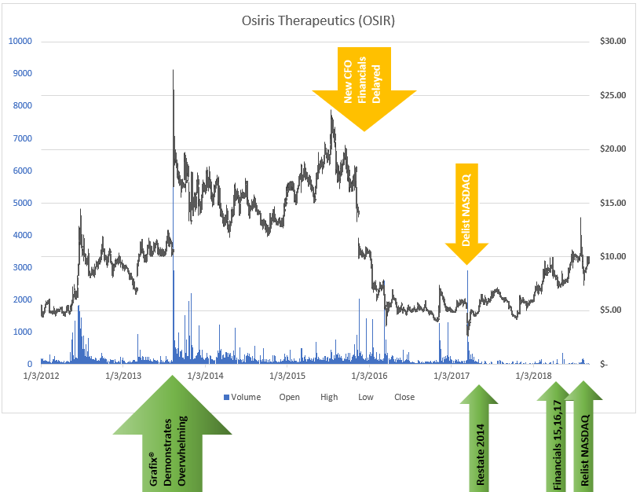 Osiris did mis-step before regaining footing
In November 2015, financials were delayed. For one sales transaction to a distributor, the former CFO created a document subsequent to filing the 10-K in an attempt to support the recognition of revenue in Q4 2014 as opposed to Q1 2015. My read of the court documents indicates a situation of failing to get the paperwork done on time over the holidays and subsequent mis-step by the prior CFO to avoid embarrassment. The former CFO was fined $10,000 for this. In the world of financial problems, this is on the lighter end of the scale in my opinion (the size of the fine supports this); yet, why did it take so long to get sorted out? While we heard that Osiris did not have sufficient number of employees while experiencing dramatic growth in product sales, I think it is instructive to consider that the matter became much more complex due to that distributor being purchased by Osiris' competitor(MiMedx) in 2016. Osiris has now sued MiMedx over that distributor. Curiously MiMedx subsequently divested that distributor in 2017. From an investor point of view, the "period of distraction" (as I like to call it) is moving to the rear view mirror, Osiris is current on financials, back on the NASDAQ, and the class action lawsuit over the accounting issue was signed by judge Xinis on September 4, 2018 (the $18.5M settlement was previously recorded as an expense and liability by Osiris in Q4 2015 net of insurance recovery). This clears the path for moving forward.
This accounting snafu is sad because the company is growing and helping people.  Osiris is improving health care outcomes and helping hold down health care costs.
We observe a revenue growth story even during the period of distraction.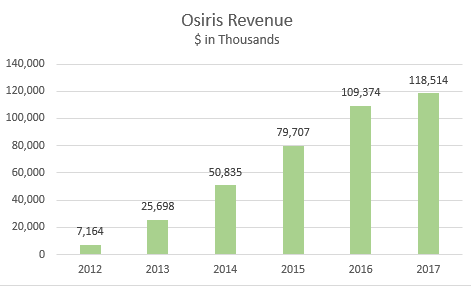 Revenue is growing in all product lines with Grafix® & Stravix® (in blue) pulling the train.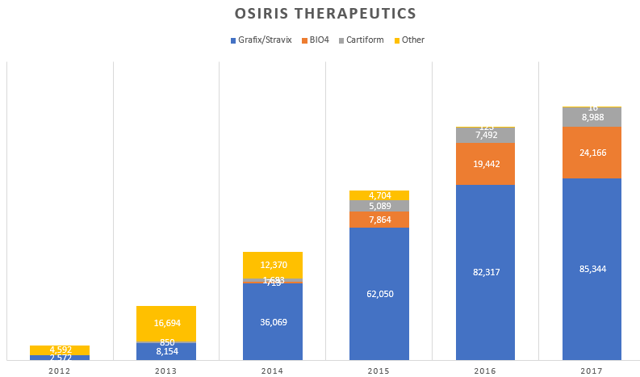 We observe revenue growth quarter after quarter, even during the period of distraction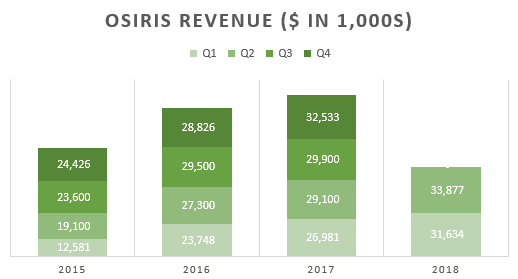 While revenues have been growing, revenue growth was slowing until Q3 2017. I presume that this is due to focus on resolving the accounting issue and associated legal issues while seeking to preserve cash. With much of this resolved, since Q4 2017 revenue growth has begun to accelerate again. Increased hiring suggest that sales personnel is being aligned to further accelerate growth. I expect 2018 to show significant revenue growth over 2017.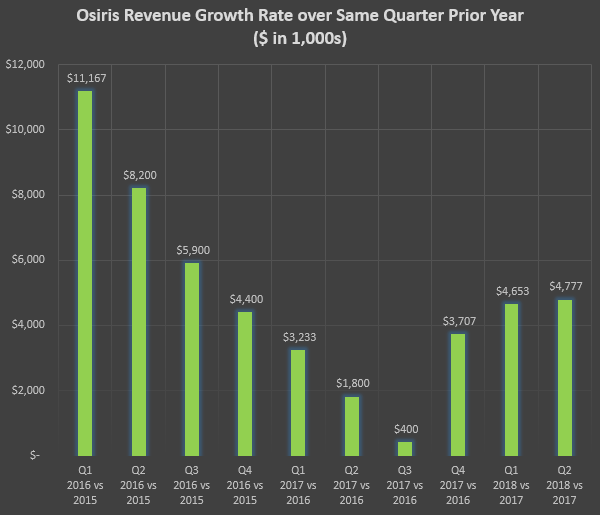 This revenue growth has allowed Osiris to become profitable. Osiris had positive net income in four of the last five quarters. Net income, such as Q1 2018) is currently negatively impacted by one-time accounting and legal costs associated with the prior accounting issue. As Osiris brings closure to the issues resulting from the accounting issue, these extraordinary costs should cease and enhance profitability. This would further build on the positive trend observed. New revenues from Prestige Lyotechnology and growth in other products will further enhance profitability.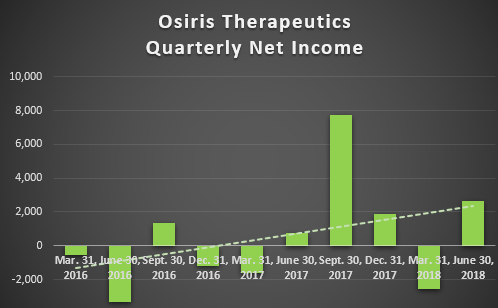 The balance sheet has no debt. While the class action settlement will stretch Osiris cash position (down to $18.5M or 1.5 months of sales), I expect Osiris' cash position to strengthen moving forward from both net income from current operations and milestone payments and royalty income from Mesoblast.
Osiris offers more than Grafix®
Stravix® is like Grafix® but for surgical applications. Both are distributed by Osiris.
Cartiform® repairs cartilage (body does not naturally repair). Osiris partnered with Arthrex for commercialization and distribution.
Bio4® for bone repair and regeneration. Osiris entered into an exclusive partnership with Stryker Corporation ($SYK) for commercialization and marketing.
June 2018, Osiris announced implementation of Prestige Lyotechnology(PL) for manufacturing. PL is a novel preservation technique for room temperature storage of living tissues for Osiris products or licensing to other parties. Testing of PL for manufacturing of products at scale has been validated. GrafixPL PRIME™ is the first commercially available product. The structural matrix, growth factors, and cell viability of GrafixPL are equivalent to Grafix (which is cryopreserved) but does not require low temperature storage. The implementation of PL should not be overlooked, Osiris told us it was a material event.
Risks
There are various risks to consider with any biotechnology firm. Osiris is not immune from industry risks. A key risk to consider is the regulatory environment. It will be important to continue to follow the FDA's regenerative medicine policy framework while it aims to drive innovation, provide efficient access to transformative products, and ensure safety, the interpretation of the rules on minimal manipulation and homologous use will likely have different impacts on the various players in the space. There are a couple indications that Osiris Therapeutics is currently well positioned.
While changes in drug pricing rules could be a concern to many companies, reimbursement for Grafix® has been limited under the bundle for several years.
Looking Forward
Osiris is a company with efficacious products and has almost completely recovered from its accounting snafu. Amazingly, during the period of distraction, sales grew and impactful science continued. We can now see that Osiris is profitable. As sales accelerate, and one-time legal and accounting costs subside, net income should accelerate.
The period of distraction has resulted in Osiris trading at a fraction of its value, which means investment opportunity. As the 2014 accounting issue becomes a memory, I expect Osiris to return to more traditional valuations.
Osiris traded in the $12-$27 range before the period of distraction.
The industry average for Price/Sales of biotechnology companies is 7.0, but only 2.5 for Osiris. Osiris currently trades at $10 per share, but a multiple of 7 would suggest a price of $28.
The P/E ratio for biotechnology companies is 127, extending Q2 2018 results (7 cent profit per share), would compute a P/E ratio for Osiris of 35 ($10 / $0.28). Osiris would need to trade at $36 to have the P/E of other biotechnology companies.
As retrospective valuation methods, new products such as Prestige Lyotechnology as well as monetization of Prochymal by Mesoblast are not included in the pricing above.
Osiris is in front of huge markets and the efficacy of its impactful products should help it garner market share and improve health care.
Disclosure: I am/we are long OSIR.
I wrote this article myself, and it expresses my own opinions. I am not receiving compensation for it (other than from Seeking Alpha). I have no business relationship with any company whose stock is mentioned in this article.