Last weekend we said:
"When looking at the indexes, we see a lot of positive structure:
We have a lot of positive structure showing on the charts above.
1. Potential Head And Shoulders Bottom
Remember a big part of what we do are alternative entry points. A good example is most novices will wait for the neckline breakout to the upside to buy.  Not us.  We use the small blue right shoulder channel lines to do so. By the time the novices see the neckline breakout the leaders are long gone — not to mention we'll be a lot further ahead of the game vs them.
2. Off the recent number 4′s listed in each chart above we have first thrusts up, now in Pullback Off Highs (little blue lines)
3. Full Stoh's closer to oversold than overbought
4. A potential ABC up with us being in B
All of this is positive if you ask us, now it's just a matter of the market making the call. Should we bust above the small blue channels (the what I need to see to take a trade) then that potentially gets the ball rolling."
And wow, did the ball ever get rolling last week!!  
The Pullback Off Highs Patterns strike again!  All of the following stocks were on the watch list in last weekend's subscriber newsletter.  With each, we said a break above the pink line triggers a long side trade — watch for it.
AAPL call options: $26.90 to $47.80 — a profit of 77.7%
Congratulations to our subscriber Chip!  Chip had 4 of the AAPL calls at 23.60 going into earnings. Of course he walked on them because 4 calls times 24.20 points worth of gains is a huge home run to the tune of $9,680 for a week's worth of work!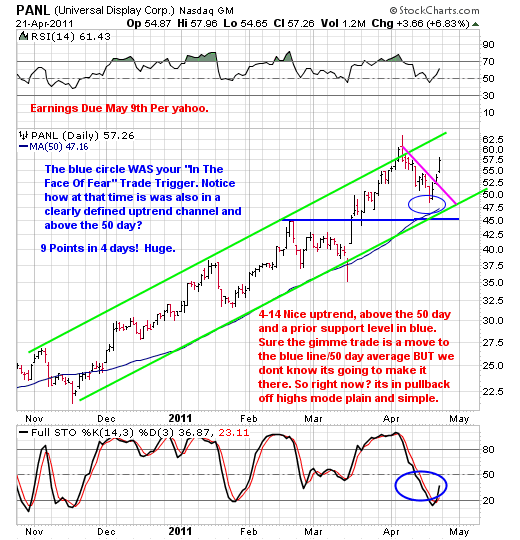 PANL has gone from 48.30 to 57.46 — a 19% gain in just four days!
Wow!! 20-26 in 3 days — a great trade for sure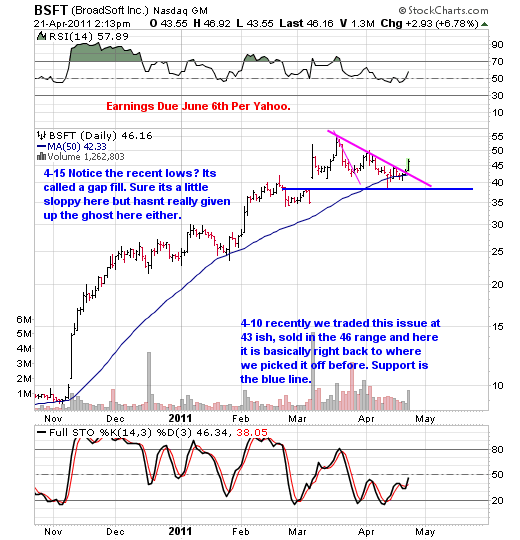 Triggered a long side trade Wednesday and followed through in a big way Thursday!
25ish to just shy of 29 in 4 days!
4-18 It's all about an upside crossover of the Pink line, it's all you need to know for a long side trigger.
4-20 And here we are, the pink line was all you needed to know, all in advance folks, that's called doing your homework and letting them come to you.

If you are interested in receiving a watch list of set-ups like these BEFORE they trigger trades, find out more by signing up for our free newsletter.  You'll also receive our free report — "How To Outperform 90% Of Wall Street With Just $500 A Week."