Success in the stock market is all about managing your trades and your expectations surrounding those trades. Below are 3 examples of trades we closed for our subscribers and our methodology of why we did what we did.
NQ (We were long 500 shares at $8.04)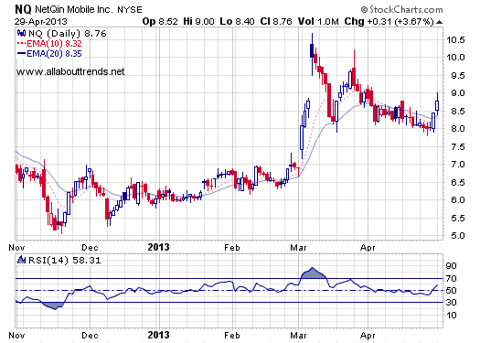 GLUU (We were long 500 shares at $2.61)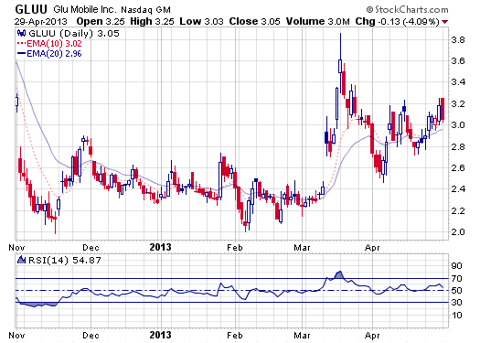 When all is said and done we walked away with a gain of $395 or 9.8% in NQ and $270 or 21% in GLUU! Between the two of them it was a gain of $665.
Why focus on $665 in gains? Because gains like that each week is $2,660 per month which is $31,990 per year.
On a $100,000 account, that's a 32% return all while never being more than 50% invested as we rarely if ever get to that level of being invested.
On a $50,000 account, it's a 63.8% return
Even if you earned $665 every TWO weeks, that's $1,330 per month and on a $100,000 account it's a 15.9% annual return and a 32% return on a $50,000 account!
Why not hold them for more gains? Because in today's market, we'd rather go for what's in our hand vs. playing "Let's Make A Deal" and risking our gains for a potential flop prize behind door number 2.
We happen to like both companies and that MAY be the problem -- becoming attached to the company and not the stock. As Bill O'Neil says:
"A company is only as good as its stock."
Think about that statement. Now apply that to AAPL. Sure, great company, great cash flow and all the other great fundamentals under the surface, but what about the stock overall? After every low the stock gets a bounce but that bounce fizzles and lower lows soon follow. We took a shot at it on a retest of the lows in the 425 range and that retest of lows failed plain and simple.
AAPL (We were long 20 shares at $426.87)
Rocky says AWESOME! Awesome? How can Rocky Balboa say "awesome" when we took a $35 loss? Simple, because at All About Trends we practice what Rocky preaches and that is:
"Sometimes it ain't about how hard you hit, it's about how hard you can get hit and keep moving forward. How much you can take and keep moving forward because that's how winning is done!"
That said we took some punches with AAPL for a while when it fell apart. At the 385 zone, we were down 42 points or $840. We never sell a damaged issue after it's fallen. We always wait for a bounce. We faced our fears during that time and managed our fear of loss while in the zone loss zone only for us to bend like a willow tree and wait for the bounce no matter how uncomfortable that felt. Sure enough this issue bounced and our $840 loss turned into a final loss of just $35.
To learn more, sign up for our FREE 15-day no obligation trial
Disclosure: I have no positions in any stocks mentioned, and no plans to initiate any positions within the next 72 hours.