When looking at the indexes, it's clear the market is:
Still sitting at trend channel resistance and still overbought. A few down days would do a world of good as it would set up a slew of names on the long side we can trade.
Check out the 60 minute charts of the NASDAQ Comp and SPX for a moment.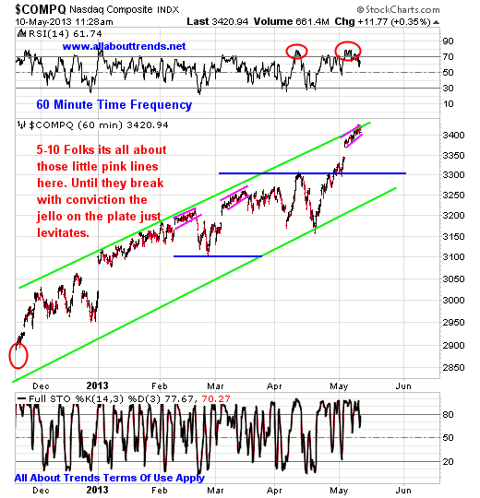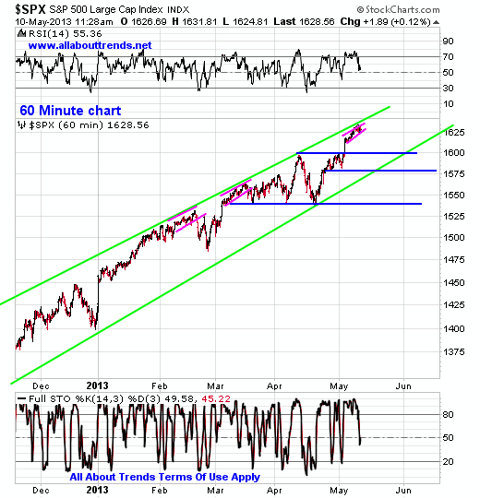 See those little pink lines? Notice that they all broke to the downside which led to a pullback and to relieve some overbought conditions? That's what mode we are in right now. Sitting back and allowing the market to come to us. In so doing it will set up a lot of names on the long side.
How long and deep a pullback it is going to be another question, remember markets consolidate by going down or sideways to relieve overbought conditions.
What's strong here today? BIOS! We talked about this sector a few days ago in the form of being used to keep the drive alive and we MAY be seeing just that.
BIIG, CELG, ALXN all are up about 3 points plus each today, and yes even AMGN is up.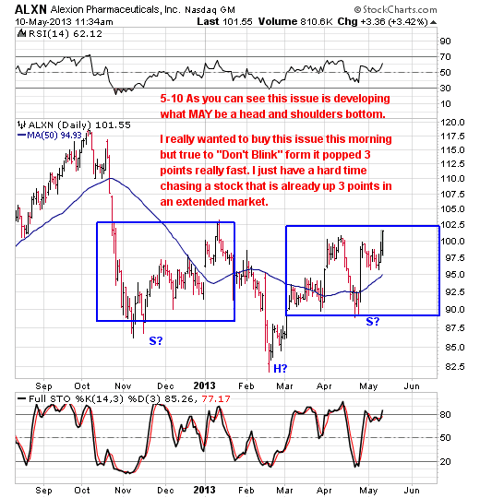 And that is the backdrop we are in here- Buying in an extended market.
Look, We're all for going long individual issues with chart pattern structure we can work with but we're having a hard time with is buying stocks in an extremely extended market (and from a lot of emails we are getting a lot of you are too) where the music can stop at any moment especially considering we are wedged up against trend channel resistance.
So what are we going to do about it? Continue to be patient and look for quality stocks that have pulled back to areas of support.
That said, take a look at NOW: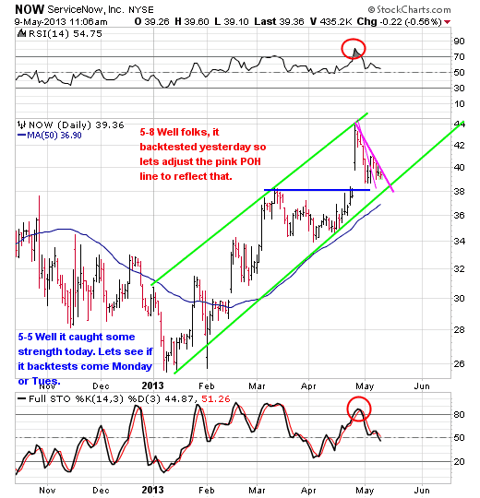 Here we have a stock in a confirmed uptrend that's simply pulled back to multiple areas of support (green uptrend channel, blue prior consolidation, 50-day nearby as well).
A break above the pink line triggers a long side trade.
AMGN is another good example.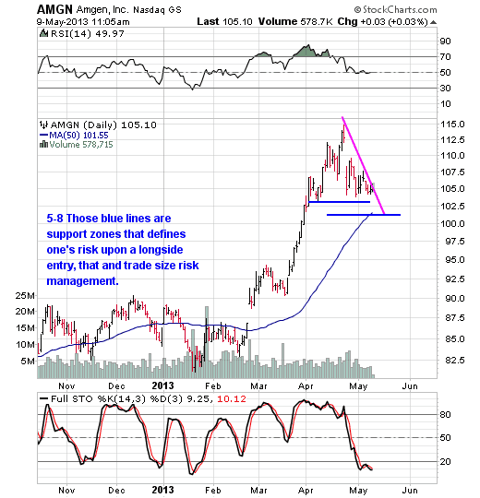 We issued a Trade Trigger emial alert on this one as it's breaking above the pink pullback off highs line.
To learn more, sign up for our free newsletter.
Disclosure: I am long AMGN.