The best technical pattern to know and trade from in uptrending markets is the Pullback Off Highs pattern.
Rather than go straight up, stocks will often do the bunny hop dance -- two steps forward, one step back. It's those one steps back to areas of support such as lateral support, the 50-day moving average or an upward trend line that offer you the best opportunities to buy leading stocks at lower risk buy points.
Both YNDX and PRAA are good illustrations.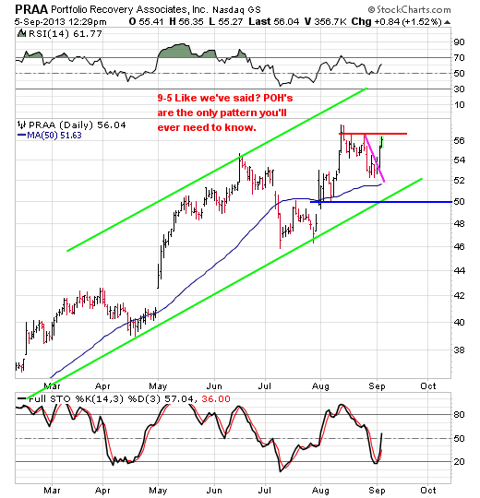 Both issues are in overall uptrends, above the 50-day moving average and have pulled back areas of support as shown by the blue lines. The buy point as a break above the pink consolidation line. Buying them there was your chance to enjoy the ride as both issues start what could be another two steps forward move to at the very least a retest of prior highs.
In this case, this is exactly what both did and we use lock in our gains! Not bad for 2 days worth of work amounting to $850 in gains for those that know how to trade and profit from Pullback Off Highs set-ups.
To learn more, sign up for our free newsletter.
Disclosure: I have no positions in any stocks mentioned, and no plans to initiate any positions within the next 72 hours.