Should we chase the markets here?
OR
Should we do what has delivered us a 79% return in 3 1/2 years which is ALLOW STOCKS TO COME TO US?
After all, we've all seen for the better part of 2011 that chasing buses has been hazardous to ones health now hasn't it.  This is especially true for those who are not in control of their emotions and are of an impulsive nature.
So what would you rather do? Leave it alone or allow yourself to get sucked into all the hoopla.  After all, as you can see from the chart below major resistance is just ahead folks. Another gap up day like this morning puts us at Major Resistance. And then what? Have you thought about that?  All AFTER we've been running for the last 3 months?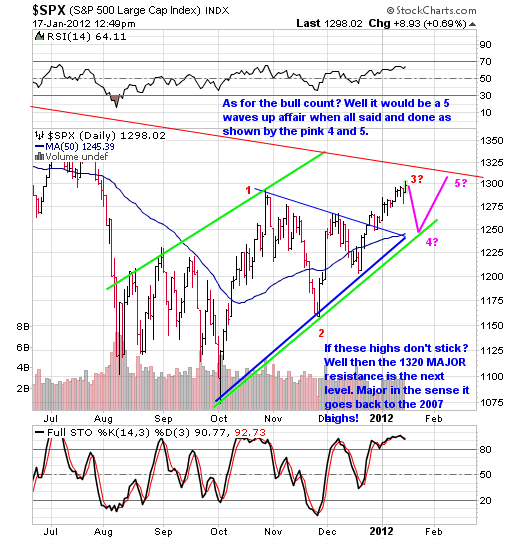 Thanks anyway we say. If we miss the next 15 or so points on the S&P 500 so be it.  It's only January you know. And we'd rather allow the indexes to stage a Pullback Off Highs (NYSE:
POH
) before we consider anything on the long side.  Should the markets pullback, we are prepared to buy stocks that have also pulled back into support.
So let's take a look at HP:
Here we have a stock that is pulling back to support at the uptrend line and 50-day with other areas of support below that.  It's tops on our watch list.  A break above the pink line triggers a long side trade.
To receive our free report -- "How To Outperform 90% Of Wall Street With Just $500 A Week", like us on
Facebook
or sign up for our
free newsletter
.