Join All About Trends CEO David Grandey and Active Trend Trader President Dennis Wilborn for a FREE 30-minute webinar THIS FRIDAY at 1:30 p.m. PST.
We will reveal how to buy leading stocks at much lower and much safer buy points and give you a list of stocks that are poised to trigger low-risk buy points. In addition, following the webinar, bring your stock to the table and let us analyze it for you for free! Or bring any other question you have about stocks and/or trading/investing and we'll be glad to answer it.
To register, click here.
TSLA is an excellent example of the types of patterns and stocks we will be talking about: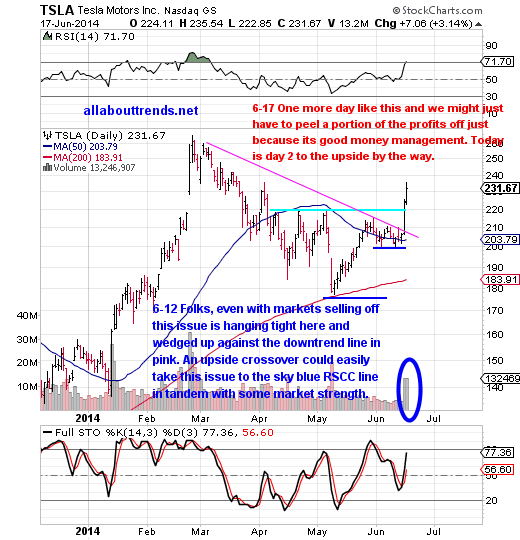 TSLA cleared two resistance areas on more than twice the average daily volume on Monday and followed through on strong volume on Tuesday. Your trade trigger was a break above the pink line with a close below the blue line as your stop loss. Those that took that trade are enjoying a three-day double digit gain!
On Friday's webinar, we'll present current set-ups that have yet to trigger so you can profit from them when they do!
Here's what recent webinar participants have to say:
"Just wanted you to know that with your help and David's my rollover IRA is now only down a little over 8K. Back at the end of April I was down over 40K. I have confidence that I will be profitable in 2014 with your help!" Barbara
"Excellent presentation by Dennis and David. I especially love how this rally has you both excited again. Great presentation which helps me better understand trend trading techniques. Thank you both." Greg
"My first time her and this is just what I need. You are GREAT...Thank You!!!" JL
"You are both so awesome. Thanks so much." Barbara
Disclosure: The author is long TSLA.