In an article I wrote on the 12th of July, I recommended buying Olympique Lyon (OL). Now, two weeks later, several developments have altered my view on Olympique Lyon and made me sell my shares, while the stock is still undervalued by 45%.
Initial motives for buying 
As I described in another article about valuing publicly listed football teams, there are a few value drivers behind the financial performance of a football club. In OL's case, there were two big such factors.
1. Financial performance
As Olympique Lyon qualified for the group stages of the Champions League, they will receive at least €21M. Additionally, in the group stage, an amount of  €2.7M per victory is earned and €0.9M per draw. With the squad Olympique Lyon had two weeks ago, they had a fair chance of reaching the next round and earning another €9.5M. Even if they did not do very well in the group stage and finished third out of four, they would have qualified for the less lucrative Europa League and recover some of those missed earnings.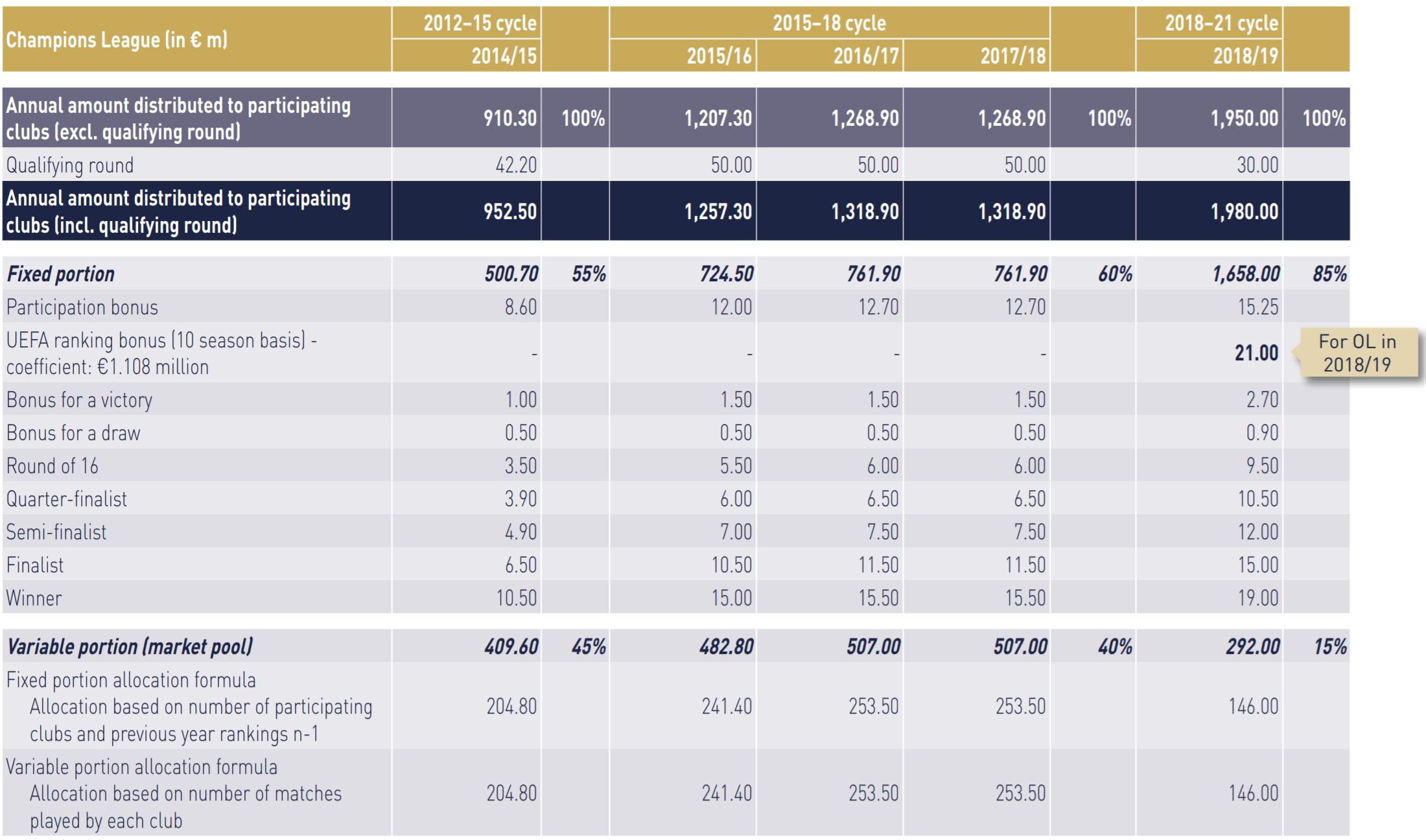 source: Financial Report '18 OL
2. Undervaluation - transfers
As it is Olympique Lyon's policy to let go of players when correct offers are made, this income source has (had) enormous potential. Indeed, the book value of OL's squad stood at 107 million euros, while the market value of the squad was around 476 million euros. There are potential capital gains of around 369 million euros. This, while Olympique Lyon has a market cap of... 191 million euros.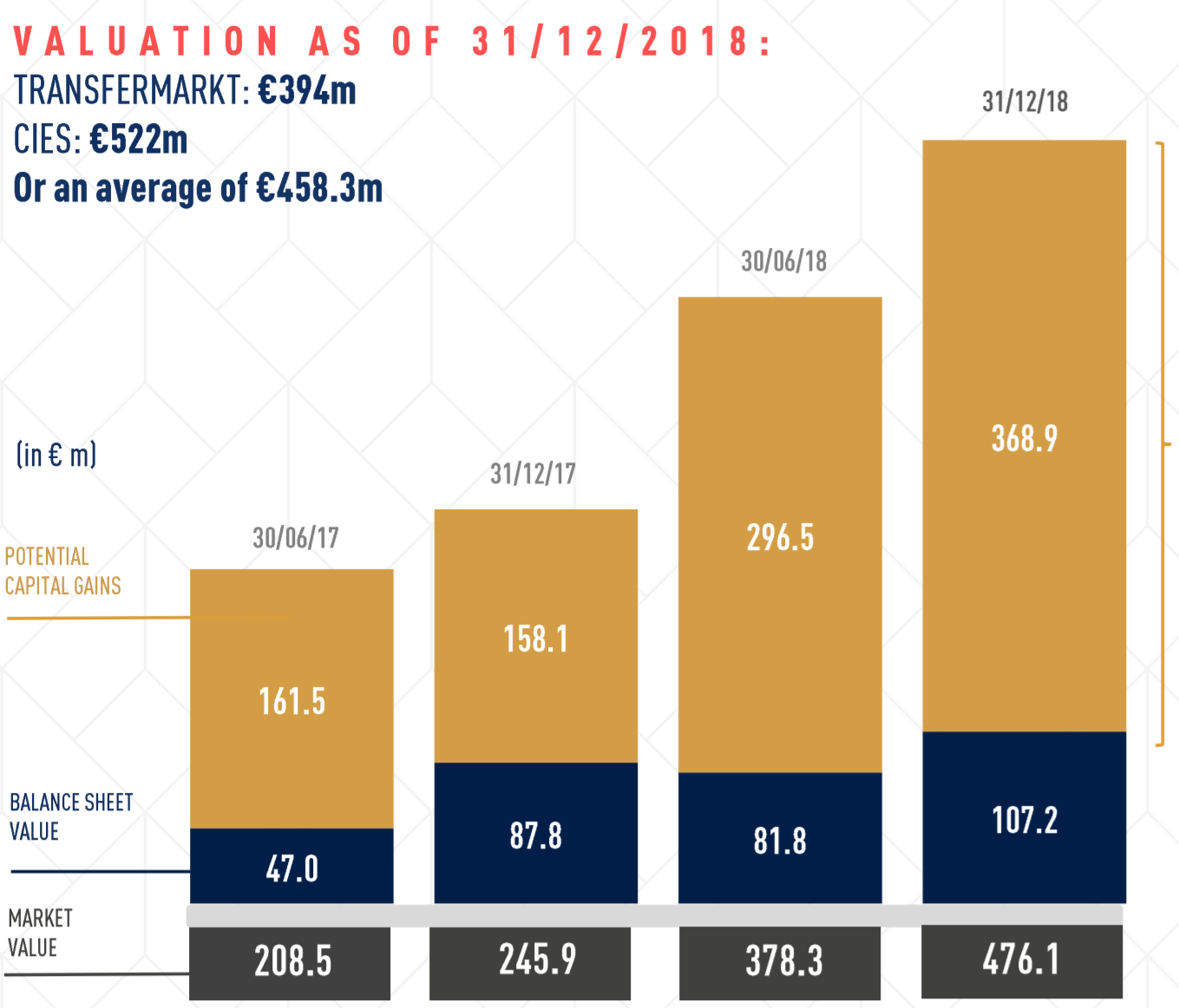 source: Financial Report '18 OL
Long story short, when taking into consideration net debt, I proved Enterprise Value of Olympique Lyon to be around €406M. This was an undervaluation of 52% to the 'real underlying value' of Olympique Lyon when accounting for the market value of the players, the infrastructure and the stadium.
What has changed
At the time of writing, Olympique Lyon had just sold defender Ferland Mendy for €48M and Tanguy Ndombélé for €60M. Although this weakened the team significantly, it were very good business decisions that fit the transfer policy well.
I expected management to use part of the income earned with the transfers to attract replacements. However, I am not too pleased with these transfers. They spent €22M on Thiago Mendes, a replacement for Ndombélé, who is 27 years old and will start declining in value soon. Next, Youssouf Koné, the replacement for Mendy, for €9M. He is 24 years old and his value could rise. However, transfermarkt.nl only values the player at €5M. Even more, I do not believe he currently has the qualities to be a first-team player, let alone a replacement for world-class Mendy. The third player brought in is Jean Lucas, for 8 million euros. As his current market value is only €1M, it looks like Olympique Lyon overpaid once again. Last, management decided to bring in 23-year-old Joachim Andersen for €24M. As his market value is 25 million euros, has the qualities of a first-team player and still has room for growth, this looks like a good transfer to me, at last.
Sadly, it did not end with overpaying for players that do not add much value to the team. Olympique Lyon decided to let go of its best player, Nabil Fekir. Fekir has a market value of €60M and carried the team last season on his back. Now, he has been sold for... under 20 million euros. This is an impairment of 40 million euros!
The Financials
2 Weeks ago
After the sale of Mendy and Ndombélé, Olympique Lyon's asses consisted out of:
| | |
| --- | --- |
| Cash | €120M |
| Player Registrations | €410M |
| Infrastructure | €395M |
| Other Assets | €65M |
Source: H1 '18 Report Olympique Lyon, incl. author's adaptations. Player registrations value is sourced from transfermarkt, as stated earlier.
Debt stood at €368M, Market Cap at €195M. If we substract the cash from the debt and add that 'net debt' to the Market Cap, we find the Enterprise Value to be €443M. Given the team's worth of €870M, the EV/book value is just 0.51, or an undervaluation of 49%. 
Furthermore, the team looked strong and ready to be successful in the Champions League. I expected it to be a very profitable season for Olympique Lyon.
Today
After calculating for the transfers I described earlier, the assets now consist out of:
| | |
| --- | --- |
| Cash | €84M |
| Player Registrations | €406M |
| Infrastructure | €395M |
| Other Assets | €65M |
As debt remains the same, net debt increases to €284M since the amount of cash on the books has dropped. As it happens, the stock price is at the same price, €3.32, leaving the market cap untouched at €195M. This all combines for an Enterprise Value of €479M. The real book value of the club has dropped by €4M, to €866M. Now, the EV/book value stands at 0.55, or an undervaluation of 45%. Although this is still a large margin of error, it worries me that management has destroyed this much shareholder value in just two weeks' time.
In one year
Given the decline in players' quality, I do no longer expect the team to qualify for the second round in the Champions League, costing them at least €10M. Since the team breaks even on operating income, it is the Champions League's income that ultimately drives the net income of the group.
Furthermore, it is important that the team qualifies for the Champions League next year as well. This is done by finishing at least second in the domestic competition. Given Paris Saint-Germain's supremacy, OL has to fight with the other teams for that second spot. Two weeks ago, a give them a fair chance of finishing second, now I don't. This could hurt their income next season dramatically! 
Conclusion
Although the stock is still massively undervalued and this will be a very profitable year for Olympique Lyon, I am no longer bullish on the stock. Management has made underwhelming decisions over the last two weeks that have decreased the team value by 40 million euros in two weeks' time. Furthermore, I expect profits this season to be lower than initially thought, by at least €10M. These are large numbers for a team that made a net profit of €8M last season and €5M two seasons ago. Last, the qualification for the Champions League next season may be jeopardized now that the team has lost key players.
Disclosure: I/we have no positions in any stocks mentioned, and no plans to initiate any positions within the next 72 hours.
I wrote this article myself, and it expresses my own opinions. I am not receiving compensation for it (other than from Seeking Alpha). I have no business relationship with any company whose stock is mentioned in this article.
Additional disclosure: I sold my shares of Olympique Lyon on Thursday the 25th of July.