Back in early 2010, central banks have inflated the price of things, stocks, bonds, and commodities since the end of the 'financial-crisis' of 2008/09 in an attempt to prop-up economies to prevent them from imploding into a deflationary cycle.
There's no doubt that U.S. trade policy led by President Donald Trump's intention to reverse the 30-year decline of industry and manufacturing has led to protectionism and a potential trade war with China and most of its traditional allies. As a result trade tariffs with China focusing mainstream commodities and products have recently morphed into a technological trade war with China's Huawei specifically targeted and China's retaliation by banning exports of essential rare-earth metals.
Economists are continuing to remind us that an inverted yield curve is signaling the onset of a recession. And more recently, international agencies like the International Monetary Fund (NYSE:IMF) have warned that trade disputes will cause a drop of -0.5% percent in global growth. So far economists are falling over each other to be first in downgrading their own growth targets. The geopolitical environment is also fragile. There are sporadic reports that surface surrounding North Korea's reactivation of nuclear facilities, U.S. pressure over Iran's announcement that it intends to withdraw from the 2015 nuclear deal.
Despite these negative events, structural-comparative confluence analysis points towards the continuation of stock markets uptrends over the next few years. That just wouldn't be possible if some geopolitical event was to trigger a military confrontation, or even a war – or perhaps some other exogenous event that hasn't emerged so far – which means there's a still a small but bright window in the future, once the short-term effects of a trade war and geopolitical tension are put aside.
New Record Economic Expansion
The longest sustained economic expansion in US history occurred for 120 months between 1991 and 2001. June 2019 passed without a recession, so we are officially in the longest economic expansion in 240+ years of US history.
The single best indicator of this expansion's weakness is the cost of money, as measured by the real interest rate, which strips out inflation. The yield on 10-year Treasury fell from 4% during the dot-com boom at the end of 1999 to below zero in 2012 and 2013. It rebounded to just over 1% late last year but has sagged back to 0.4%. When money is this cheap, it indicates weak demand for credit or an overabundance of savings—or both. 
The secular stagnation psychology has taken hold of the economy more than it's taken hold of economists.    Lawrence Summers 
Harvard economist Lawrence Summers stated recently: the expansion has all the features of "secular stagnation." That's a situation of chronically weak demand, in which satisfactory growth can be achieved only by extreme fiscal and monetary stimulus.
Analyzing and valuing any company
There are two parts to analyzing a company: 
1) Understand the quality of the company as measured by the quality of its business, management and balance sheet
It pays to be skeptical in investing. The future of any business is always uncertain. One helpful way to assess whether an investment offers a sufficient margin of safety is to look at the embedded expectations discounted in the price. Doing so answers the question: what do you have to believe about the business in the future for the current price to be approximately correct?
The best investors judge business quality both qualitatively and quantitatively. From a qualitative perspective your goal should be to assess the business from first principles by thinking through the following two questions:
How structurally attractive is the industry?
What is this company's competitive advantage and how sustainable is it?
Focusing on ROIC can be a competitive advantage for investors. There's a lot of noise in the market, from manipulated earnings announcements to baseless sell-side price targets. Investors that cut through the noise to understand a company's ability to generate long-term improvements in ROIC can identify high-quality companies at undervalued prices and protect their portfolios from potential blowups.
2) Assess the valuation of the stock and the implied expectations embedded in it for the business to gauge what kind of margin of safety an investor can expect.
Industrial Automation Stocks
With the threat of recession growing in 2019, industrial automation stocks may prove a great opportunity. In fact, the current market environment might prove doubly important for factory automation companies. Trade conflict, such as the one between the U.S. and China, can put pressure on manufacturers to move their operations – a costly process that entices companies to make their relocated facilities more cost-efficient.
Rockwell Automation (NYSE:ROK)
Rockwell Automation is one of the leading providers of industrial automation hardware and software. It provides industrial automation and information solutions worldwide. It operates in two segments, Architecture & Software; and Control Products & Solutions. The Architecture & Software segment provides control platforms, including controllers, electronic operator interface devices, electronic input/output devices, communication and networking products, and industrial computers that perform multiple control disciplines and monitoring of applications, such as discrete, batch and continuous process, drives control, motion control, and machine safety control. 
Compared to some of the big components of the S&P 500, it's a relatively small company at only $18,86 billion in market capitalization. In a world that is becoming increasingly more automated, Rockwell possibly has a long runway of profitable growth ahead of them.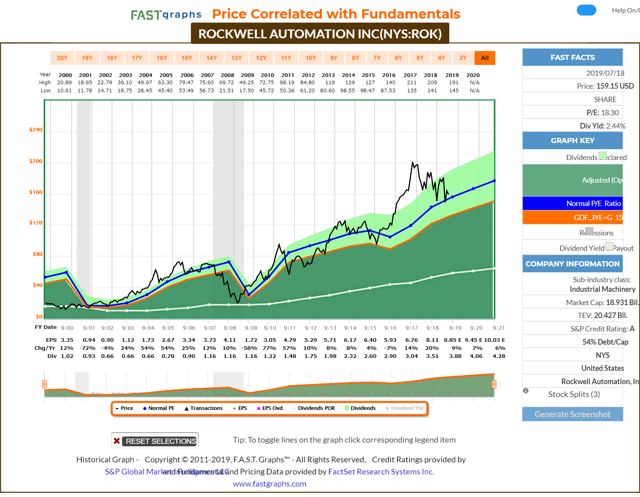 Chart Source: F.A.S.T. Graphs
Slower short-cycle industrial activity and a weakening auto market recently led Rockwell to scale back its fiscal year guidance, causing the stock to retreat. A margin of safety presented itself when the stock sold off due to secular automation shifts. Rockwell's pure-play focus on automation and its technology company approach to automation are key attributes that have allowed it to stay one step ahead of its peers over the years. Recent weakness in the shares can be seen as a buying opportunity.
The stock trades at a 27% discount to its $202 per share 2020 PMV estimate and trades at modest P/E discount to multi-industry peers, despite automation assets commanding a 2x EBITDA multiple premium in the private market, a function of automation outgrowing industrial production. Buying Rockwell when it is trading at a negligible P/E premium to multi-industry peers has generally been a good entry point. Rockwell returns most of its $1B in free cash to shareholders through dividends and buybacks, and a buyer for the business could one day strike again.
Total debt is slightly more than 2x annual net income, and net debt (debt minus cash) is a bit above 1 year's worth of annual net income. Their balance sheet is rock solid.  Their ROIC is usually over 20% in any given year and dropped to a "low" of just 11% during the 2009 crisis, and they were free cash flow positive. So, the stock is cyclical and volatile but is fundamentally sound.
As recently as 2018, Rockwell was trading at over $200/share ($159.15 today) It's a great company, but the market realizes this to be the case, so it's often priced at a premium. 
Conclusion
Even in the current market levels, a variety of stocks are still reasonably priced. Basically, while most stocks are not at deep bargains, many of them are still quite reasonable for long-term holders. Especially dividend growth stocks with decent growth prospects and strong balance sheets that sell rather future-proof products and services. 
Disclosure: I/we have no positions in any stocks mentioned, and no plans to initiate any positions within the next 72 hours.
I wrote this article myself, and it expresses my own opinions. I am not receiving compensation for it (other than from Seeking Alpha). I have no business relationship with any company whose stock is mentioned in this article.