As an investor, the name Apple (NASDAQ:AAPL) is synonymous to the likes of Qualcomm, Cisco, and many other high flying stocks of the past that have made investors a small fortune in a relatively short time. During their run, it looked as if they would never correct. Many investors cashed out too early and some never entered a position for fear that they were getting in at the top. Apple is the new king of the hill. Apple has had a terrific run. However, Apple has lost a little over 10% recently. Is this just a normal pullback or something more? Let's examine Apple using both technical and fundamental analysis.
Technical Analysis
In the short term, Apple looks like it may be in some danger. It has crossed below both the 20 and 50 day SMA. The 20 day SMA has also turned down. The 50 day SMA is trending up to flat. Another note is the RSI, or relative strength index, has crossed below the 50% line and is heading down. During most of Apple's run, the RSI remained above the 50% threshold. Finally, Apple may have made a short term head and shoulders top. It has broken the neck line but the volume was not excessive. The head and shoulders pattern may be a continuation pattern.
Long term Apple is still in an uptrend. It is well above its 200 day SMA. Its weekly trend is intact and while its RSI is trending down, it is still above 50% using a 14 week period.
Weekly Chart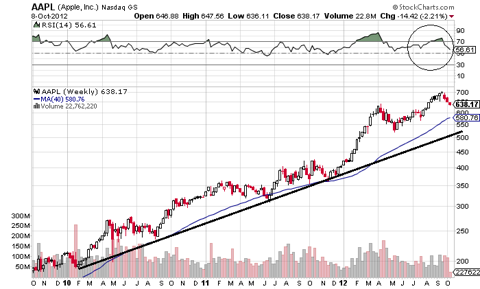 In summary, Apple should be watched carefully in the short term. Technically, there are several things to watch for. First, watch if Apple retraces to its short term head and shoulders neck line. If it can get above that neckline and make a new high, it should continue upward. If the neckline acts as a ceiling, Apple could move down to around 600. The other short term telling sign will be if the 20 day SMA crosses below the 50 day SMA while both moving averages turn down.
In the long term, watch the 200 day SMA. A break below that key moving average would be a negative sign. For now, the long term trend is intact.
Fundamental Analysis
Fundamentally, Apple is one of the most sound companies in the world. Sales growth over the past five years has been 41.16%. EPS over the past 5 years come in at 64.95%. Gross margin is at 44.11%. In the past, earnings and sales growth have not been an issue at all. In fact, they were incredible. Apple has a P/E of 15.00 and a forward P/E of 11.96. It has a PEG ratio of .67. This compares to the average S&P P/E of 16.44. Even at over $600 per share, Apple is considered cheap.
The biggest question facing Apple is can it continue its dominance. Apple has crushed multiple industries. It has revolutionized the mobile phone market and decimated the PC market. The question now is what is the next big thing that Apple will create. As analyst Damon Vickers says, will Apple be where the puck its going.
Buy, Sell or Hold
What you decide to do with Apple's stock depends on whether you currently own it and what your time frame is. If you currently own Apple and want to keep it for the long term, it is a not a bad idea to buy some put options as protection. Going out 3 months and buying puts that are 10% out of the money could save you form getting hurt if Apple continues its down trend. You can also offset some of the cost by selling out of the money calls that expire in less than 1 month.
As of right now, I would not initiate a new position on Apple based on it's weak short term technicals. There are two options here. You could wait until Apple breaks above its 20 day and 50 day moving average and then buy the stock. Alternatively, if you feel that Apple may continue lower in the short term and you still want to buy the stock, you could sell come puts and collect a premium while you wait and see if Apple reaches your strike price. If Apple does not reach your strike price, you will at least get some money from the premium.
Regardless of what you decide, there is no denying that Apple is a growth story that will be studied for years to come. Unlike many of the high fliers of the past, Apple does not have a P/E of over 100. It is a true cash generating monster. Can Apple continue to impress fundamentally? The big question is whether Apple can remain one step ahead of its competitors. What will be the next revolutionary product and will Apple be the creator? We shall see what the future holds.
Disclosure: I have no positions in any stocks mentioned, and no plans to initiate any positions within the next 72 hours. I wrote this article myself, and it expresses my own opinions. I am not receiving compensation for it (other than from Seeking Alpha). I have no business relationship with any company whose stock is mentioned in this article.