Dear Investor,

We launched Investment Works some 5 months ago and the interest of the financial community has exceeded our expectations.
Our research is being read by hundreds of thousands of investors every month through IW Research and all major financial services, and hundreds of subscribers, many of them professional money managers, subscribe to the IW Investment Newsletter.
But so far our communication has been one-sided, with our team searching for opportunities, researching and writing, and YOU, reading, doing due diligence, and taking occasional action.
It's time to change all that. Today, we are announcing two new initiatives, both offered free of charge:
The IW Club, a boardroom for value investors to share perspectives on everything stocks and markets.

We will be contributing commentary several times a week, with a focus on the stocks in the IW Portfolio and on our radar. You are most invited to contribute with your own opinions and stock ideas!
We have integrated the IW Academy into the IW Club, so that everybody can share views about investment philosophy, concepts and methodologies.
While there are many larger, more mature, investment communities, we see demand for a curated, high-quality, collaborative, community of value investors willing and able to put a value to growth.



A Live Day, on Monday 28th May starting at 1 pm ET / 7 pm CET.
Around that time, we will be live, answering questions in The IW Club. No event registration required, simply show up at invworks.com/club and start posting!
Moreover, we will be sharing perspectives on the ongoing earnings season and the recent additions to the IW Portfolio.
If you can not make on Monday, you're still welcome to post questions in advance and we'll try to address them during the event.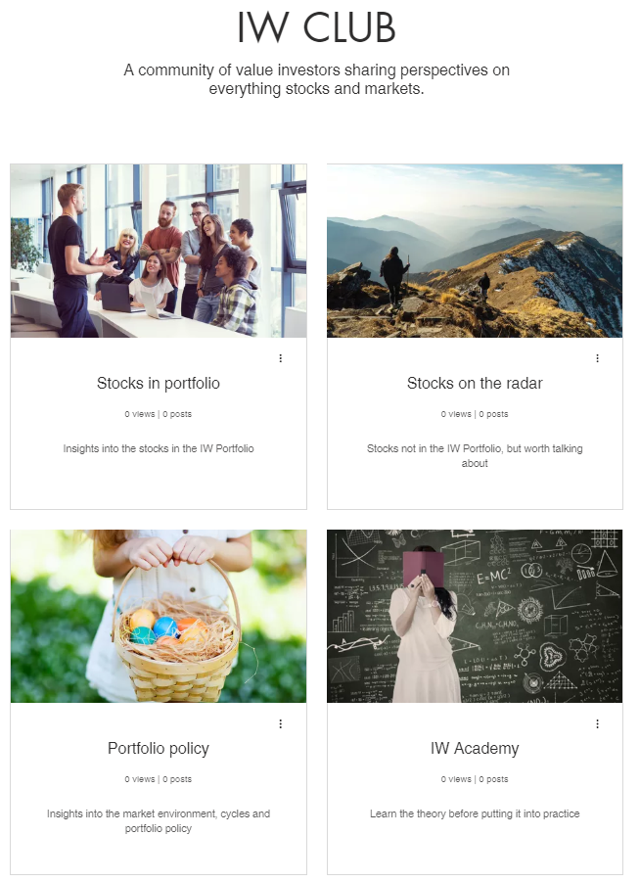 We're glad to have you on board!
We hope we can count on you to build a thriving community of like-minded investors.
* * *
[ Read our last take on SEDG (May 10) ]
[ Read our last take on LB (May 14) ]
[ Check out the IW Portfolio ]
* * *
Enjoyed the memo? Before it is here, it is sent to our subscribers.
>> SUBSCRIBE NOW to our free investment newsletter <<
Disclosure: I am/we are long all positions mentioned in the article
(see all positions in our portfolio) 
Disclosure: I am/we are long AAPL, NVDA, PYPL, SEDG, GILD, TSLA, FL, PANW, LB, ATVI, TTD, AL.