Dear Investor,
It's been a few weeks since our last memo.
A few quick updates on the IW Portfolio:
(1) Our most recent additions are starting to make a difference.The Trade Desk (TTD) is up 80% since we went long in January this year, and Alphabet (GOOG) (GOOGL), 15% since end of April.
(2) The holdings from previous years are also performing well, handily outperforming market indeces. We will give you an update on returns at the end of the quarter.
(3) Last week, we completed a critical review of the tech positions in the IW Portfolio.
In recent years, they have performed spectacularly, without exception. But excessive price appreciation increases risk and reduces prospective returns. We did critically reassess the risk/reward appeal of each position at ongoing market prices, against the yardstick of the Google hurdle. And as result of that process, we decided to take gains in Activision Blizzard (ATVI).
Palo Alto Networks (PANW) was another candidate for divestiture, but positive developments have reinforced our bullish conviction. In fact, we would be happy to add to our long position in the $180s
An added benefit of the divestiture is to keep a relatively concentrated portfolio, positioned for continuous out-performance. There is no place for "low-conviction" ideas in the IW Portfolio.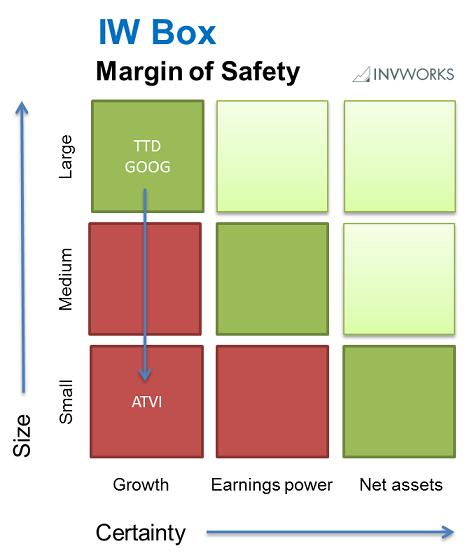 Which brings us to the next point... richly priced markets.We explore promising investment opportunities every week. Good businesses with bullish prospects. Some of the ideas come from subscribers, who reach out to us by e-mail or through the community board (an subscribers have proven to have a very keen eye!).
But it remains challenging to find exceptional quality at good enough prices. We keep a number of names in the drawer, and await patiently for price discounts. If they come and we pull the trigger, you will be first to know.
And obvious takeaway: since good deals are scarce, when you find one, buy aggressively! That's what we did with Alphabet at $1000/share, and we hope you did too.
The fact that you are reading this newsletter shows that you won't settle for mediocre financial results. You are willing to educate and better yourself, and commit the necessary resources to that end.
Buying and holding wonderful businesses at compelling prices is one part of producing superior financial results. And we are giving you unprecedented transparency into the inner works of one of the most successful equity portfolios of this decade.
Capital allocation is another. While stocks may appear expensive by historical standards, US 30 year Bond yields are only 3% and the yield curve keeps flattening.
In the coming weeks, we will be sharing some hints on capital allocation across asset classes within a challenging market environment.
That's it for today. Follow the links below to access our most recent research, and best wishes!
New readers can subscribe to the IW Newsletter here.
* * *
[ Read the long thesis on PANW ]
[ Read the long thesis on FL ]
[ Join the discussion in the IW Club]
[ Check out the IW Portfolio ]
* * *
Enjoyed the memo? Before it is here, it is sent to our subscribers.
>> SUBSCRIBE NOW to the free IW Newsletter <<
Disclosure: I am/we are long PANW, GOOG, TTD, FL (see all positions in our portfolio)